Backup or Copy Account Data:
You are welcome to export your data in JobNimbus by creating reports, saving them and then exporting the data via CSV. or excel files. The attachments (photos, .pdfs of financials, etc..) you can click on the download all button which will export them in a zip file.
How to create a report so that you can export transactional data:
Select the action menu icon (...) to the right of "My Saved Reports".

Select Create New Report for the desired type (contact, job, etc.).
Select Save report.

Select the action menu icon (...) corresponding to the newly created report.

Select Export to Excel/CSV.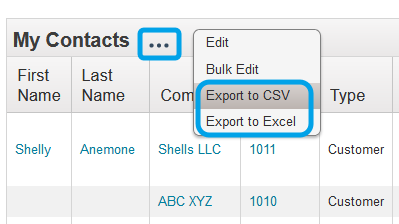 To learn more about Reports, see the following support article: Reports.
Download All:
Selecting the Download All button on a contact/job record can be used to save a zip file of all attachments residing on that record.

*Note: You would have to do this for each contact/job in JobNimbus.
Q&A:
Is there a way to export all my data on a thumb drive? Unfortunately, you would have to follow the instructions outlined above.
Does JobNimbus backup my account data?
JobNimbus is very careful to back up your data in various locations.

We are using servers that

are used by

many prominent software companies such as Quickbooks and Netflix

. We do have a fail-over system in place and cover for multiple redundancies.