The Budgeting Tool:
JobNimbus's Budget feature is to track profitability on a job. Important metrics include gross profit margin and net profit. The budget can calculate based off of your budget goals and deductions that happen as a result of doing the work.
It is used to track commissions of team members or commissions of sources outside of JobNimbus. The commission amount can be a percentage or an amount based off of price or gross profit. After creating the budget and paying your commissions, you can mark them as paid.
You may also add amounts or percentage line items to your budgets such as what is paid to subcontractors, labor, and materials. Also, you can use an existing estimate to populate your line items of your budget.
You can put a negative line item in to reflect materials that were returned or a credit.
The budget amount can be manually entered in the top of the budget, or you can create a template in settings on the
budget
tab. There you can select a required net or gross margin.
Enable Budgets:
Settings

Features

Budget

Enable

Locations of Budget Features:
1) Templates
2) Job/Contact
Financials Tab

Budgets

Add Budget

3) Reports
Reports

My saved reports

Create Budget Report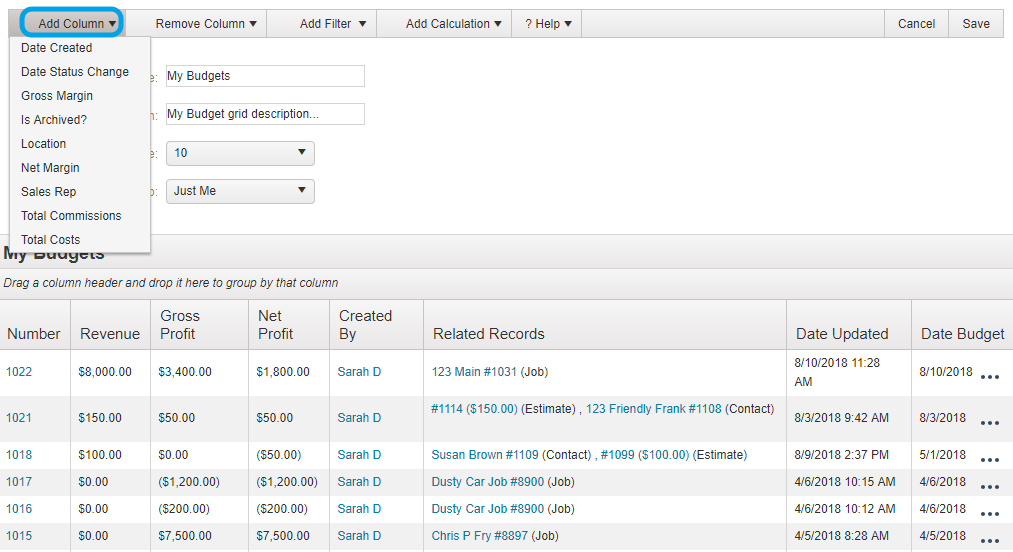 Sample Budget: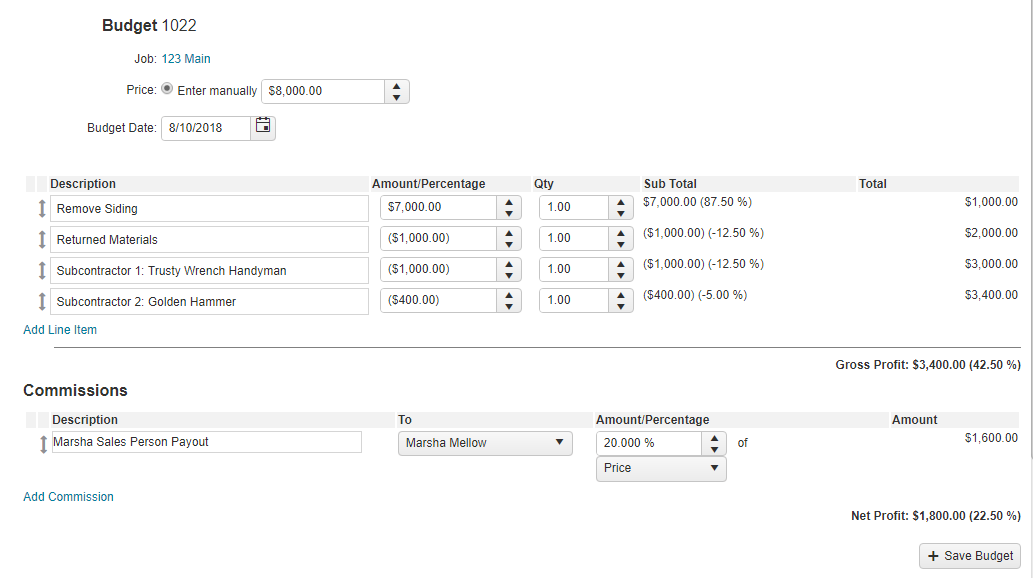 Job Nimbus doesn't sync budgets to QuickBooks, and there isn't much more to job costing beyond the budget tool that is supported aside from Material & Labor tracking which do sync as separate line items. If you want job costs in QuickBooks and don't want to do double entry, it would make sense to do it in QuickBooks as job costing features is more in depth there. We do sync "classes" with Quickbooks Desktop (aspect of job costing through linking financial records to expense accounts). Budgets have one status of draft, which we are using as a placeholder in the event at a future date the sync functionality is implemented, as of yet, we do not sync to QuickBooks. We sync records that are transactions that you are charging your customers but not what your vendors are charging you.
Quickbooks online version of job costing is called projects. It has three statuses of in progress, completed and canceled. It's functionality has reporting features which track profitability, sales transaction list, unbilled time, expenses and non-billable items. It interfaces with invoices, invoice payment, expenses, estimates and time.
Creating a Budget from an Estimate:
When you create an estimate, you can add as many line items as you would like. Before you save the estimate, check the box by the save button called "Add to saved estimates". That will save the list of items so that when you create another estimate, you can choose from the Estimate Template drop-down list. Those items then can be automatically added to a new estimate. Then you can convert the estimate into a budget after saving the estimate.
The budget can be started from an estimate but then anything that happens after that has to be manually entered. It won't automatically update from the estimate if you make changes to it later.
Gross Profit Margin:
The markup rate on an estimate is not the same as the gross profit margin. They are completely separate calculations.
The gross profit margin percentage is:
((Revenue - Cost of Goods Sold) ÷ Revenue) x 100
Example: Revenue is $150. Cost of the goods is $100. $150-$100= $50. $50 divided by $150 equals 0.33. 0.33 multiplied by 100 equals 33.33%
The gross profit margin is 33.33%.

1) How do I capture an invoice from one of my subcontractors?
You may want to upload the invoice from a subcontractor to attachments on a job or contact to store the information, (there is no way to have it interface or sync to our system). You could then have the total as a line item on a budget.
Note: To make a negative number on a budget first save the item as a positive number, then go back and edit it to a negative number "-500.00". The negative number will appear in parenthesis after saving indicating a negative number (500).