Markup Tracking allows JobNimbus to calculate the dollar amounts of your Products & Services to ensure you make a great profit.
In order to add markups to Estimate line items, you will first need to enable Markup Tracking:
Click on your Profile Icon or initials in the top right corner
Select Settings from the drop-down menu
Within the Settings menu, open the Products & Services tab
Check the box next to "Enable Markup Tracking"


This will allow you to markup your Products and Services using a percentage.
You can type in what that item will cost your company, then add a markup percentage; JobNimbus will automatically increase the dollar amount of that product or service by the specified percent to calculate the price.
Example: let's say your cost for an item is $50.00 and you want to mark it up 25%. The price will automatically calculate as $62.50.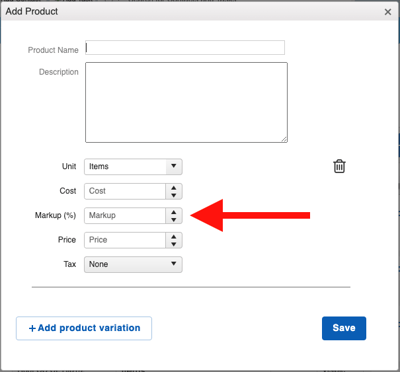 Alternatively, you can markup line items directly within your Estimates:
Navigate to an existing Estimate
Click inside the amount field under the Markup(%) column
Type in the percentage amount


You can also use the Additional Markup slider to apply a markup to the Estimate as a whole, in addition to or instead of each individual line item.


When you are using Saved Estimate templates, you have the option to save the markup you have added to your Estimate so that it populates the next time you use that template.
When using the markup slider within the Estimate builder, the markup calculates by the cost of the product; if the product has a cost of $32.27 and the markup is set to 75%, the resulting price of the product will show as $56.47.
Note:
If the cost is $0 and markup is added to the line item, the markup price will revert to $0, since any percent of $0 = $0.
To include a markup for products with a $0 cost, edit the product and enter any amount as the markup. You can choose which line items are affected by the markup slider by checking the boxes in the "Exclude" column, between the "Add (%)" and "Total Markup".

To clear your markup, click on the "X" that appears next to the slider.


In the "totals" section of the Estimate builder, you will be able to see your total markup and the overall profit margin for that Estimate.