What is CompanyCam?
CompanyCam allows you to take photos with your phone and annotate those photos so you can tell the whole story for your jobs. The CompanyCam+JobNimbus Integration syncs contact or job records information from JobNimbus to CompanyCam. This information is used to create project records which then act as folders in which the user is able to use the CompanyCam mobile.
Integrating with CompanyCam
Step-by-Step Guide with Screenshots
From your JobNimbus Settings, proceed to the API tab.
Select New API Key. From the "Description" drop-down, select CompanyCam. From the "Access Profile" drop-down select an "Admin" level access profile.

Select Save.

4. To the right of the newly created API Key, select Copy.


5. Within the CompanyCam web app, proceed to the drop-down in the top-right of the page.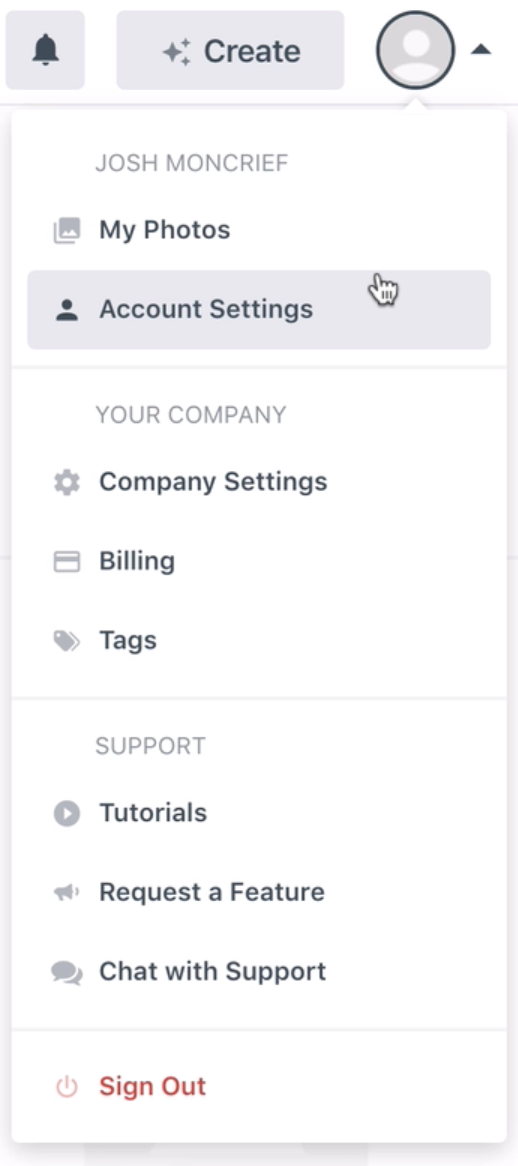 6. Select Company Settings.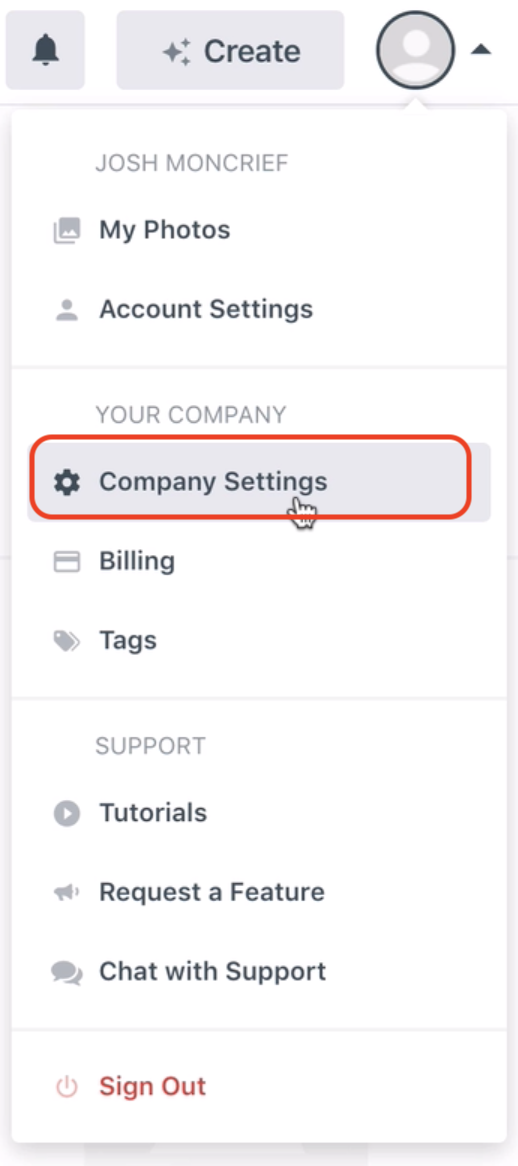 7. On the Company Settings page, select the Integrations tab. To the right of JobNimbus, select Integrate.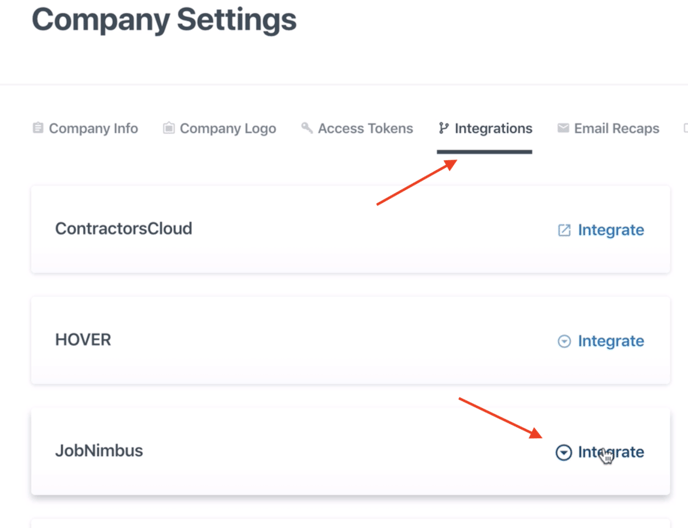 8. Paste your newly created API key into the "JobNimbus API Key Field". Input your JobNimbus Admin's email address (associated with their JobNimbus account) into the "JobNimbus Admin Email" field. From the drop-down, select if you will be syncing contacts or jobs from JobNimbus. Remember the decision for later at Step 15. Once complete, select Connect Integration.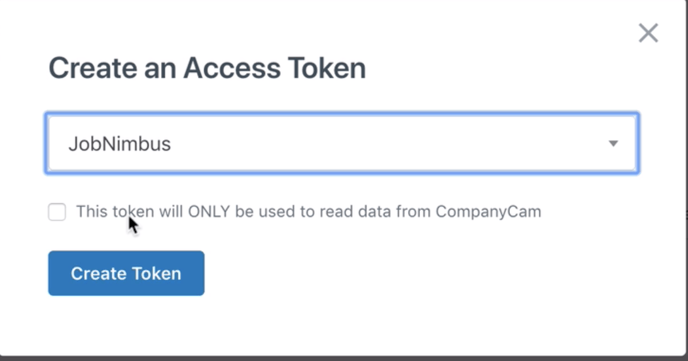 9. Select the Access Tokens within the Company Settings window. Select + New Token.

10. Within the "Create an Access Token" window, select JobNimbus from the drop-down provided. Leave the checkbox for "This token will ONLY be used to read data from CompanyCam" unchecked.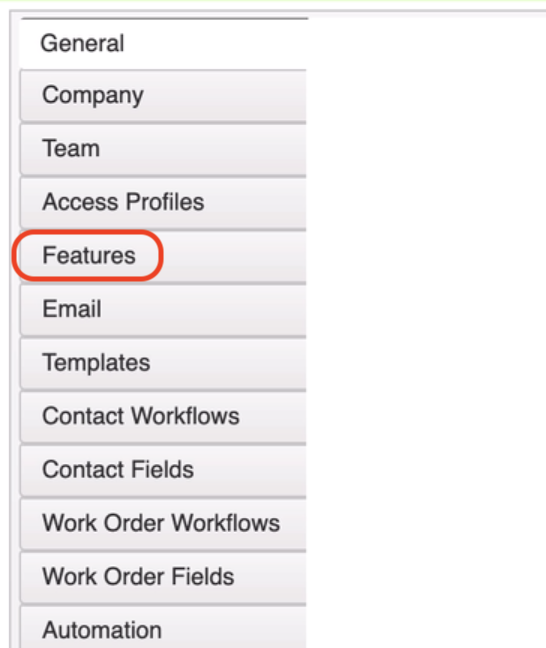 11. The CompanyCam token will now be listed on the Access Tokens tab. Highlight and copy the newly created token for JobNimbus.

12. Proceed to the Features tab in your JobNimbus Settings.

13. Scroll down to "3rd Party Features" and locate "CompanyCam". To the right, select the Enable button.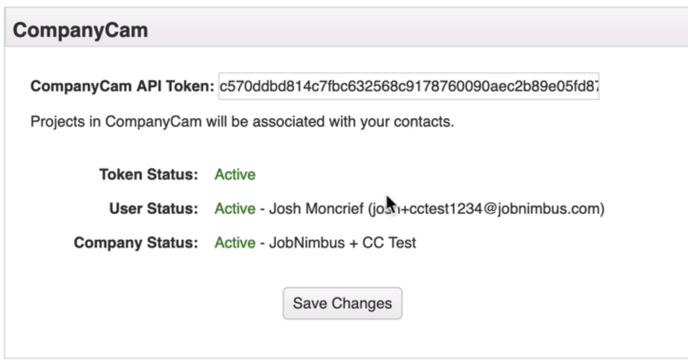 14. A new tab for CompanyCam will be created within the JobNimbus settings. You will be automatically redirected to this tab.
15. Within the "CompanyCam API Token", paste your newly created token from CompanyCam. If your jobs are enabled within your JobNimbus Settings, you may select to sync contacts or jobs. You should select the same option as you did in Step 8. Select Save Changes. Upon saving your changes, your most recent 100 contacts or jobs records will be synced from JobNimbus to CompanyCam.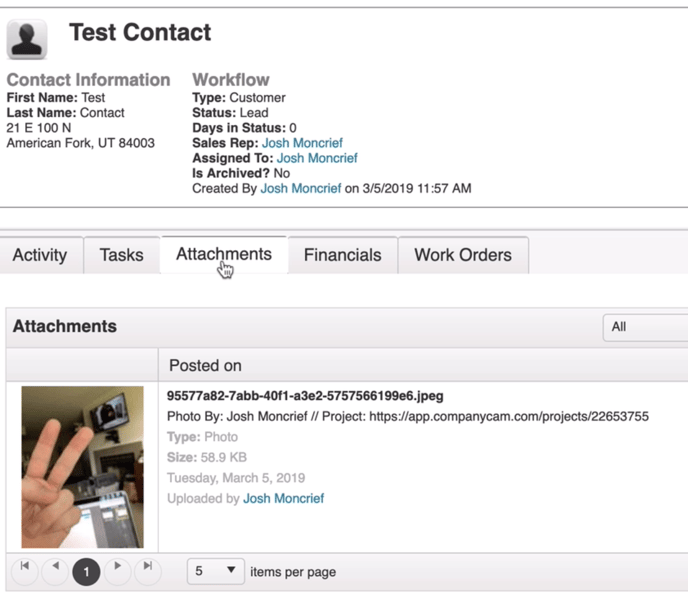 16. If the integration sync was successful, you will see "Active" next to the "Token Status", "User Status", and "Company Status" fields on the CompanyCam tab of your JobNimbus Settings, now.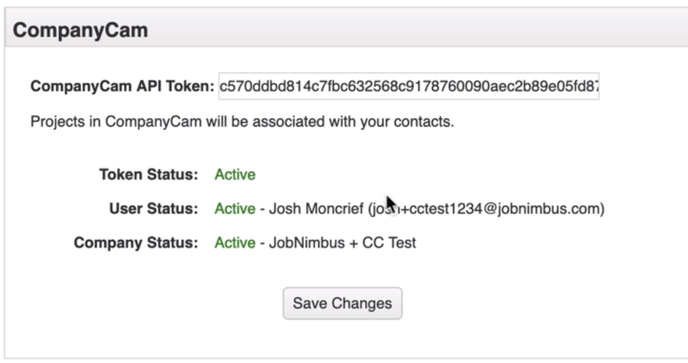 Using CompanyCam
Your 100 most recent contact or job records (depending on your selection during setup in steps 8 and 15) and newly created records will be synced to CompanyCam as a project folder.
Capturing, editing, and/or uploading a photo or document to a folder from the CompanyCam mobile app will sync back over to JobNimbus as an attachment on the correlating JobNimbus record.
Enjoy the integration!
If you have any other questions about setting up the CompanyCam integration in JobNimbus, please reach out to support@jobnimbus.com.
Support
If you have any questions or if you need any assistance with CompanyCam, taking photos using CompanyCam or photos not syncing properly, or any question regarding the integration, contact CompanyCam's Support Team at (402) 204-8292, or send them an email at support@companycam.com. You can also use their live chat, https://companycam.com/.
If you have questions about creating the API key or integrating CompanyCam with JobNimbus, check out our article here: Integrations. You can also contact Support at (855) 964-6287 or via email at support@jobnimbus.com.