Connecting Quickbooks to JobNimbus:
To get connected to JobNimbus via Quickbooks make sure you have done the following steps.
1. Checked that your QuickBooks version is supported (If not contact QuickBooks, you can migrate older desktop versions to newer versions, you also can import desktop versions to QuickBooks online, the process can be time-consuming but they do have comprehensive support)
2. Checked that you have the appropriate workflow process setup
3. Watched the four videos on how to get connected.
4. Made a backup of company file (This is easily done with Quickbooks desktop, in Quickbooks online perhaps the only way would be to export various reports)
1) Supported versions of Quickbooks
2) Quickbooks workflow setup: configuring vendors/customers
3) Connecting Quickbooks to JobNimbus: Enabling the actual sync
Make sure you do not proceed with turning on the QuickBooks sync in JobNimbus until you have completed the Basic Setup step (video 2) along with Basic Setup of you JobNimbus account.
Setting Up QuickBooks Sync
To set up QuickBooks sync, follow these steps:
1) Sync Manager (QuickBooks Desktop Only)
If you're using QuickBooks Online, you can skip this step. If using QuickBooks Desktop, you need to do the following:
As a QuickBooks administrator user, log in to your QuickBooks Desktop edition.
If you do not already have one, set up an Intuit account here: http://www.intuit.com
In QuickBooks Desktop, turn on the Sync Manager. QuickBooks tends to move this feature around depending on the version so check under the menu options for Online Services or File to locate the Sync Manager.
Backup your QuickBooks Desktop Edition file. It's always a good idea to have a backup before allowing another application to access your financial data.

2) Enable QuickBooks Sync in JobNimbus
While logged into JobNimbus from a web browser, go to your name at the top right and choose Settings. Find the QuickBooks tab in Settings and select the edition of QuickBooks you're using.
Settings ---> Features tab and click Enable next to the QuickBooks Integration 3rd party features.
Click the green Connect to QuickBooks button and login to your Intuit account. Authorize JobNimbus to access your QuickBooks data.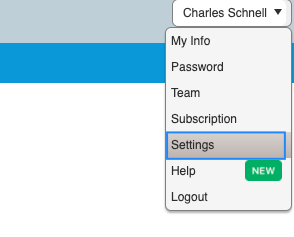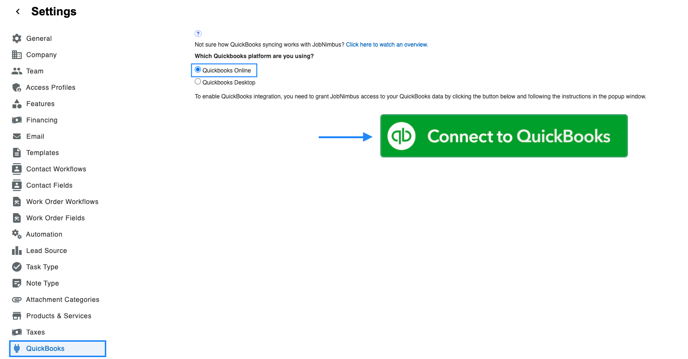 3) Configure Sync
The JobNimbus Sync settings allow you to configure the direction of the sync and how data will be synced between JobNimbus and QuickBooks. Once you've connected your QuickBooks, the following sync settings screen will appear: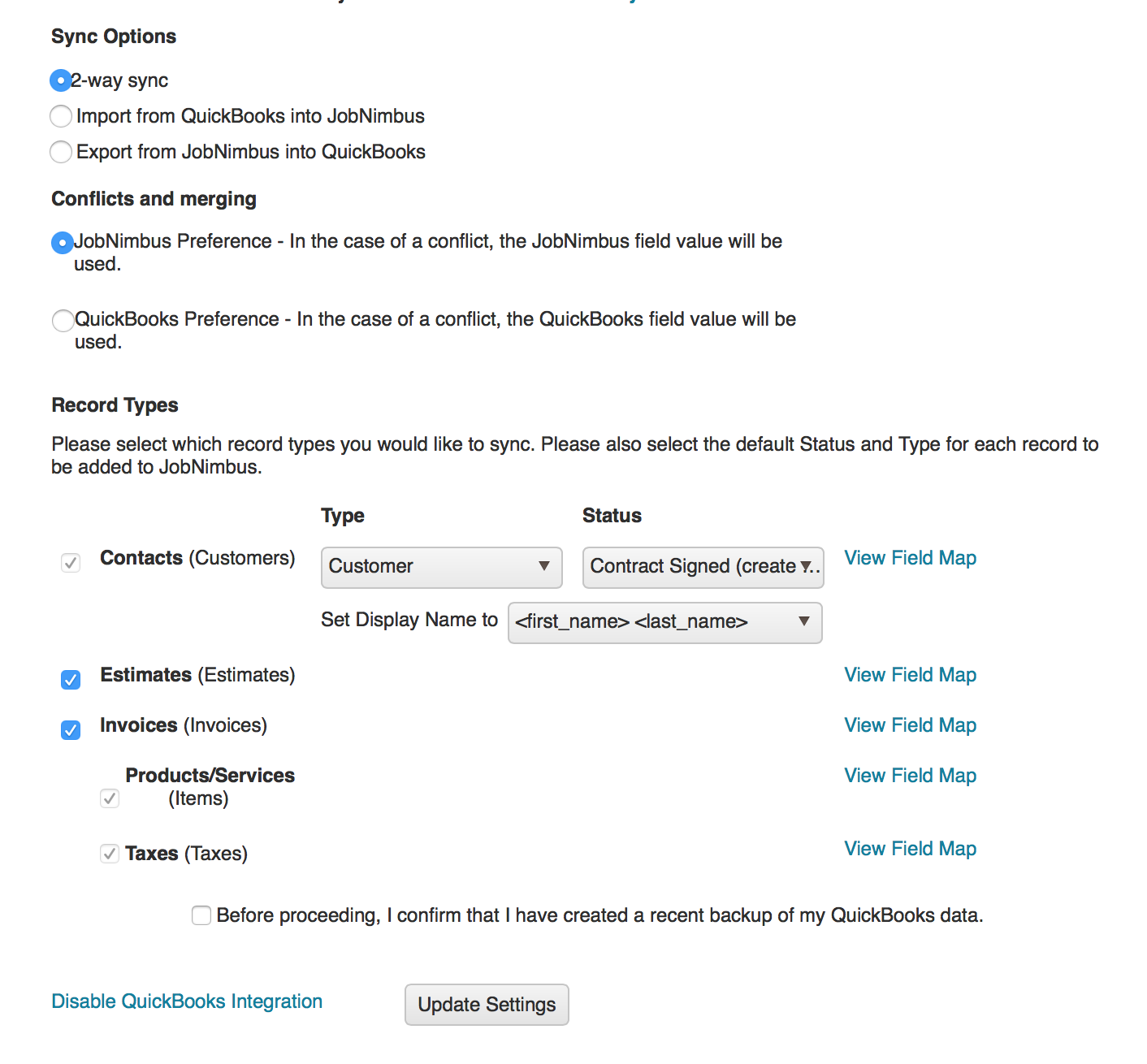 Check the box to confirm you have backed up your data and then click the Update Settings button. You'll be shown a confirmation screen that will provide an overview of the data to be synced. Click the Confirm button to start the sync.
The sync process will run in the background and you will receive an email notification from JobNimbus once it completes. Your JobNimbus account should now be successfully linked to your QuickBooks data. Future changes between the two systems will happen automatically.
4) Troubleshooting Quickbooks: sync errors
Troubleshooting desktop editions:
1) How do I fix the error "Unique OwnerID/FileID pair value required"?
This error can happen if you move your company file, switch the computer that the Web Connector runs from or if JobNimbus was incorrectly removed from the Web Connector.
First, ensure that you aren't running multiple copies of the Web Connector on different computers. The Web Connector should be installed and running on a single computer. If you're moving the Web Connector to a new computer, first attempt to "Remove" JobNimbus from the Web Connector on the old computer before adding it to the new computer. If something is preventing you from doing this, you can follow the steps in this QuickBooks article to get back up and running:
https://community.intuit.com/articles/1021131-error-qbwc1039-there-was-a-problem-adding-the-application
*Please note that if you do move your QuickBooks company file you should not change the name of the file or you will be required to completely disable the JobNimbus to QuickBooks sync and set it up again from the beginning in order for it to work again.
2) What is the invalid QB type error?
This error is sometimes caused by not logging into your company file. If you have an old email address or a wrong password then JobNimbus won't be able to login to your QuickBooks account. If you are unable to get your Quickbooks email address or password you would want to call them. QuickBooks Desktop Support phone number 877-797-5809 or 1-800-488-7330 https://help.quickbooks.intuit.com/en_US/contact
3) What is the business validation error?
This error is caused by a record being updated in two places simultaneously. The error reads, "A business validation error has occurred while processing your request: Business Validation Error: You can only add or edit one name at a time. Please try again." Click retry, and it should update.