What Is the Contact Display Name?
The display name is a unique identifier that can connects your contact information in JobNimbus to your contact information in QuickBooks.
Overview
When creating a Contact, the Display Name will auto-populate using the information you put in the first name and last name fields.
The Display Name must be unique fore each Contact; JobNimbus will not allow you to use a display name identical to another. This field is used to connect Contacts in JobNimbus to Customers in QuickBooks when you establish the sync.
When setting up the sync for the first time, the Display Names must be identical between JobNimbus and QuickBooks for them to link. Any variation will create a duplicate record (this does not apply to upper & lower case letters).

Display Name in JobNimbus
Via the Contact Record: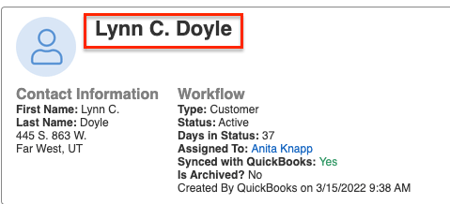 When Creating a New Contact: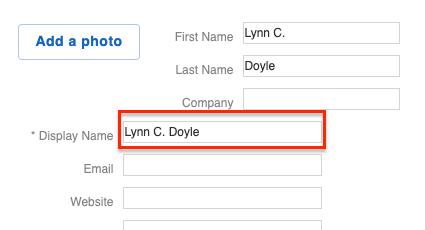 Via the Contact Board view: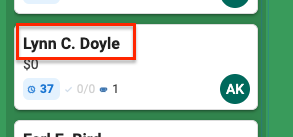 The display name in QuickBooks will be what you see in the customer center:




Via the Display Name Field in Quickbooks Desktop (labeled as "customer name"):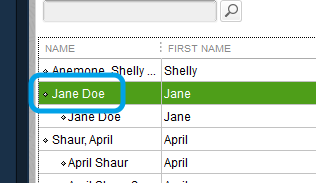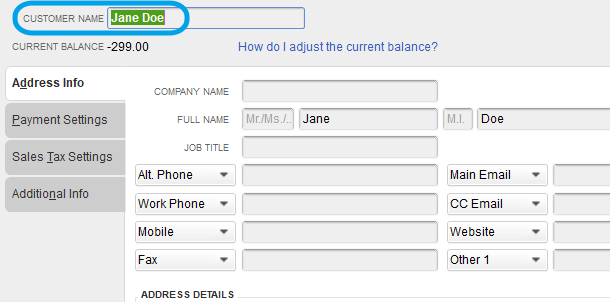 Q & A
What if my names in JobNimbus are "First Name, Last Name", but in QuickBooks, they are "Last Name, First Name"?

Duplicates would be created during the sync process. There is a way to change ALL of the Contact Display names in JobNimbus to Last Name; First Name.
This setting controls the format of the Display Name for your records which determines the label for Calendar and Board cards for each record. If you choose "LastName, FirstName" then the card would display as "Doe, Jane" for a record named Jane Doe. Check out this article to learn how to configure this setting.






Make sure that the correct selection is listed. What is listed in the dropdown will apply to Contacts that you create.

This setting will only change the names for Contacts, not Jobs