The display name is a unique identifier that can connects your contact information in JobNimbus to your contact information in QuickBooks.
Overview:
The contact display name is the field visible on your boards and at the top of your contact record. When creating a contact, it will populate the first name and last name as the display name by default but you can customize this field before saving. Some examples are to put a specific id number, address, or the names of a husband and wife.
The display name is a unique identifier for a contact and should be unique. JobNimbus will not allow you to use a display name identical to another contact. This field is used to connect contacts in JobNimbus to customers in QuickBooks when setting up the sync.
When setting up the sync for the first time, the display names must be identical between JobNimbus and QuickBooks for them to link. Any variation will create a duplicate record (this does not apply to upper & lower case letters)
Display Name in JobNimbus:
Via the Contact Record: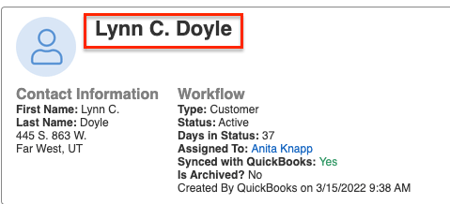 When Creating a New Contact: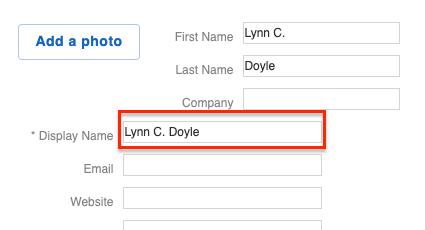 Via a Contact Board: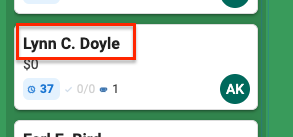 The display name in QuickBooks will be the name you see in the customer center:


Via the Display Name Field in Quickbooks Desktop (labeled as "customer name"):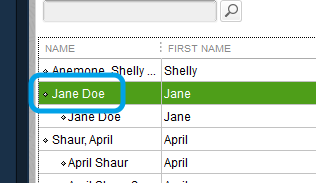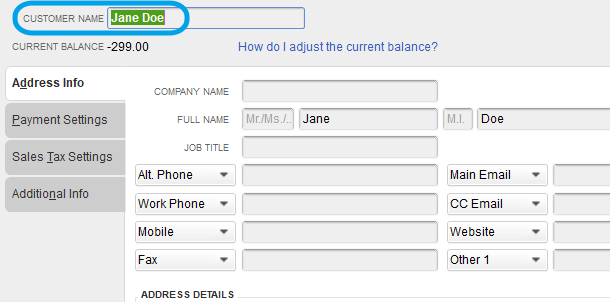 Q & A
Q. What if my names in JobNimbus are First Name; Last Name but in QuickBooks they are Last Name, First Name?
A. Duplicates would be created during the sync process. There is a way to change ALL of the Contact Display names in JobNimbus to Last Name; First Name:
This setting controls the format of the Display Name for your records which determines the label for Calendar and Board cards for each record. If you choose "LastName, FirstName" then the card would display as "Doe, Jane" for a record named Jane Doe:

Settings

General

Select Show Advanced Options

Select the Display Name Template

Save



Make sure that the correct selection is listed. What is listed in the dropdown will apply to contacts that you create.

This setting will only change the names for Contacts, not Jobs