Overview:
Contacts are an essential part of your JobNimbus account. It is the originating point of all the customer data that you collect. From the very beginning, it is necessary to decide on what kinds of custom data you may need to create and manage. At a later time, you can run reports with this data.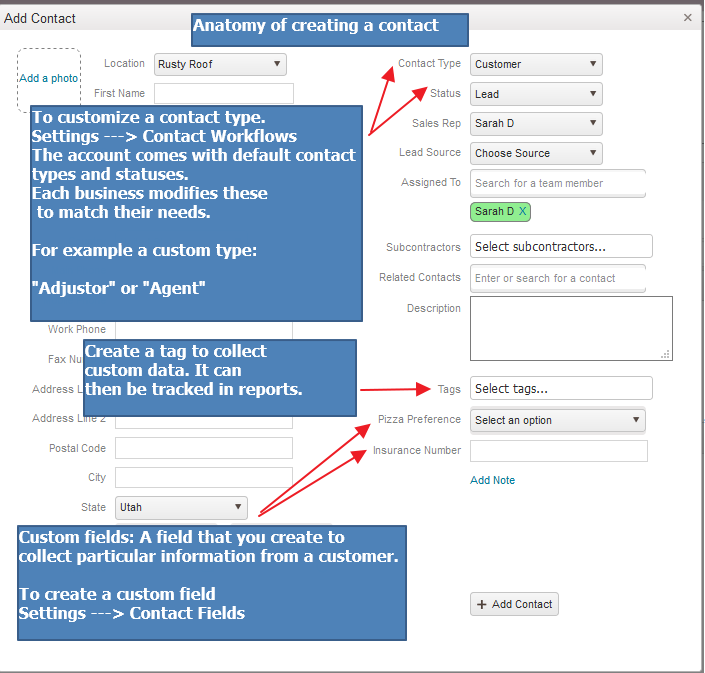 Importing contacts:
You can import contacts if they are in a .csv spreadsheet. Only existing fields will import, and you can create a custom field which you can later map upon import. To save time, create a test contact with all pertinent information. Export it as a .csv then copy and paste your contacts to that spreadsheet (delete the one you exported as it will result in a duplication error). This can be done by creating a contact report, saving it and clicking the ellipse to export.
If you plan on integrating with Quickbooks, do not import contacts as that will result in many duplications.
Create contact report

Export contact report to .csv. Paste new contacts in fields and delete contacts already in the system from the spreadsheet to prevent duplication.


Import contacts with a CSV file.

Common Questions Regarding Contacts:
Is there a way to "add all" contacts to a new team member?


Unfortunately, we do not have a bulk editing option. You would have to edit the contact through the ellipsis and search for a team member and save. We do anticipate we will have this feature in the future.

How do I view archived contacts/archive contacts?
You can build a contact report, add the filter for archived, true, and then you will be able to see all the archived contacts. Here is a video on Reports.
To archive a contact:
The status triggers whether it is archived or not, not the label on the board that is just a name. So in settings in job or contact workflows the final status is there like closed or paid and closed could be archived. You would have to click on it and see if archived is checked. Often on a board, you can drag and drop an item to paid and closed, and it will turn to archived.
How do I set up different contact types?
You could create a custom contact type in Settings --> Contact Workflows ---> Add workflow and create "lead" as a name, along with the appropriate workflow.

We don't usually recommend separating out the "Lead" statuses into a separate workflow as that's not how the system is built and it will interrupt some reports (like the Sales Pipeline Report). We recommend having it all in one workflow if possible and not switching Contact Types mid-process, but you can split things up using Boards instead which may work.

Also, you can get a refresher here: Boards. First, you should customize your workflow: Customize Workflow.
Are Email Campaigns a Feature within JobNimbus?




At the moment we do not. Though we do have an integration with Zapier. Zapier integrates with MailChimp and Constant Contact. However, it is a paid-for-service, and

the setup process is technical

. If you would like to know more about it you can contact support@jobnimbus.com.

Some companies that offer organized professional email campaigns are MailChimp and Constant Contact.

MailChimp is cheaper to get started, and they even have a free version. Constant Contact has mobile friendly templates for their email campaigns. Also, these services usually have whitelisted IPs and comply with the anti-spam laws so that email campaigns will make it into contacts inbox.

How do I get a list of my email contacts for a campaign?
Reports ---> Ellipsis ---> Create Contact Report --->Remove Column (irrelevant information) ---> Add Column (relevant information like email, names) ---> Create a new name for your report to save the information in the name field ----> Save ----> Gear Icon, export (usually as CSV)

Can I send bulk email to specific contacts?
Compose an email ---> click on job or contact ---> click activity tab ---> add note


Choose email from dropdown ---> click on whoever you want to send

the email

too ---> add

note (to send email)


If you have multiple contacts assigned to a job or assignees to a contact, then you have the option to send to all contacts or select multiple assigned contacts.

How do I send an email?


A job or contact needs to be assigned to multiple people to click on each to send in an email,

or you would click on other contacts and manually type the email in.
Compose an email ---> click on job or contact ---> click activity tab ---> add note


Choose email from dropdown --- click on attachments ---> select photos/estimate/work order etc... --->

add

note

(to email it out)

What are the ways to archive information?
It is not possible to mass archive tasks. If you don't care about keeping them, you can mass delete them via a report. If you do care about keeping them, you need to complete them one at a time and keep up with it.


As for contacts, there is a way to mass archive them. If you edit the contact Workflow and change the status to be Archived, it will archive all contacts in that status. You need to decide which statuses you are ok having archived. Usually "Lost" and "Paid and Closed" or the like. If you don't have one of these archived, then we recommend that you do as a best practice. This can take a bit of time to update all of the records if you have many

. Some

businesses may need 800+ unarchived contacts but not usually. If you use Jobs, then the Inactive Contact Status should be archived, and you

should move all Contacts to Inactive when the Jobs are in Paid and Closed. This can be accomplished via an automation but if you have 800 in this state now, then you will have to manually do it all. There is no automatic way to archive many contacts who are active.


There are three ways to do it. 1 is to view each Contact and then change their status using the gear icon. 2 is to use boards so that you can drag and drop from one status to another. This can be worth setting up a new board with the 2 statuses so that you can drag stuff quickly. 3 is to get a report of them then just use the gear icons while viewing the report. 3 is faster than 1 because you don't have to load each contact. 2 is faster than 1 and 3 but it depends on if you want to move every record from one status to another because if you don't want to move some, then it will be harder to accomplish on that limited view whereas a report can let you filter to exactly what you want to move.

How do I create a subcontractor?

Go to contact workflows

1) Add workflow

2) Name the workflow "Subcontractor."

3) Check the box "all contacts for this workflow are subcontractors."

Typically, most companies allow all team members to view the sub-contractor and have inactive subs checked off as archived. If you don't have subs checked off as archived, then it may clutter your Work Order screen with contacts who are not relevant.

How do I export my contact to google?
First, you have to customize your contact export to include name, phone number, email, and address. You can't have fields that Google will not recognize like status or company, remove those fields. Next, you have to re-label the fields for Google to understand it.


How JobNimbus Exports:


How it needs to be re-labeled so Google can read it. It must be exact, or the information will not go into googles system. You can download the file, here.

Tips:
Manage the number of contacts in JobNimbus. When there are over 1000 contacts, it will affect the performance and the speed of the system because all that data will need to load which takes more processing power. This will primarily impact the ability to use the mobile app. Make sure that you archive the contacts in their workflow when they are paid and closed as a best practice.
Note: The ability to change the color of you team member is only available for active team members.