Credit Memo:

A credit memo is a document that a seller issues to the buyer reducing the amount the buyer owes to the seller. The memo explains the reason as to why. It could be issued instead of a refund. It could happen in the event of a pricing dispute or an allowance. It can be used to offset an invoice partially or to offset a future invoice.
If you have received an over-payment from a customer or they have returned a purchased item. You have a couple of options to return that money to the customer. You can create a credit memo or process a refund. You will have to decide which is the best route to take in the situation. The difference between a refund and a credit memo is that a customer immediately receives payment when there is a refund, whereas a credit memo is applied to customers balance.
Most businesses who use credit memos first record the credit memo. Then later apply a payment and use the credit memo for payment.
If the customer would like a check or credit card return, then you would record a refund. This is done by either adding a line item labeled refund to an invoice and putting it in as a negative amount or creating a new invoice with a negative line item.
Quickbooks is better designed to record these transactions because you can choose which bank account or particular income account, so if you have Quickbooks you would want to create a refund receipt or credit memo there. Our sync with Quickbooks does support the basics of credit memos.
Credit memo location:
Contact/Job

Select Financials tab

Credit Memos

Select Add Credit Memo

Invoice Credit:
Go to the contact/job

Select the financials tab

Scroll down to invoice

Select the ellipse icon
Select Add Payment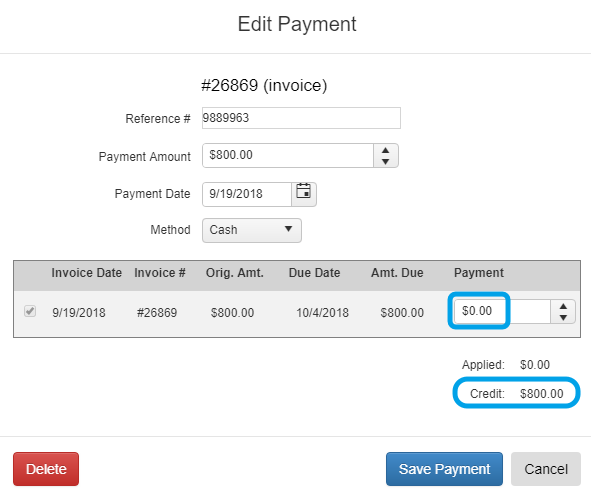 Quickbooks Online:
Quickbooks Online has a comprehensive article clarifying the differences.
To create a Credit Memo:
Select the plus icon

Select Credit Memo
To create a refund in Quickbooks :
Select the plus icon

Select Refund Reciept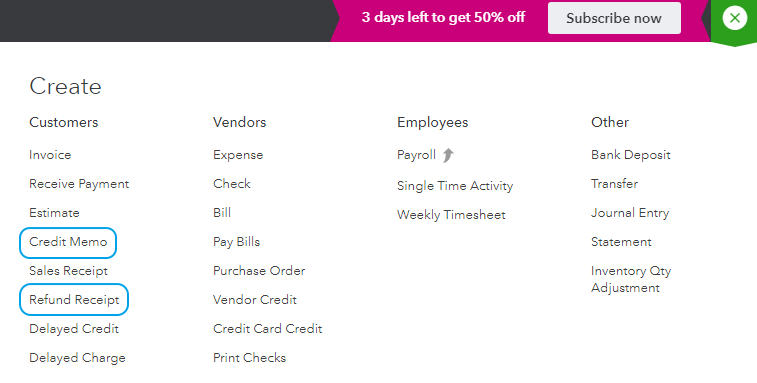 Quickbooks Desktop:
Open an invoice

Select Refund/Credit

Q&A:
Why is my invoice not paid in full?

If your invoice is not paid in full, you may have accidentally applied a credit to the invoice. Edit the payment and make sure the payment in the grey box is not zero as that will apply a credit on the account. Scroll up in this article and review "invoice credit". There should be two payment amounts. One in the grey box under "payment" and one in the "payment amount" area above it.