Credit memos in JobNimbus create a transaction record without creating a separate payment in QuickBooks.
Credit Memo:
A credit memo is a document that a seller issues to the buyer reducing the amount the buyer owes to the seller. The memo explains the reason why. It could be issued instead of a refund. It could happen in the event of a pricing dispute or an allowance. It can be used to offset a current invoice partially or to offset a future invoice.
Most businesses who use credit memos first record the credit memo. Then later apply a payment and use the credit memo for payment.
When creating a credit memo in JobNimbus, it will create a transaction record and a payment record (this will not create a separate payment in QuickBooks). The payment portion will not say it has synced with QuickBooks until it is applied to an invoice (done in the edit screen of the payment portion). Once applied, it will apply that credit to the invoice in QuickBooks.

When to create a Credit Memo:
A credit memo is designed to be used to create a credit for a customer with the intent that it will either be refunded or applied to an invoice as a payment or partial payment.
Some choose to use credit memos when accepting a down payment. This can be applied to a later invoice as a payment but the downside to using a credit memo rather than a payment for this purpose is that it cannot be matched to a deposit from the bank feed within QuickBooks.
Do not use a Credit Memo for the following:
If you have received an overpayment from a customer you can either process a refund (done in QuickBooks), or you can leave the credit on the customer to be used on a future invoice. You DO NOT want to create a credit memo for this purpose if you are using the sync to QuickBooks. Doing so will double the amount of credit you owe back to your customer. You will want to leave the payment as is so this will match your bank deposit and issue a refund for the credit as needed in QuickBooks. You can create a note in JobNimbus indicating that the refund was initiated in QuickBooks, but there is not a way to debit that amount in JobNimbus.
In the case of a bounced check or a credit card refund; the original payment needs to stay in JobNimbus (not voided or deleted) so that it can be handled as an expense to be paid in QuickBooks.
How to create a credit memo in JobNimbus:
Contact/Job

Select Financials tab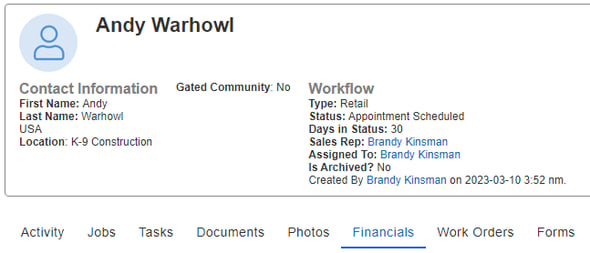 Credit Memos

Select Add Credit Memo

To apply the credit to an invoice:
Go to the contact/job

Select the financials tab

Scroll down to payment portion of the credit memo

Select the ellipse icon

Select edit



Check the box for the invoice the credit should be applied to and click Save payment
To create a refund in Quickbooks Online:
To create a refund in Quickbooks Desktop:
Open an invoice

Select Refund/Credit