Customize your customer and job workflow to track the important milestones in your sales and project processes. Your workflow is the list of steps and statuses that move a customer through your sales, production, and billing process.
Make sure you have already read and completed all steps in the Preparation section, including gathering the information on Your Workflow as well as Contacts, Jobs, & Work Orders before attempting to customize your workflow.
To customize your workflow, while logged in from a web browser, go to your name at the top right and choose Settings from the menu.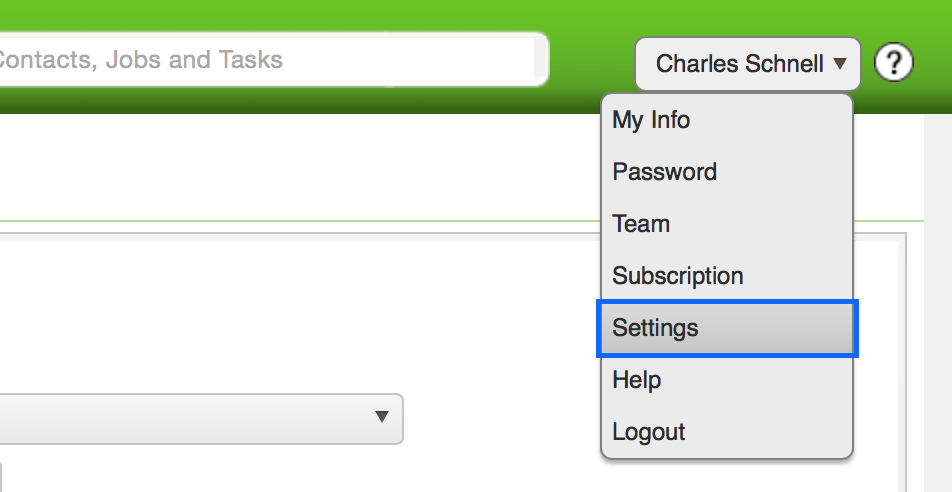 You must be an administrator with access to settings to customize workflows.
Contact Workflow
Most customers track their entire workflow on the Contact in JobNimbus. When you create a new JobNimbus account, a sample workflow is set up for you automatically. You can customize this workflow to match the steps and statuses you'd like to track in your process. To do this, go to the Contact Workflow tab in JobNimbus.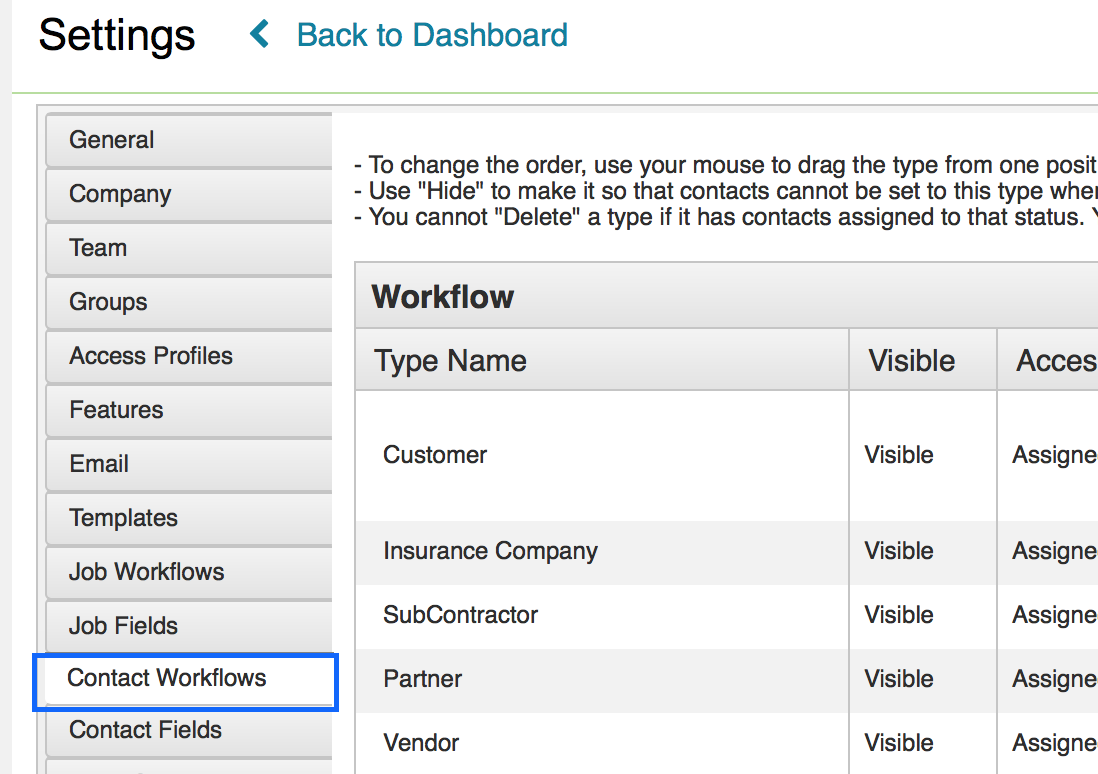 Customizing a Workflow
By default, a Customer workflow will already be created for you, which you can customize. Just hover over the customer workflow in the list and choose Edit from the action menu.

Use the Add Status button to add a status to your workflow list.

When adding a status, you have several options you can set for this workflow status.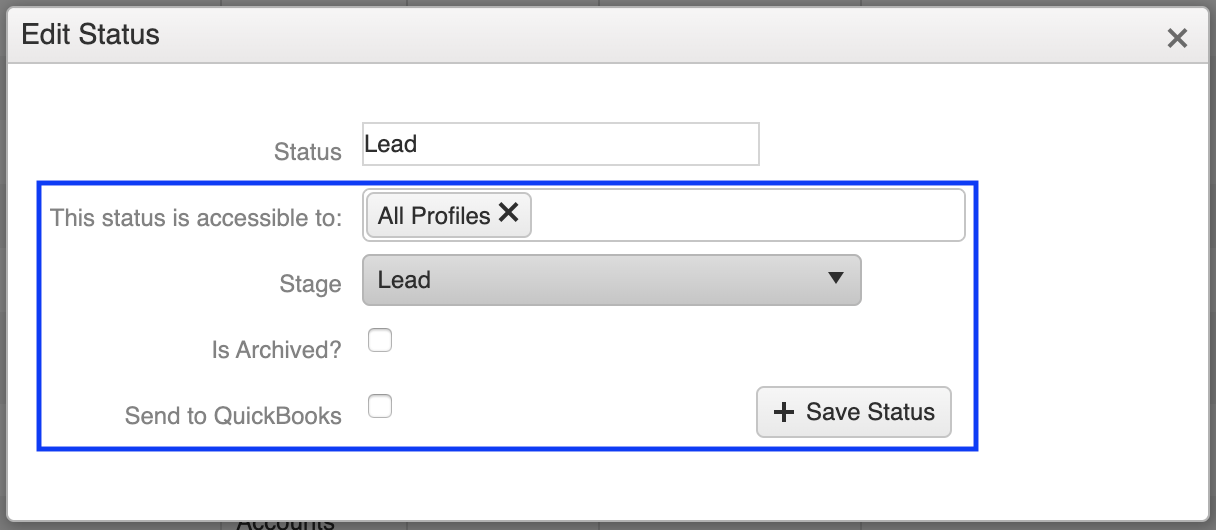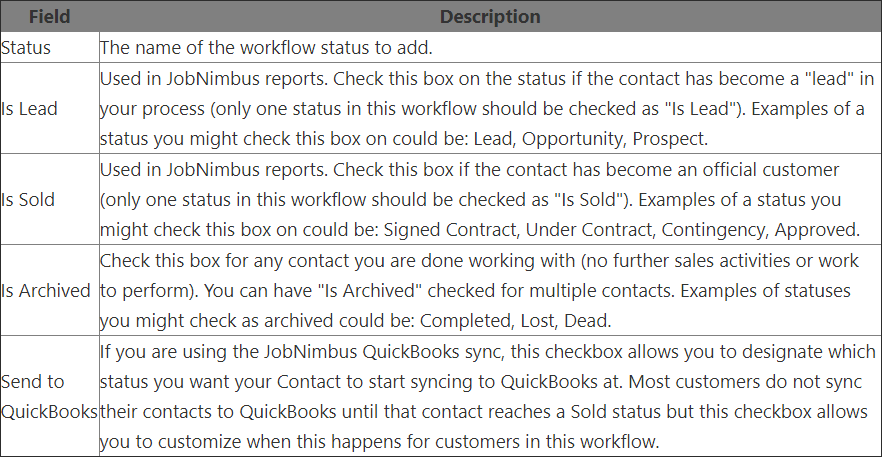 Once you've filled out the fields, click the Add Status button to save the status.
Continue adding statuses (and editing existing statuses) to set up your workflow steps exactly as you defined them in the Preparation setup step.
Reordering Statuses
You'll notice that any new statuses you add will appear at the bottom of the list. You can drag and drop the status rows to change their position in your workflow. Just click on a row and hold while dragging to move the status up or down in the list.

Editing Existing Statuses
Hover over any status in the list and the action menu will appear. Click the Edit menu option to change the name or any settings for that status.

Deleting Statuses
Hover over any status in the list and the action menu will appear. Click the Delete menu option to delete a status from the list.

Adding a new Workflow
You can add additional workflows to track other types of contacts and processes. To add a new workflow, click the Add Workflow button.

You can change the name of the workflow at the top. Just enter the updated name and click the Update button.

You can set an icon for the workflow to make it easier to identify on the boards and production calendar. Click the Choose link and select your icon image. Then click the Update button to save changes.

The Only Team Members Who Are Sales Reps or Assignees and All Team Members features allow you to override the security settings and access level of contacts on this workflow. Generally, you want to use the default option (Only Team Members) but if you ever need all your users (regardless of their security restrictions) to have access to all contacts for this workflow, choose the All Team Members option in those rare cases.

Job Workflow
By default, Jobs will be turned off in a new JobNimbus account. If you want to use Jobs, you need to enable the Jobs feature by following the steps in Enable Features.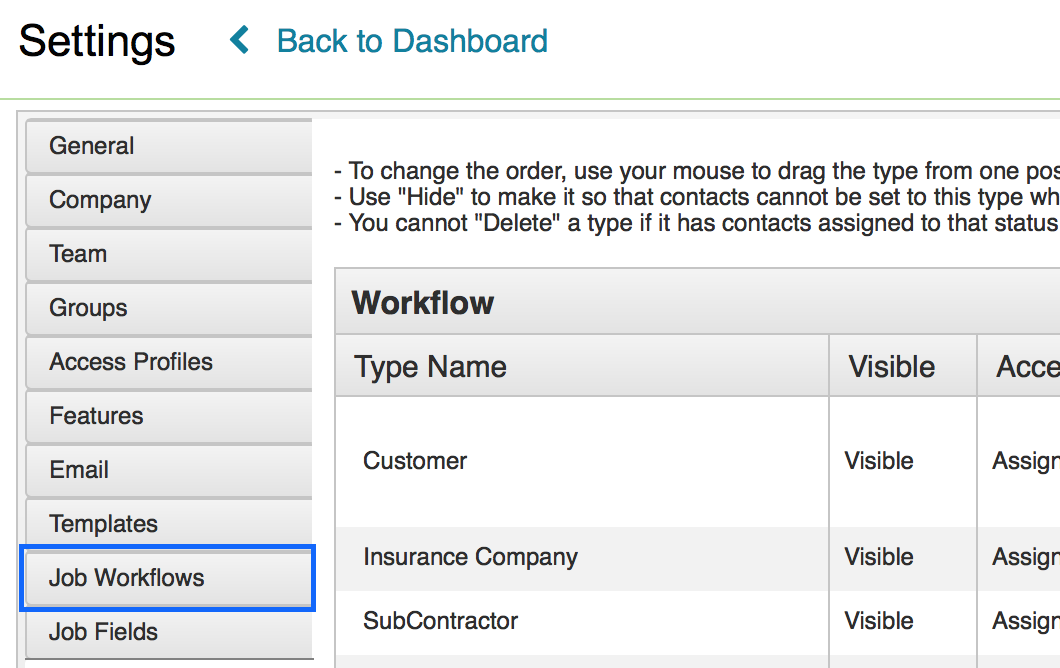 Advanced Features: You can choose which access profile views a particular status. To enable this feature go to settings ---> features --> Advanced Workflows --> enable

Something to be aware of: If you mark a certain workflow as All Contacts Are Subcontractors, then all of those contacts will show as subcontractors. This box should only be checked if everyone in that workflow is a subcontractor. The workflow name would likely be "subcontractor or supplier" so as to not cause confusion between your customers and those with whom you do business.