How do I Disconnect JobNimbus from Quickbooks?
If you need to disconnect JobNimbus from QuickBooks, follow these steps.
Disconnecting from Quickbooks:
There are a variety of reasons to disconnect from Quickbooks. The most common reasons are:
To change the file path QuickBooks is syncing to (QuickBooks Desktop)

To reconnect a sync that has been disconnected from the QuickBooks side.

To change the direction of the sync (two-way to a one-way)
**Please note**
If you plan on reconnecting again, please take a screenshot of your current sync settings first so you can set the sync back up the same way.
Disconnecting the sync will not delete or remove any records from either system but it will break the link between the record in JobNimbus and the record in QuickBooks for all record types. Reestablishing that link when reconnecting will follow the same rules as a new setup (ex: display names will need to be identical to link back up).
Disable Quickbooks Online:
Settings

Quickbooks

Select "Disable Quickbooks Integration"
On the pop-up, Turn off Quickbooks Integrations? "Yes"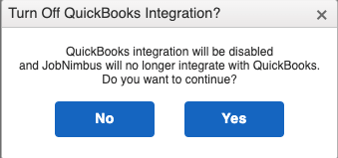 Disable Quickbooks Desktop:
Settings

Quickbooks

Show Advanced Options

Select "Disconnect Quickbooks from JobNimbus"
On the pop-up "QBD Disconnection Confirmation" select "Confirm"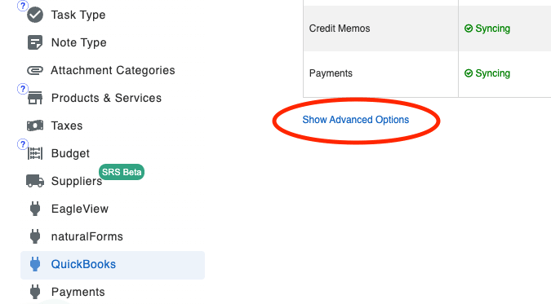 After reconnecting, carefully preview the changes you make on "view records". If not, this could lead to unneeded changes like duplications which can be time-consuming errors to fix, especially if you plan on changing sync directions.