Overview:
EagleView provides aerial measurement services to assist you with building estimates and knowing how much material to order. More info: http://www.eagleview.com/
Contact for Support
Live Chat Support: http://www.eagleview.com/

EagleView Customer Service
Toll-Free: 866-659-8439
Fax: 425-368-2935
Email: customerservice@eagleview.com
Mon-Fri 5:00am - 6:00pm PST
Sat-Sun 6:00am - 6:00pm PST
How to Integrate
Login to JobNimbus as an Admin user.
From the drop-down in the top-right of the page, select Settings.
From the left-hand column, select Features.
Scroll down to the section titled 3rd Party Features, locate EagleView, and select the corresponding Enable button.
After enabling EagleView, refresh your Settings and go to the EagleView.
Input the email address username and password. Optionally, select "Place orders using Team Member's EagleView account".This will allow all your team members to use EagleView.
Select "Authorize..."*.
Confirm your products and update the list.
To order an EagleView by select the ellipses icon in the top right of a contact or job.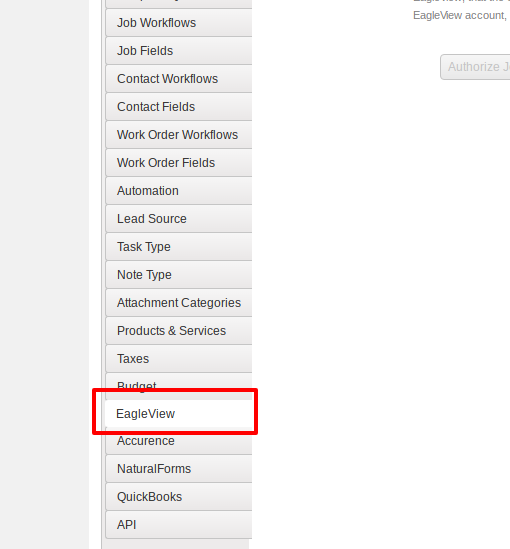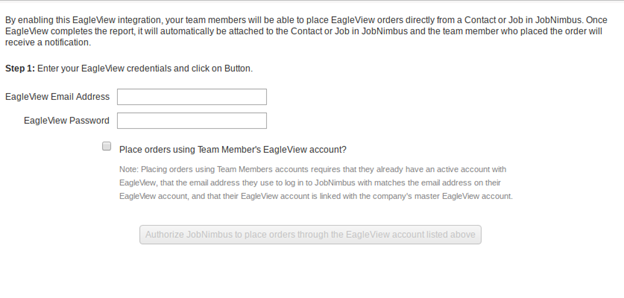 Additional Note:

Please note that your EagleView master email and JobNimbus admin email addresses will need to be the exact same.