What is EagleView?
EagleView provides aerial measurement services to assist you with building estimates and knowing how much material to order. More info: http://www.eagleview.com/
Integrating with EagleView
Login to JobNimbus as an Admin user.
From the drop-down in the top-right of the page, select Settings.
From the left-hand column, select Features.
Scroll down to the section titled 3rd Party Features, locate EagleView, and select the corresponding Enable button.
After enabling EagleView, refresh your Settings and go to the EagleView.
Input the email address username and password. Optionally, select "Place orders using Team Member's EagleView account".This will allow all your team members to use EagleView.
Select "Authorize..."*.
Confirm your products and update the list.
To order an EagleView by select the ellipses icon in the top right of a contact or job.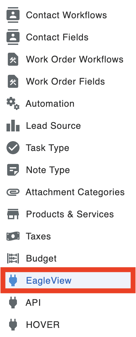 Using the Integration
You can order an EagleView from within JobNimbus and the EagleView will be attached to the specific Job or Contact's file. To order an EagleView, click on the 3 dots in the upper-right corner of the Job or Contact's information panel and select "Order EagleView" from the drop-down menu.

This will bring up the window to Order EagleViews.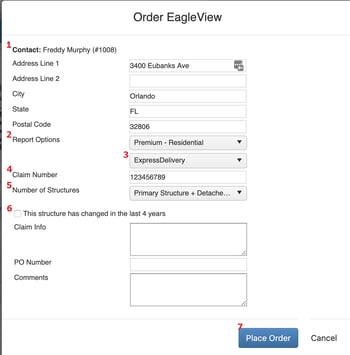 In this window, you can:
Verify the name on the Contact or Job, and update the address as needed.
Update the Report Options.
Update the Delivery options.
Create a Claim Number.
Update the Number of Structures.
Mark if the structure has changed or been updated and detail information as needed.
Additional Note:
Please note that your EagleView master email and JobNimbus admin email addresses will need to be the exact same.
Support
If you have any questions or if you need any assistance with EagleView, ordering EagleView documents or if the EagleView does not come through, or any question regarding the integration, contact EagleView's Support Team at 866-659-8439, or send them an email at customerservice@eagleview.com. You can also use their live chat, http://www.eagleview.com/.

If you have questions about creating the API key or integrating EagleView with JobNimbus, check out our article here: Integrations. You can also contact Support at (855) 964-6287 or via email at support@jobnimbus.com.