How Can I Manage the Notifications I Receive on My Mobile Device? (Android)
Learn how to view all of your notifications from within the JobNimbus Mobile App.
To review the things you've been notified about, open the Notifications tab at the bottom of your screen.


A history of your notifications will be listed here.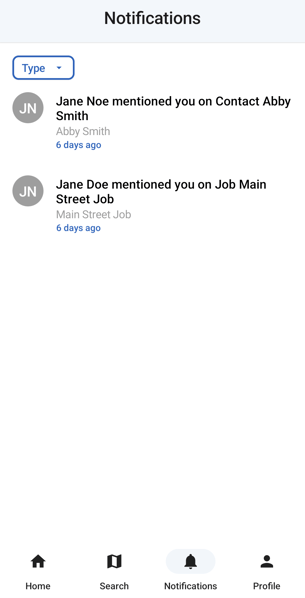 Unread notifications will show a blue dot next to the content in the list view.
The bell icon will reveal a number to indicate how many new notifications you have.


You can filter the items in this list by clicking the blue dropdown menu labeled "Type" at the top left:
@mentions = notes that you have been tagged in by a team member.
Jobs/Work orders/Contacts/Tasks

= records to which you have been assigned.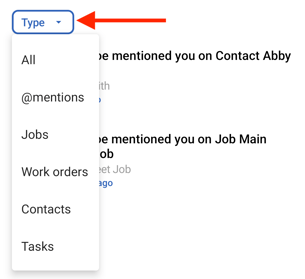 Tips
Configure your device's notification settings for the JobNimbus Mobile App to ensure the app has permission to notify you.
You will be notified in real-time if a new notification comes through while you are navigating the Mobile App.




Check out this article to learn how to set up your push notifications from the JobNimbus App.