How Can I Tell if an Event Was Created in JobNimbus or if It Was Created in a Synced Third-Party Calendar?
JobNimbus makes it easy for users to manage their schedules and stay organized by keeping their calendars in sync across multiple platforms.
The only third-party calendar that can send Tasks to JobNimbus is Google Calendar. If you are looking to see if a Task was created in JobNimbus or synced from Google Calendar:
Select the Calendar tab from the top menu.
Locate the Task and click on it to open the detailed view.
Click on the 3 dots in the upper right of the Task view.
Select "View" from the drop-down menu to bring up the Task's Activity.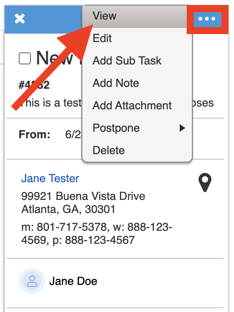 Update the Activity filter to "All".

Tip: The small calendar icon indicates that the Task was created in, and synced from, Google Calendar.