How Can I Update Line Items on My Mobile Estimates? (iOS)
Easily manage your Line Item details using the Mobile App.
Reference this article to learn how to navigate your Estimates on the go.

To update, delete, or move Line Items, locate an Estimate and choose "Edit" from the 3 dots at the top of the screen.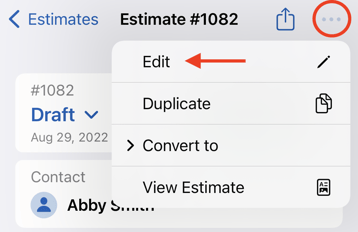 Within the editor, you can:
Remove a Line Item by swiping to the left and clicking the red trash can icon




Select the 3 dots to reveal the options to add Sections and Items or edit the product/service details (such as cost, price, and unit of measurement)




Click and hold the three horizontal lines on the right to drag/drop the order in which the items appear




Remember to click Save when you are finished making your changes.