How do I create a Credit Memo?
To create a Credit Memo:
Navigate to the Contact or Job
Open the Financials tab
Select Add Credit Memo at the top of the Credit Memos pane

This will pull up the Credit Memo builder: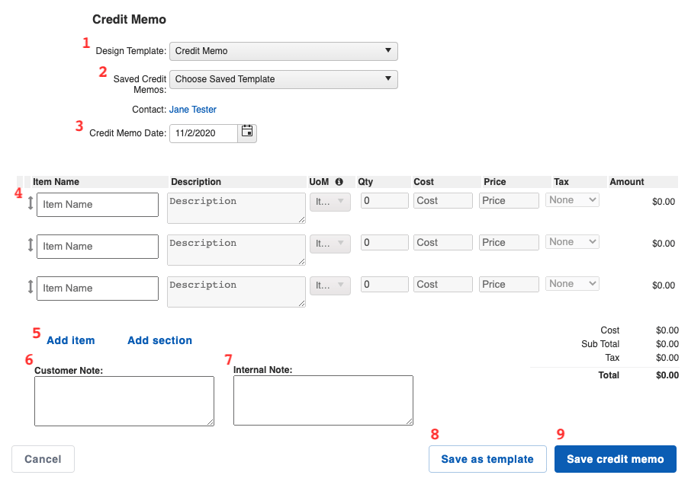 Here, you can:
Choose a Design Template you have previously created in the Templates section of your Settings.
Choose a Saved Credit Memo you have previously created and saved.
Change the Credit Memo date.
Add line items. These line items are pulled from your Products & Services. If you have not yet added the line item in your Products & Services, you can click on "Add New Product", which will pull up a window to create and save the product in your Products & Services. While hovering over the line item, the options to delete that line item or add an image to the line item appear.

Add another line item or a new section. Sections can help you separate your line items into specific groups.
Add a Customer Note. This note will appear at the bottom of your Credit Memo under the Customer Note Title and is visible to your customer.
Add an Internal Note. The internal note will appear in the Credit Memo description when you view it and is only visible to your team.
Save your Credit Memo as a template. This will allow you to save the Credit Memo, with all of its line items and totals, to be used later. When creating a Saved Credit Memo template, you will be prompted to give the template a name. Then, it will appear in the Saved Credit Memo drop-down for the next time you need to create the same document.
Save your Credit Memo. This will take you to the document viewer and will record it under the Credit Memos panel within the Financials tab.