Take the first step of processing digital payments through JobNimbus.
On this page
Sign-up Process
In your JobNimbus account:
Click on your profile icon or initials in the top right corner
Select Settings from the drop-down menu
In the Settings menu on the left, open the Payments tab
Once you've landed on this page, click "Get started" to begin the signup process or connect with our team for more information.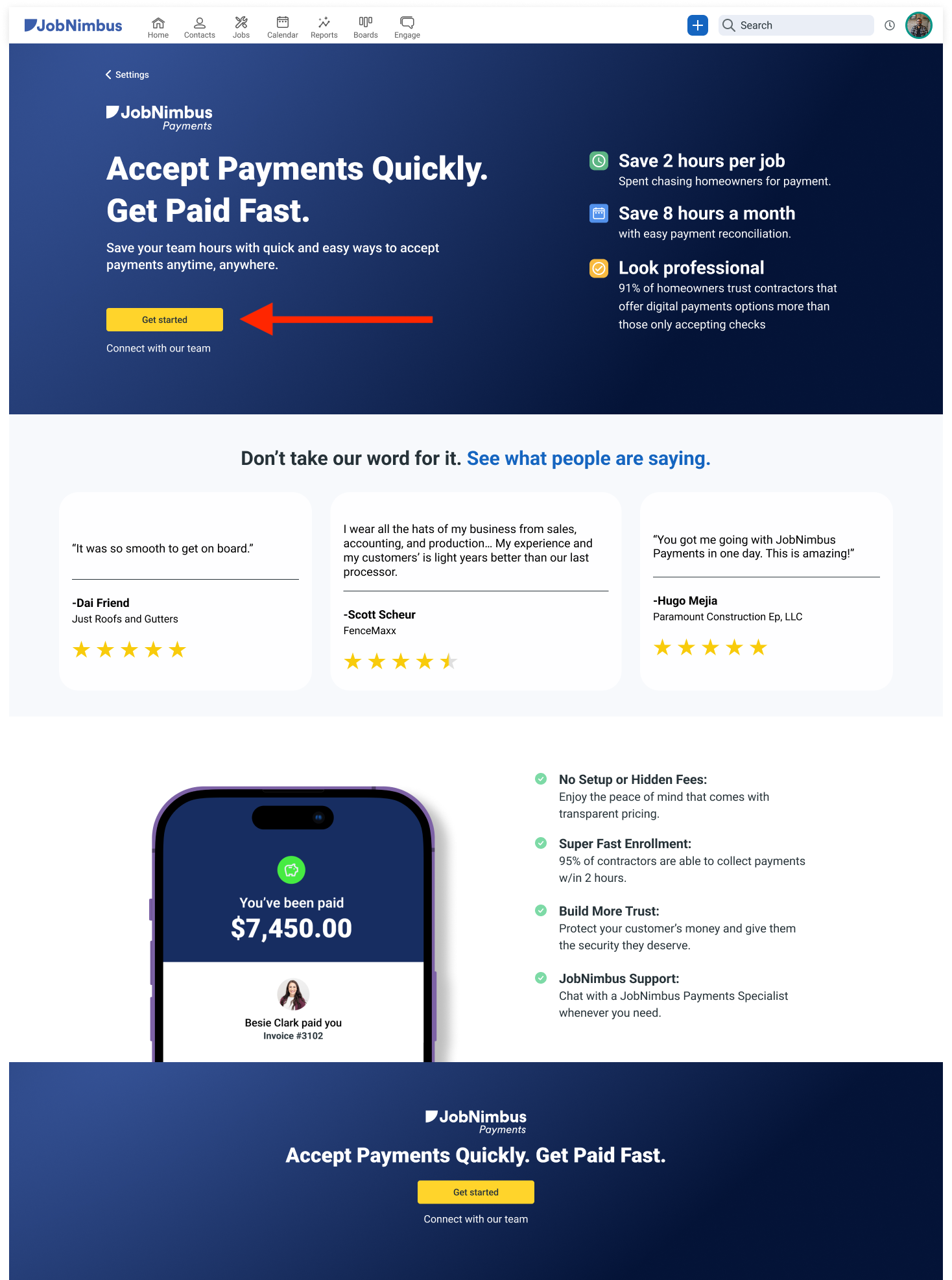 Sign-up Process Q&A
Why do I need to provide my SS# and my business's TaxID/EIN?
As part of our risk review to create your Merchant account, we want to know your business and you! By requiring both Business and Owner information, we can get your Merchant account created quickly and can keep our rates low.
What if have an ITIN, but not a SS#?
We can still get you signed up for JobNimbus Payments as long as you provide your ITIN documentation. You can upload this while in the form or email it to our team.
What is the "Description for your Bank Statement" field?
This is how you want to identify/describe the deposits going into your bank account.
What is the "What does your business process payments for and how are goods sold?" for?
A general description of what your business is and how you sell your services.
What is the "Account Login" for?
This is how you will log into your JobNimbus Payments Portal. A link to the Portal can be found in your Payments Settings.
What's the difference between linking my bank account with Plaid and entering it in manually?
When you link with Plaid's secure platform, it speeds up your onboarding time and removes the need for additional information, like a voided check.

If you link your account manually, we'll most likely need a voided check, which slows down the process, so we can confirm that money is being sent to the right account.
Managing JobNimbus Payments Settings


Navigate to Settings and select Payments




Next, you'll see where you can configure your JobNimbus Payment Settings




Accepting Payments - you can toggle this on or off to enable or stop accepting payments
Available Payment Methods - Adjust which types of payment methods you would like to accept
Edit Fee Handling - Choose how you want to handle the processing fee. More detailed information regarding this can be found in this article
Select Apply to save your payment preferences.


Information regarding using JobNimbus Payments across multiple locations can be found in this article.