How Do I Enable the JobNimbus Integration With HOVER?
To enable the HOVER integration:
Click on your profile icon or initials in the top right corner
Select Settings from the drop-down menu
From the Settings menu on the left, open the Features tab
Under the "3rd Party Features" section, toggle the switch next to HOVER


From the left Settings menu, open the HOVER tab


Click the blue Connect to HOVER button

Login to HOVER, if prompted, with your username and password combination.


Note:
If you do not have a current HOVER account, you can sign up for one by selecting the blue "First Time? Sign up now" at the login page. Make sure to sign up as a Professional and not a Homeowner.

8. You will then be prompted to authorize JobNimbus. Select Allow.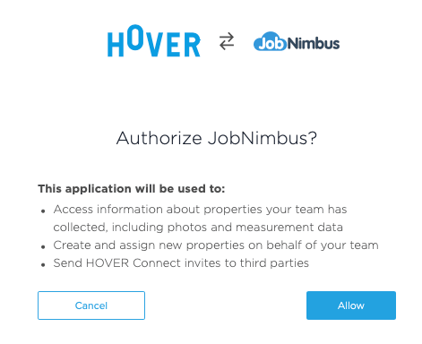 Congratulations! Your HOVER account is now integrated with JobNimbus.