How do I enable the JobNimbus integration with WePay?
STOP: When you enable the Payments feature, it will create a WePay account with the email address you're using to log into JobNimbus.
Be sure that the person enabling the Payments feature in JobNimbus is also someone who has custodial access to your company's finances and bank information.
Before you start, you will need access to the following company information:
Owner Birth Date
Owner Last 4 digits of Social Security Number
Company Address
Company Phone #
Company Website URL
Company Type (LLC, Corporation, Partnership, Sole Proprietor)
Company EIN
Company Bank Account Type (Savings/Checking)
Company Bank Account #
Company Bank Routing #
To enable the integration:
Log into your JobNimbus account
Click on your Profile Icon or initials in the top right corner
Select Settings from the drop-down menu
From the Settings menu on the left, open the Payments tab
Toggle the switch next to Enable Payments
Select WePay
Click Configure WePay
Remember to only do this if your email will be used for the merchant payments account.
Read through the Payments summary on this page. When you're finished, click the button "Start Accepting Payments"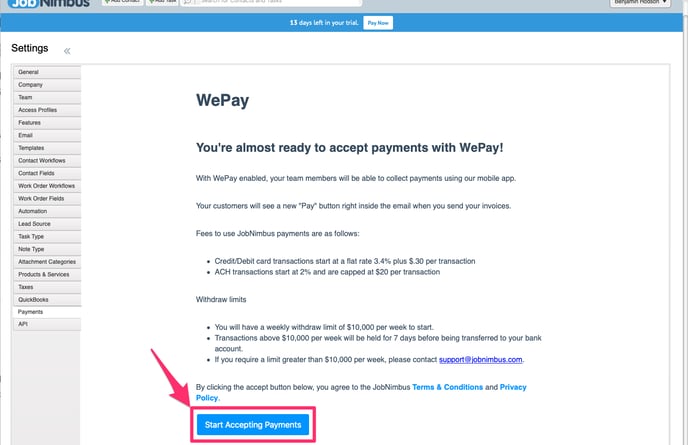 Once the feature is enabled, you are able to start accepting payments immediately! These payments will stay in your WePay account and you'll be able to withdraw your funds once you finish setting up your WePay account.
The WePay+JobNimbus integration is only available to U.S. customers at this time.