How Do I Use Contact, Job, and Work Order Scheduling?
The Contact, Job, and Work Order Scheduling features allow you to see when work will be completed on your Calendar.
To enable the Contact, Job, and/or Work Order Scheduling features:
Click on your Profile Icon or initials in the top right corner
Select Settings from the drop-down menu
Under the Settings menu, open the Features tab
Switch the toggle next to the scheduling feature you'd like to use
If you don't see Job or Work Order scheduling, you will first need to enable the features.
After you have enabled the feature, you will be able to add a start and end date for the correlating record.
You can add a start and end date for a Job or Contact at the bottom of the left column in the Edit Contact or Job window.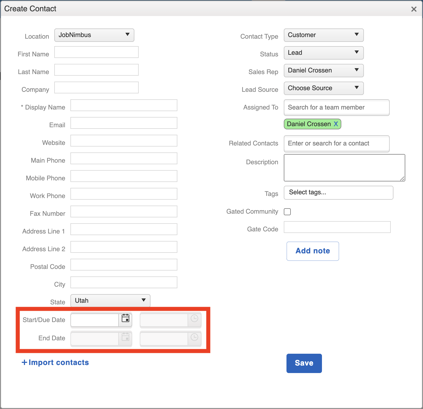 To add a start and end date to a Work Order, add it to the top section of the Work Order.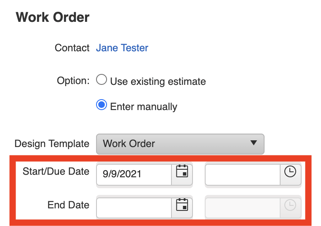 After you add the start and end dates, an event will appear on your calendar.

Tasks vs Record Scheduling
The scheduler for Contacts and Jobs doesn't exactly create Tasks; it simply allows you to add your Contacts, Jobs, or Work Orders to your Calendar on a specific day.
Once you schedule your record, it will only show up for that date and time. If you want the record to show up at a different time, you will need to edit the Contact, Job, or Work Order and reschedule it entirely.