How do I use the Xactimate/XactAnalysis integration?
Be sure to review our article on enabling the integration before moving forward.
When importing an estimate, the assignment must be received from an XactAnalysis Carrier account to your XactAnalysis Contractor account.
Any existing estimate or assignment must be reassigned or updated through XactAnalysis in order to import it into JobNimbus.

To open your Xactimate estimates:
Navigate to a Contact in JobNimbus
Click on the Financials tab
Select Add Estimate
Use the search bar under the Design Template drop-down to locate your Xactimate claim number

This claim number will pull from the XN Address you entered into the Xactimate page in your JobNimbus settings.
You will see all the claims that match the number you searched. Select the claim you want to import.
Click Import


All products and services imported from Xactimate through XactAnalysis will be generated in the estimate builder, including the sections that were created in Xactimate.
| | |
| --- | --- |
| JobNimbus | Xactimate |
| Item Name | Xactimate Item Identifier |
| Description | Xactimate Line Item Number, Activity (- for Remove, + for Replace, & for Remove and Replace), item description |
| Quantity | Quantity from Xactimate estimate |
| Cost | Xactimate Cost |
| Price | Xactimate Price |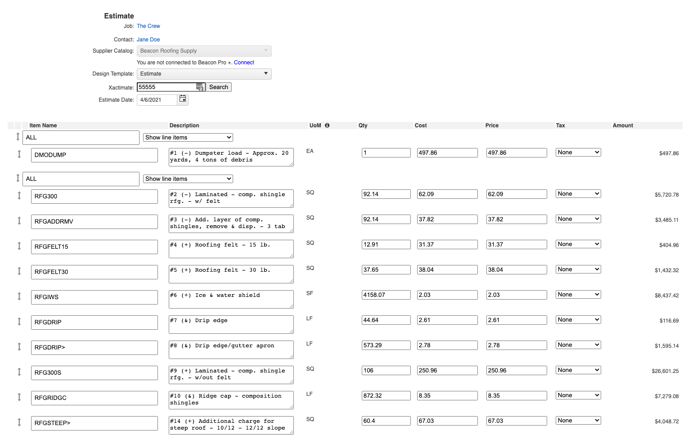 You can then update the Estimate in JobNimbus as needed.
Once you click Save Estimate, the Xactimate estimate will appear under the Contact's Financials tab in JobNimbus.