Now that you've completed the basic setup, you're ready to Import your leads & existing contacts into JobNimbus. To import your list, go to Contacts and click on the Import Contacts button.

Your list of customers or leads must be in a CSV (Comma Separate Values) format. If you have an Excel Spreadsheet or Apple Numbers file, open the file and use the Save As option to save it as a Comma Separated Values format.

Spreadsheet Format: Your spreadsheet does not need to be in an specific format or order. Just make sure each piece of data (first name, last name, street address, city, postal code) is in its own column in the spreadsheet. When you import your list, you will be able to map your data into JobNimbus.
Use the Select Files button to choose your spreadsheet to upload into JobNimbus.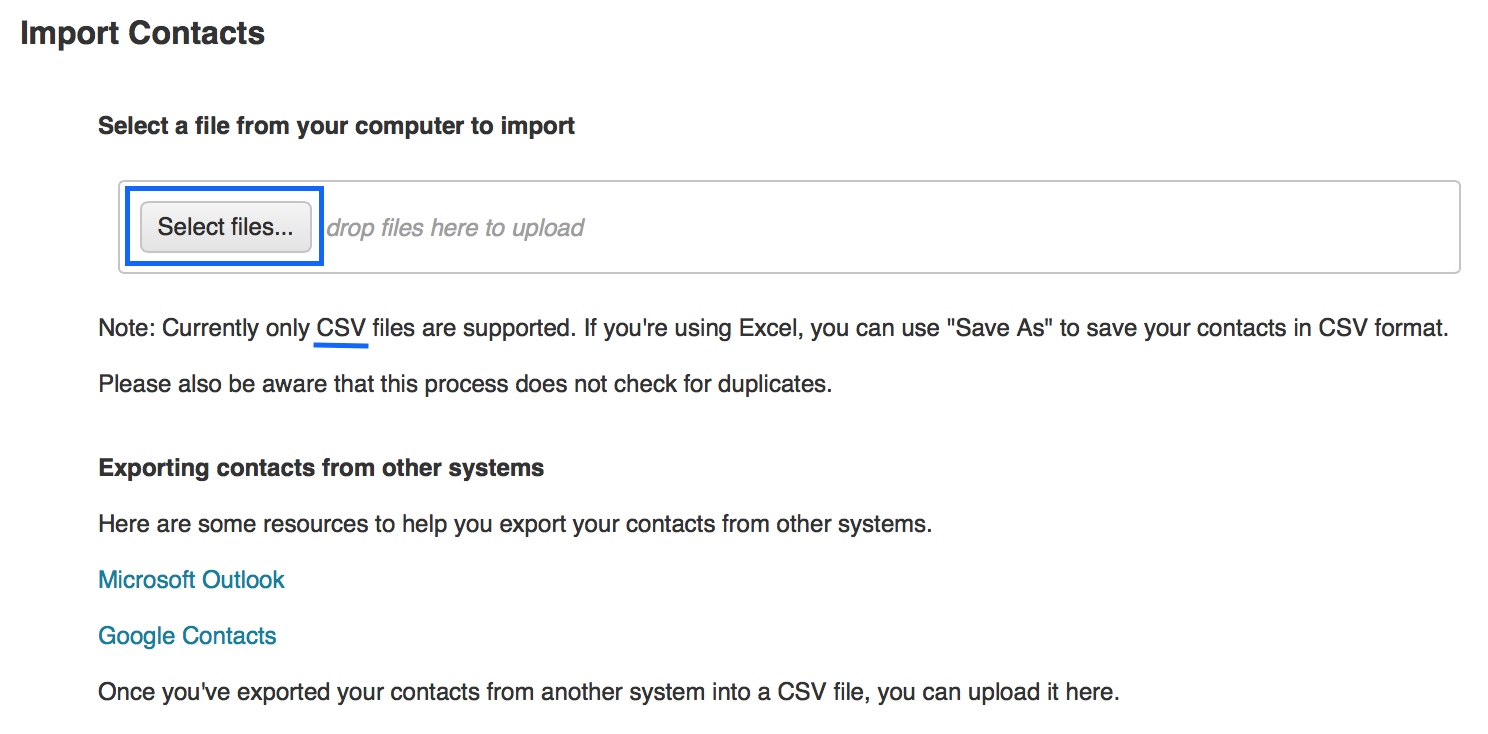 JobNimbus will scan your file, looking for the number of records, and trying to identify the type of data in each column. After the scan is complete, a series of drop down lists will be shown allowing you to choose how to map your spreadsheet's column data into JobNimbus Contacts. Use the drop down lists to match each piece of data you are importing with the corresponding JobNimbus field. Once all the fields are mapped to the data you have, click the Next button.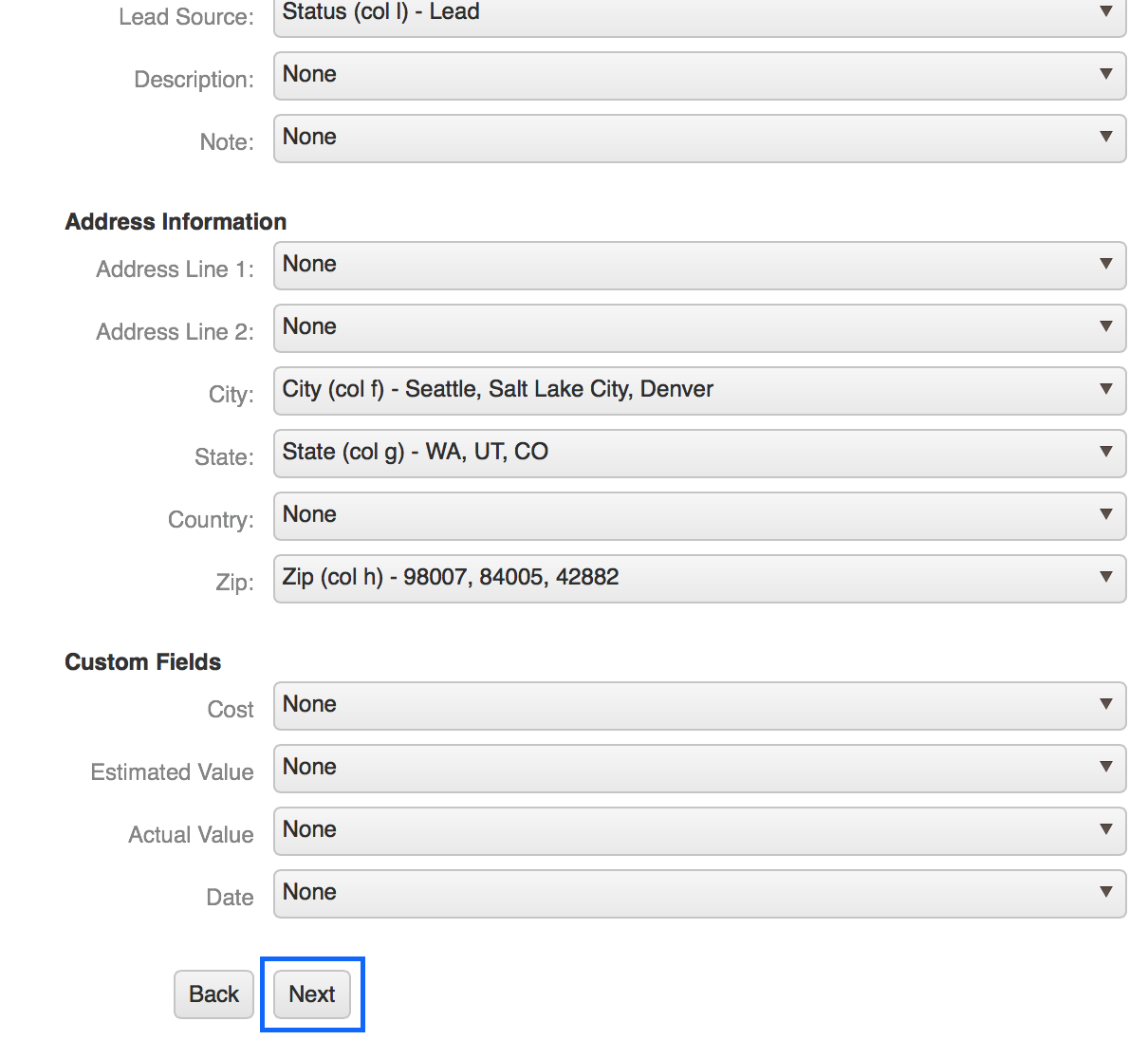 A confirmation screen will appear, showing you the number of records JobNimbus will import.
If any errors are shown on this confirmation screen, do not continue with the import. Instead, fix your spreadsheet file on your computer to correct the errors shown here. Then start the import process over and import your corrected spreadsheet file instead.
Once you're sure all is correct and the imported data preview looks accurate, click the Import Contacts Now button to start the import.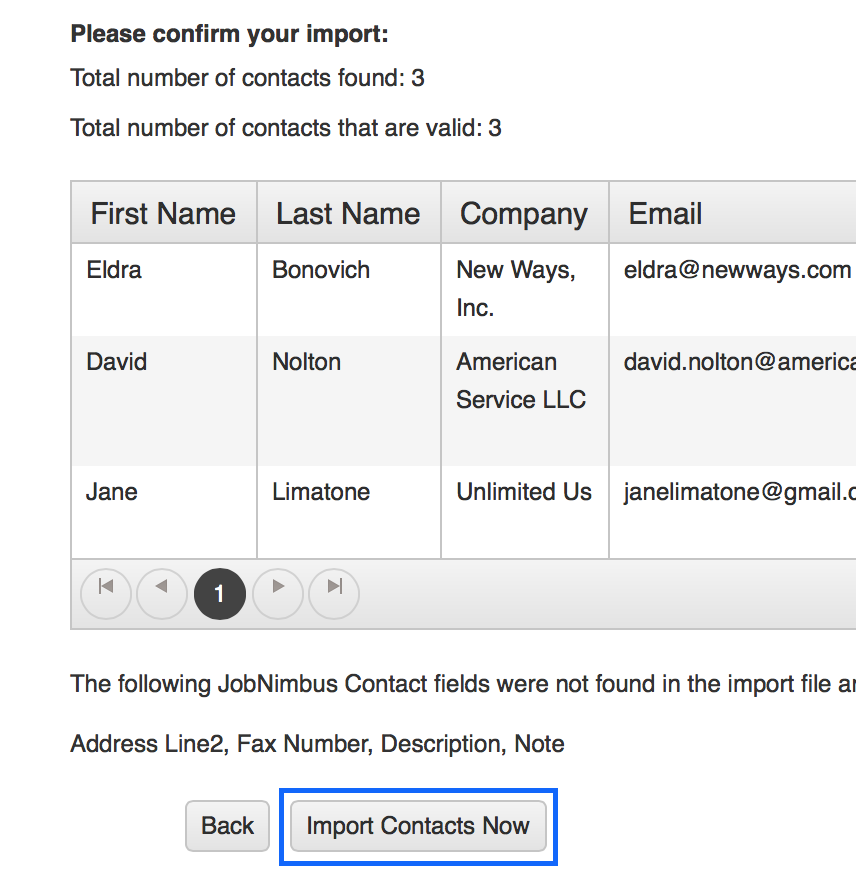 You must click the Import Contacts Now button to do the import. If you leave this screen without doing that, your contacts will not be imported.
Once you start the import, JobNimbus will begin importing your list in the background. You are welcome to use JobNimbus while the import occurs. Depending on the number of records you have imported, the import can take between a few minutes and up to an hour. You will receive a confirmation email from JobNimbus when your import is fully completed.