Purpose
Not only does JobNimbus have several features included in the software, but we also include several integrations for you to add to your account. Integrations help you customize your experience with JobNimbus even further. You can enable features or create API keys to integrate with third-party software such as QuickBooks, WePay, or CompanyCam.
Here, we will talk about what you will need to take care of before enabling any integration in JobNimbus. We also include the name of each integration and whether you enable the integration in your features or with an API key.
Before we Get Into it
Before you can get started with integrations, you will first need to know if your subscription can have integrations. For a list of the subscription options, read our article on Subscriptions here. You can also visit our site to view subscriptions here.
You will also need to know which integration or integrations you will need to use with JobNimbus. For a full list of the software that integrates with JobNimbus, you can view our website here.
Please note that the services the companies with which we integrate may require their own subscription to use their program. Please look into each program to know if they need a subscription to use or not.
Overview
Accessing your Integrations
You can access integrations in two places in JobNimbus. They can be found in the "Third Party Features" section of the "Features" tab of your settings. They can also be found in the "API" section of settings.
Integrations in the Features tab
Integrations offered in the Features tab, allow you to integrate with the third party software simply by enabling the third party feature in JobNimbus.
To access the integrations in your Features tab, click on your name in the top right corner and select "Settings" from the drop-down menu. From your settings, select "Features" from the menu on the left, then scroll down to view our 3rd party features.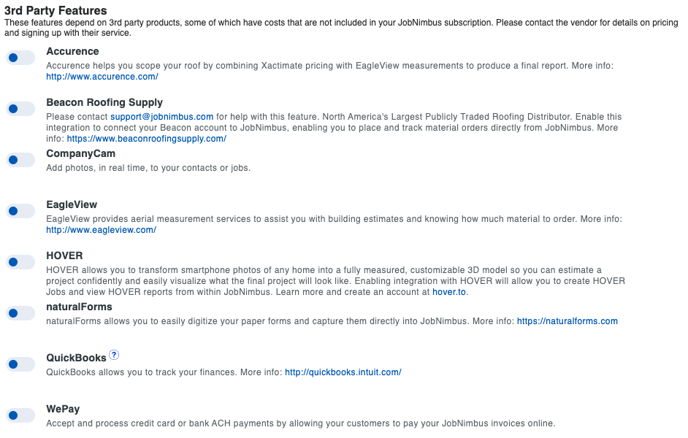 The integrations that are available through the Features tab are:
Integrations in the API tab
An API (or Application Program Interface) is a set of protocols, rules, tools, or definitions for building application software. The API key is a name given for a secret token that is submitted alongside a web service to identify the origin of the request. If the request is identified then it acts as an authentication and provides a set of access rights.
To access the integrations we offer that utilize an API token or key, click on your name in the top right corner and select "Settings" from the drop-down menu. From your settings, scroll down and select "API" from the menu on the left.
In the API page, you can create a API key by clicking on the "New API Key" button in the top right corner.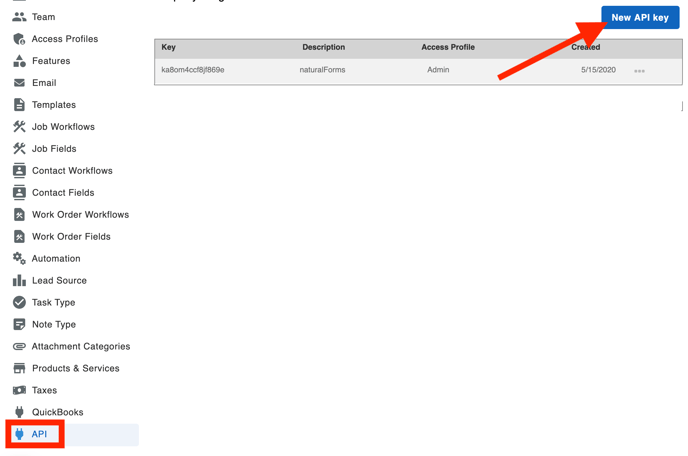 This will pull up a new API for you to create.

In this API creation, you can:
Select a third party software from the drop-down menu. If there is not an integration in the drop-down menu that is included in our integrations web page, you can type the name in the drop-down menu and it will be added to your account. The options in the drop-down menu include:

Map See
One Click Contractor

Select an Access Profile that can access the integration
Save the API integration
Saving the API integration will populate an API key that you can use in the third party software to complete the integration.
Do's and Don'ts
Do
Enable the integrations you need
Learn how to use the programs with which you want to integrate
Don't
Set up too many integrations at once
Contact Us
Still have a few questions about setting up your integrations? Contact Support at (855) 964-6287 or via email at support@jobnimbus.com. If you are having issues within the integration itself or with features included in the integration, we recommend you reach out to the customer support for that particular integration.
Have a great idea for a future integration or third party feature? Recommend features and vote for requests at JobNimbus Feedback!