Is there a way to automatically log the amount of time spent on a job?
The Time Tracking feature allows you to manually log the time spent on the Tasks for a Contact or Job, but there is not a way to auto-log.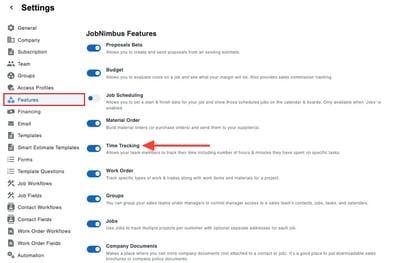 With Time Tracking enabled, a new option labeled "Time Estimate" will appear when creating or editing a Task.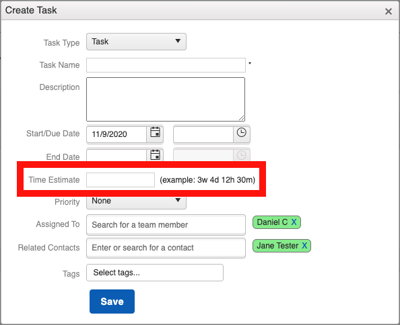 To enter time into this text field, use the shortcode in the example.
After the time has been added, Save your Task.
Once the estimated time is recorded, it will show in both the Dashboard and Tasks tab.
Logging Time
After you have included an estimated time for the Task, you can log time from the Task List on the Classic Dashboard, a Contact/Job's Tasks tab, and Calendar.
To log time in the Calendar:
Click on the Task
Click on the 3 dots in the upper right corner of the Task's information
Select "Log Time" from the drop-down menu.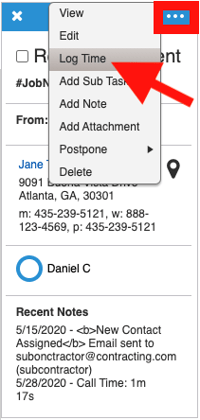 To log time in either the Dashboard or Tasks tab:
Click on the 3 dots to the right of the Task
Select "Log Time" from the dropdown menu

Selecting Log Time pulls up the following window.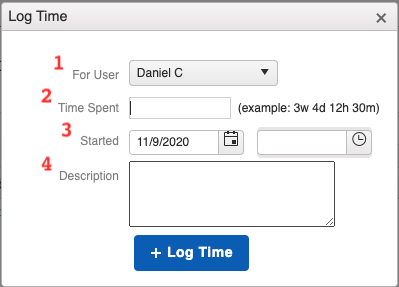 In the Log Time window, you can:
Select the user who is working on the Task
Log the time spent in the text field, use the shortcode in the example. For a logged time of 3 weeks, use 3w. For 4 days, use 4d, 12 hours, 12h, and 30 minutes, 30m.
Change the start date of the logged time.
Add a description for the logged time. This description will show up under the Activity tab of the Task.

After you have logged the time, the percentage of task completion will show:
within the information pane of the related record in the form of a pie graph. This is the percentage of the completed time you have logged vs the time you allotted to your Tasks when you estimated how much time it would take to complete.
under the Tasks tab in the form of a bar graph, reflecting the percentage of time completed for each particular Task. The graph will also show with the Task on the Classic Dashboard and will be logged in the Task's activity, which can be viewed when selecting "View" from the Task's 3-dot menu.