A guide to setting up the Payments feature, your merchant account, accepting your first payment, and withdrawing into your bank account.
Table of Contents
1. Enabling Payments
STOP: When you enable the payments feature, it will create a WePay account with the email address you're using to log into JobNimbus.
Be sure that the person enabling the Payments feature in JobNimbus is also someone who has custodial access to your company's finances and bank information.
Before you start, you will also need the following:
Owner Birth Date
Owner Last 4 digits of Social Security Number
Company Address
Company Phone #
Company Website URL
Company Type (LLC, Corporation, Partnership, Sole Proprietor)
Company EIN
Company Bank Account Type (Savings/Checking)
Company Bank Account #
Company Bank Routing #
Log into your JobNimbus account
Go up to your name at the top right and choose Settings from the menu
Choose the Features tab on the left side
Scroll down to the 3rd Party Features, next to WePay click "Enable". Remember to only do this if your email will be used for the merchant payments account. You'll be redirected to a new Payments tab in Settings.
Read through the Payments summary on this page. When you're finished, click the button "Start Accepting Payments"
Once the feature is enabled, you are able to start accepting payments immediately! These payments will stay in your WePay account and you'll be able to withdraw your funds once you finish setting up your WePay account.
Selecting payment methods
We recommend that you start with just ACH / E-Check payments as they are quick and easy for your customers to complete, and the fees are lower making it easier to build into your budget.
We also recommend covering the fees for these ACH payments, at least at the start. Most JobNimbus users who are accepting payments are having greater success collecting full payment faster by choosing to waive the fee for their customers.
To just accept ACH / E-Check payments:
Uncheck the box next to "Enable Debit/Credit Card Transactions"
Then click "Save"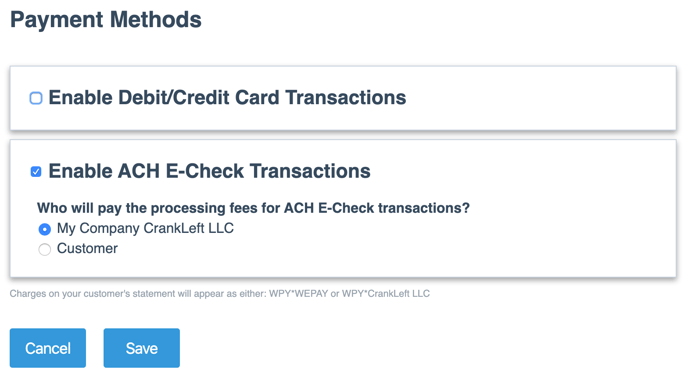 Now, when you send an invoice to your customer from JobNimbus, it will include a "Make a Payment" button allowing them to submit an ACH / E-Check payment directly from their bank account into your WePay account.
2. Setting up your WePay account
Verifying your WePay account
When you clicked the "Start Accepting Payments" button in JobNimbus Settings, you should have received an email from WePay (support@wepay.com) asking you to confirm your account.
Open this email and choose "Click to Confirm".
If you can't find this email in your inbox, you can search in your spam or junk folder, or use the "Resend Confirmation Email" button in the Payments tab of your JobNimbus account Settings.
This will take you to WePay's website for you to create a password for your WePay account. Enter an acceptable password, check the box to accept their terms & conditions, and click "Grant Access".
Doing this will forward you back to your JobNimbus account.
WePay portal setup
To finish setting up your WePay account, head to https://go.wepay.com/
Click "Sign In" at the top right.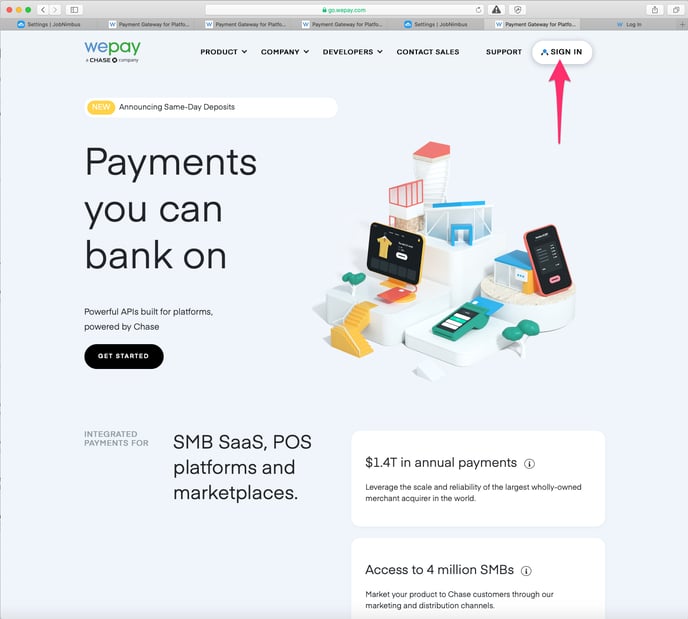 Enter your email address and password for your WePay account.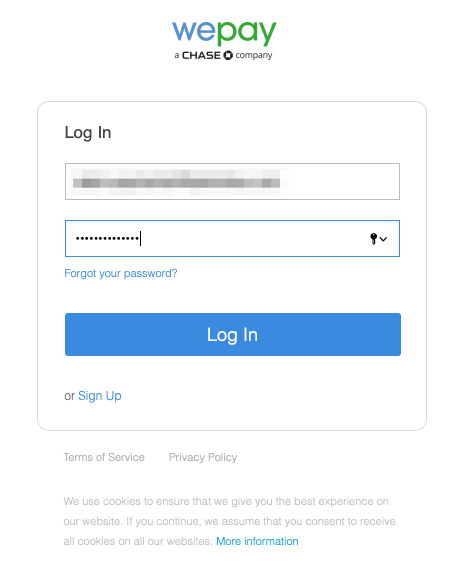 You will see 2 blue sections at the top that require action:
Action is needed to complete your account. Update your personal information.
You must add a bank account. Update your settlement bank information.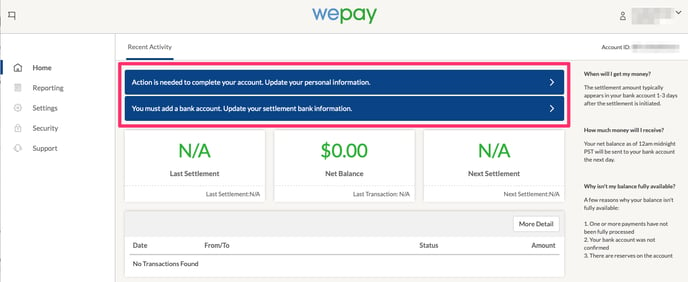 Update your personal information
Choose the first blue section on the WePay portal's home page to update your personal information.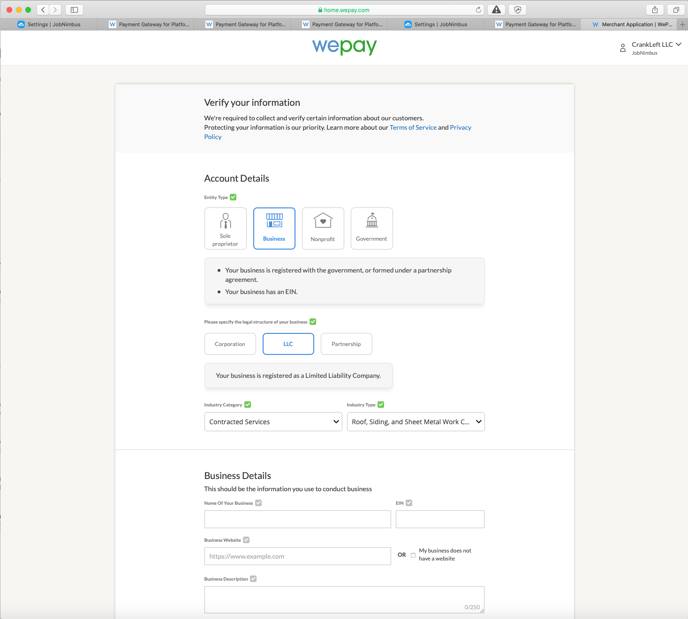 1. Account Details
Choose your Entity Type (Sole proprietor, Business, Nonprofit, Government)
Specify the legal structure of your business (Corporation, LLC, Partnership
Choose an Industry Category and then an Industry Type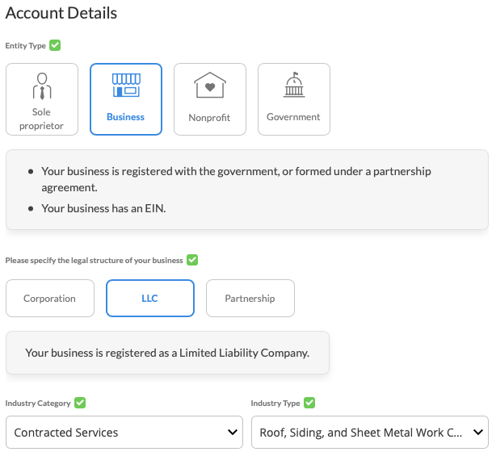 2. Business Details
Name of your business and business EIN
Business website
Business description
Business address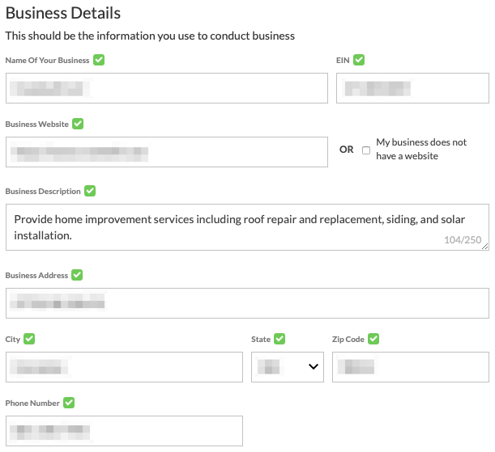 3. Controller Details
A controller is a single individual with significant responsibility to control, manage, or direct a legal entity customer, including an executive officer or senior manager (e.g., a Chief Executive Officer, Chief Financial Officer, Chief Operating Officer, Managing Member, General Partner, President, Vice President, or Treasurer); or any other individual who regularly performs similar functions (i.e., the control prong). This list of positions is illustrative, not exclusive, as there is significant diversity in how legal entities are structured.
First Name, Middle Name (optional), Last Name
Job Title
Address
City, State, Zip Code
Phone Number, Date of Birth
Social Security Number (last 4 digits for verification)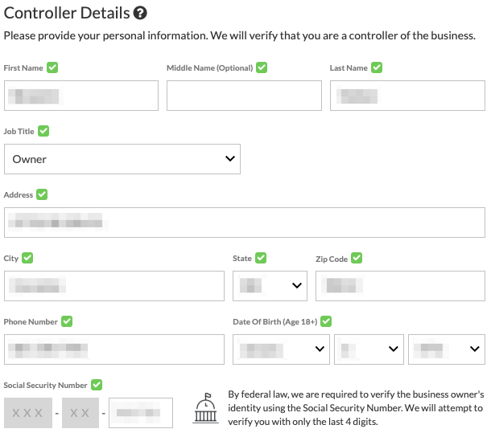 4. Business Owner(s)
Do you own 25% or more of the business?
Add more people who own 25% or more of your business
Submit
Once you're done, click "Submit" at the bottom. WePay will now verify your information and forward you to add your settlement bank information. You'll also get an email notification from WePay confirming that your new bank account was added.
Update your settlement bank information
Here, you will add the settlement details for you to withdraw funds from your WePay account into your bank account.
You will need the following information:
Routing Number
Account Number
Bank Name
Account Type (Checking/Savings)
How often you would like WePay to send your money (Daily, Weekly, etc)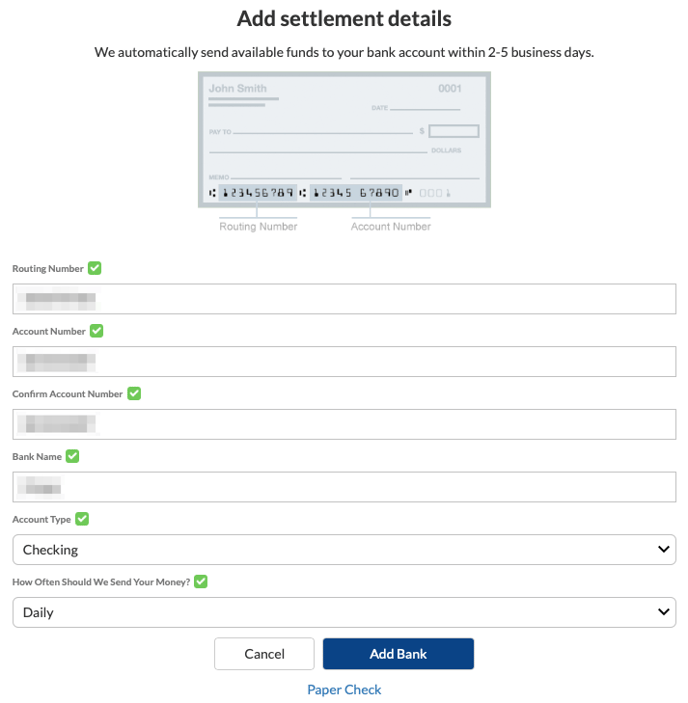 Submit (Add Bank)
Once you're done, click "Add Bank" at the bottom of the page. WePay will save your bank information and take you to their portal's home page.
3. Accepting payments
Accepting payments is as simple as sending your JobNimbus invoice to your customer, just like always.
That's because all invoices that you send now will include a large green "Make a Payment" button for your customers to click and perform an electronic payment: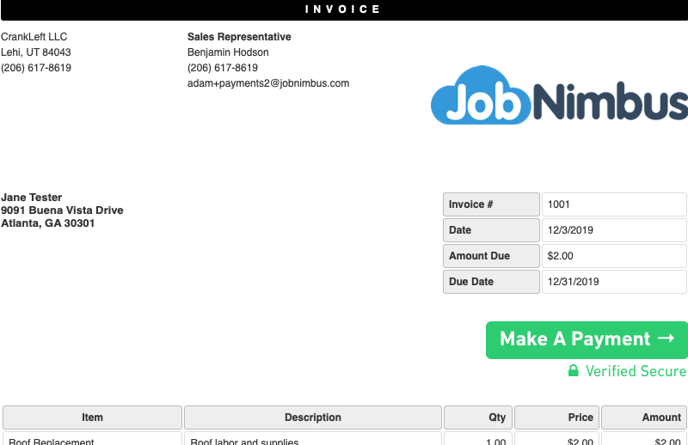 When your customer clicks on this button, they will be taken to a payment screen where they can choose how much to pay and then choose "E-Check":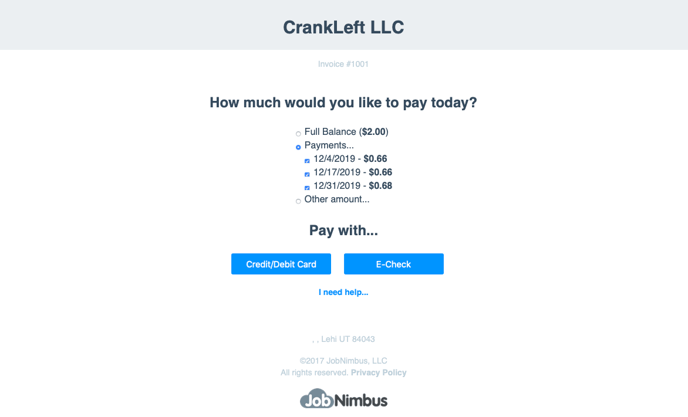 They will then see a button that says "Pay with Bank Account", this will open a popup where they can then sign into their bank account.
All they need to do is select "Continue":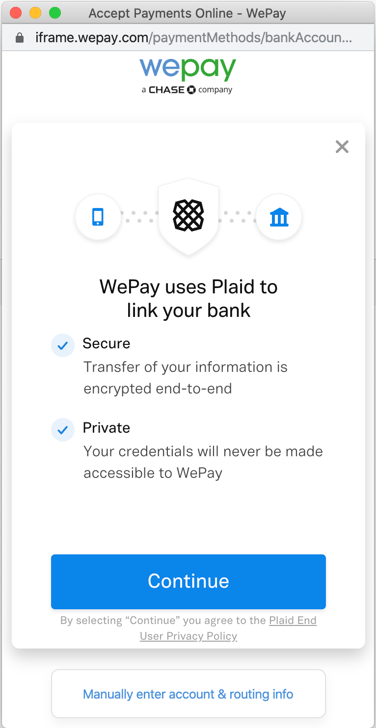 Then they will find their bank using the quick select buttons or the search bar at the top: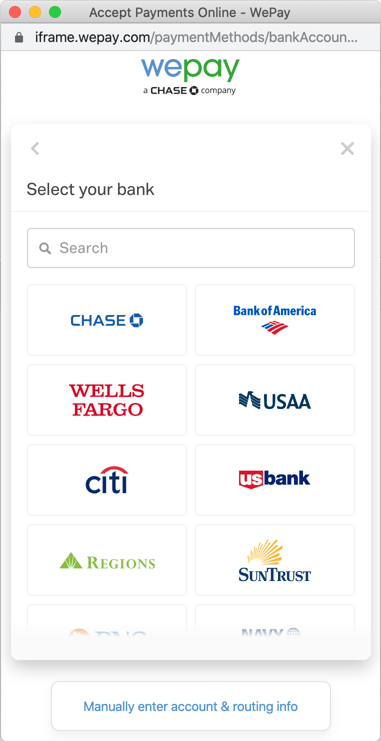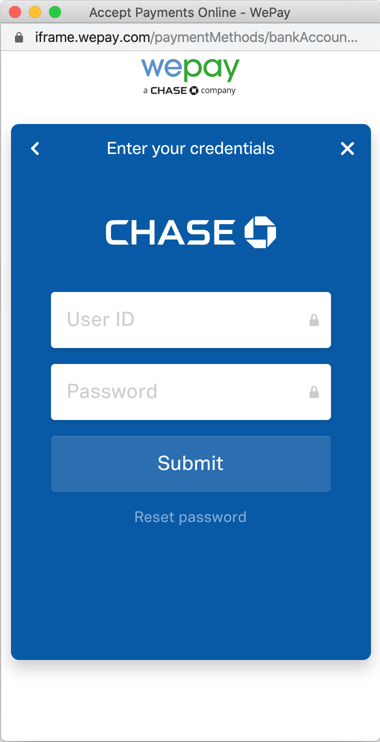 They enter their username/email and password for their bank account and click "Submit", then they may need to confirm their identity: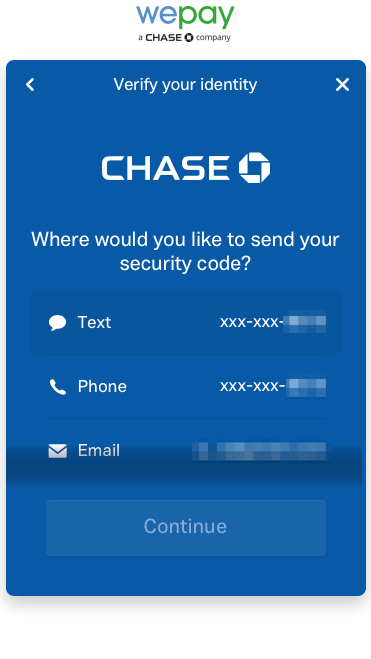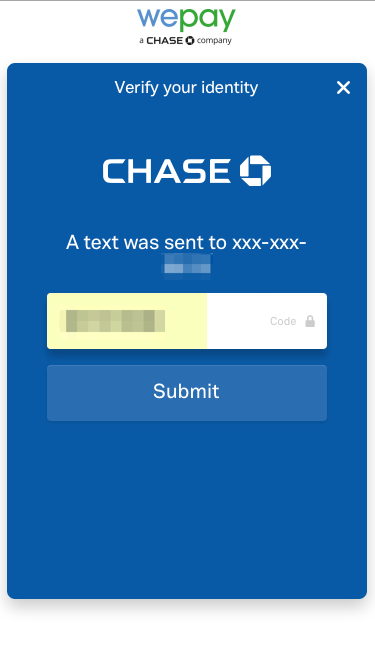 Once their identity has been confirmed, they will be presented with their bank account information for verification that this is the correct account they would like to pay from: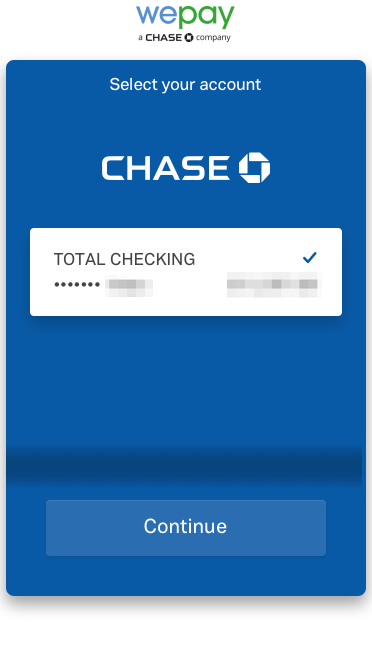 They confirm the account selection and click "Continue". Now WePay will ask them for their full name and an email address so they know where to send the receipt: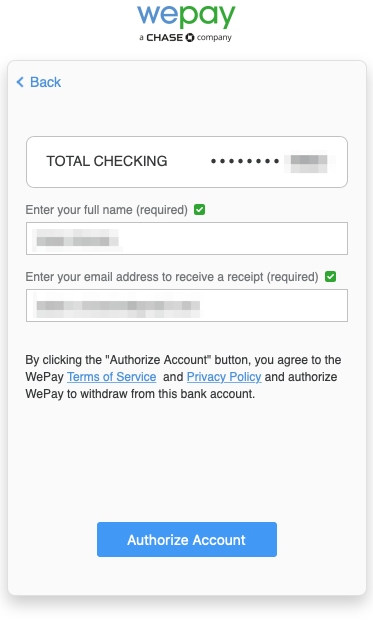 Now one final step is to confirm that the amount, bank account, and payer information are correct and they are ready to finalize the payment:

Once they click "Submit" they will be shown a successful payment confirmation screen and will receive an email receipt for the transaction:

4. What happens after I get a payment?
Payment recorded in JobNimbus
Once the payment is received through WePay, it is recorded in WePay's interface, but will also immediately show up in JobNimbus on the invoice you sent out. You'll be able to see this payment on your JobNimbus invoice as well as the Financials tab on the contact/job.
You can also use a Payment Report to see this and other payments you've received using WePay.
QuickBooks Sync
If you're syncing your JobNimbus account with QuickBooks, these payments will automatically sync over as payments in QuickBooks under their corresponding customers.
This saves you from double-entry, and you know that both systems are always going to match up perfectly.
WePay funds
The funds will be added to your WePay account immediately and will be scheduled for withdrawal depending on your settlement settings in your WePay account (see Withdrawing funds for more details)
5. Withdrawing funds
Your funds with be automatically withdrawn from your WePay account into your bank account on a regular basis. The settlement typically appears in your bank account 1-3 days after the settlement is initiated.
When you set up your bank account in your WePay account, you selected the frequency for withdrawals. The default is "Daily" but you can always see what your withdrawal is set at and make changes by signing into your account at https://go.wepay.com and going to Settings > Settlements Details.
6. Frequently Asked Questions (FAQ)
What is the minimum transaction amount allowed?
The smallest amount you are allowed to collect with WePay is $5. There is no maximum amount.
When will I get my money?
The settlement amount typically appears in your bank account 1-3 days after the settlement is initiated. (source: WePay)
How much money will I receive?
Your net balance as of 12am midnight PST will be sent to your bank account the next day. (source: WePay)
Why isn't my balance fully available?
A few reasons why your balance isn't fully available:
1. One or more payments have not been fully processed
2. Your bank account was not confirmed
3. There are reserves on the account (source: WePay)
What does the "Issue Refund" button [in the WePay portal] do?
The "Issue Refund" button gives you the option to provide a full refund to the payer including any service fees. (source: WePay)
How do I get more details about a payment [in the WePay portal]?
Each row is clickable and will lead you to a page with more details about the payment. You can also use the download button to save a CSV file to your computer with more information about each payment. (source: WePay)