QBWC Error: Application Requested To Abort: Could Not Start QuickBooks
This article outlines how to address the given QuickBooks Desktop Web Connector error.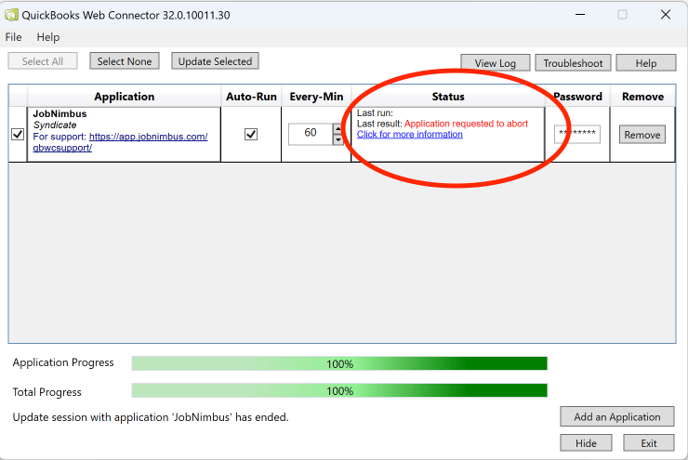 The 'application requested to abort' message may be displayed for several reasons. Select "click for more information" on the web connector to see more details.
If the explanation includes "could not start QuickBooks" please try the following:
Check that the file path to which JobNimbus is syncing is the same file path JobNimbus has listed under the QuickBooks tab. If it differs, please refer to the steps in this article.




This error can also be caused by multiple QuickBooks processes or windows running simultaneously. Close all instances of QuickBooks (including background processes found in your Task Manager). Reopen QuickBooks and try a manual sync of the web connector.

If the above doesn't work, restart the computer housing QuickBooks Desktop. Reopen the web connector and run a manual sync.

Users have reported repeatedly dealing with this error when old versions of QuickBooks still exist on the same computer. Try uninstalling the old version of QuickBooks from your computer.