Contacts:
A contact may not be syncing for a variety of reasons. First look at the error message located on the contact. Read what the error message says by selecting "Why?". If there is no error and it doesn't say "synced with QuickBooks No/Why?", then there is a good chance your sync is not setup.
Go to your Quickbooks settings to make sure it says contacts are syncing. Check your contact workflows to make sure the contact is in a status that syncs. Make sure the contact is not a duplicate, Quickbooks will not allow a duplicate contact in the system. Check that the contact is not made inactive in Quickbooks.
Reasons a contact is not syncing:
Sync is not set up

Not in a status that syncs

Duplicate

Inactive in Quickbooks
1. Sync is not set up:
If the sync is not set up the customer will not have the line "Synced to Quickbooks". To set up the sync make sure you have watched the videos on setting up your workflows and connecting the sync.
Sync that has been set up.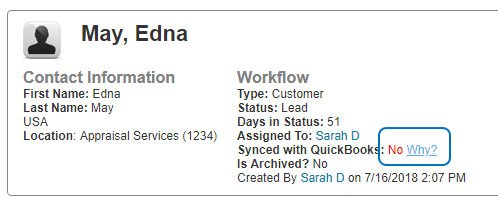 Sync that has not been set up.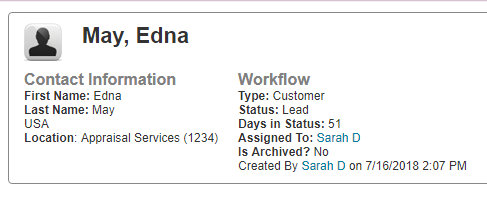 This is a common error. This same type of error also exists on jobs, estimates and invoices. Change the status on the contact to one that syncs. Check your workflow to see which status are checked off to sync.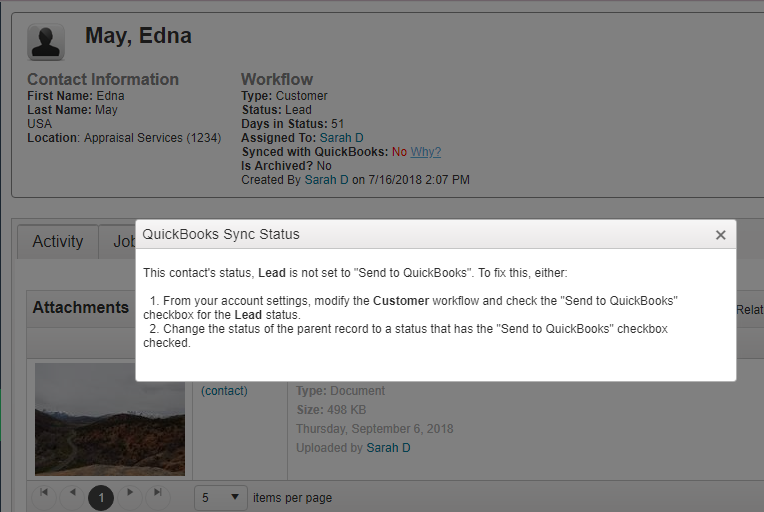 Check your workflow:
Workflow settings:
Go to "Settings"
Select the "Contact Workflow" tab
Select the "Ellipse"
Select "Edit"
Select the "Ellipse" again on the workflow popup
Select "Edit"
Check off "Send to Quickbooks"
"Save Status"
3. Duplicate:
This system is designed to prevent duplicate contacts. Duplications can cause severe accounting issues. The field "display name" on a contact has to be unique for each contact.
4. Inactive in Quickbooks:
You can make the contact active again in either Quickbooks Online or Quickbooks Desktop. You can also delete the contact out of JobNimbus.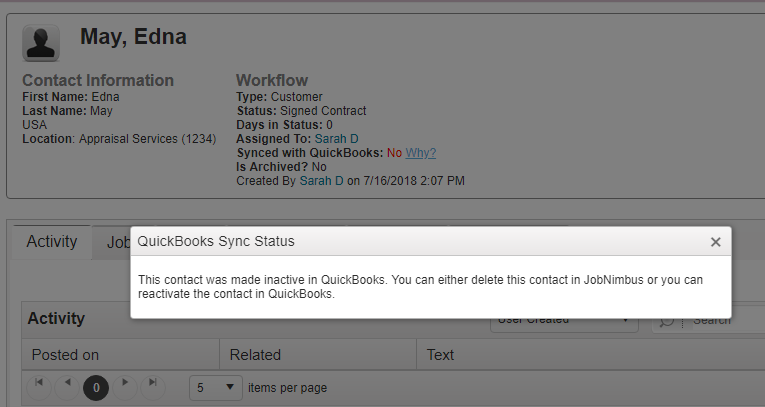 Undeleting in Quickbooks Online:
Search for the contact using the magnifying glass icon.
Select "Make Active"

Make active in Quickbooks Desktop:
Select "All customers".

Locate the inactive customer through the grey "X".
Right click on the customer and select "Make Customer:Job active".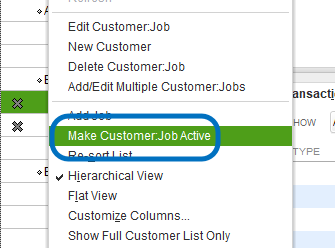 Note:
There is a 32 character limit in each field, such as customer name or display name.

If you update the same contact in each system before it syncs, there will be a conflict, in that case the system that is chosen as preference will override the other. It is best to choose one location to make major updates to a contact (phone number, address, email).