Overview:
If you have more than one company you can use, "multi-location syncing." Most companies use this feature for multiple branches or different locations, but some companies use it for two separate business types. This depends on how you use your accounting system. You can take advantage of using one JobNimbus account and have multiple companies going to each Quickbooks company file.
You may also open an entirely new JobNimbus account for your separate business. This depends on what will work best for your company.
This option is available for Quickbooks Desktop only.
Setup Instructions
To set up multiple locations, on the Quickbooks sync select "I have more than one Quickbooks Company file." Note this selection requires a full product list for each location and will automatically put a product list in that location. Each location will need a separate product list for that location.

After selecting multi-location, you will then be prompted to "set up sync" for each location. The instructions for connecting to Quickbooks Desktop will need to be followed for each location.

Remember:
If you have more than 1 JobNimbus company file and you are adding a second one, you have to select "no" when adding an application or it will overwrite the new connection with the original one.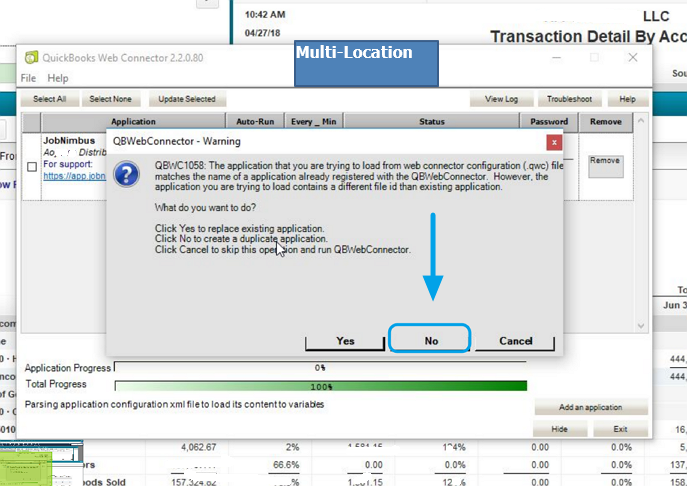 Common Questions:
1.What do I do if I change the location of a contact?
You may get an error, " QB Record is syncing with a different location in JN, Click here (Multi-location syncing) for more info on how to resolve this issue."
Edit the location on the contact to the correct location.

Delete the record (contact) in Quickbooks that is in the wrong location

Check if the contact becomes archived in JN (It may vary according to sync preference).

In JobNimbus update the status to an unarchived status.

The contact should now be okay to sync with Quickbooks.