General QuickBooks/JobNimbus Questions
QuickBooks Sync Settings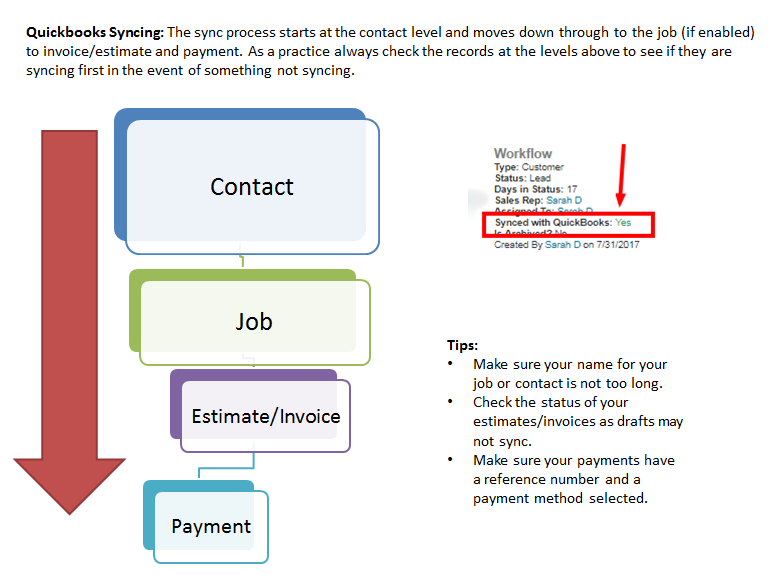 1. Can I change my sync settings? (one way to two way and vice versa)
Yes, you have to disconnect and reconnect to change your sync settings.

2. What kind of sync should I choose?
QuickBooks can be made to sync 2-way or 1-way either direction (from JN to QB or from QB to JN) but most people just use 2-way sync because they want what happens in one system to stay in sync with the other system.

3. Can sub customers link to JobNimbus?
Yes, but you should enable the Jobs and setup your workflow accordingly
The simplest thing for to do would be to use Jobs in JobNimbus and just have your Contact Workflow be Active or Inactive and then put your whole Sales, Production, and Billing workflow statues on Jobs. Then you could continue business as usual in QB

4. Where do I map my payment types in Quickbooks Desktop?
Payments are not mapped in QuickBooks Online.
Settings ---> quickbooks ---> record types ---> set up sync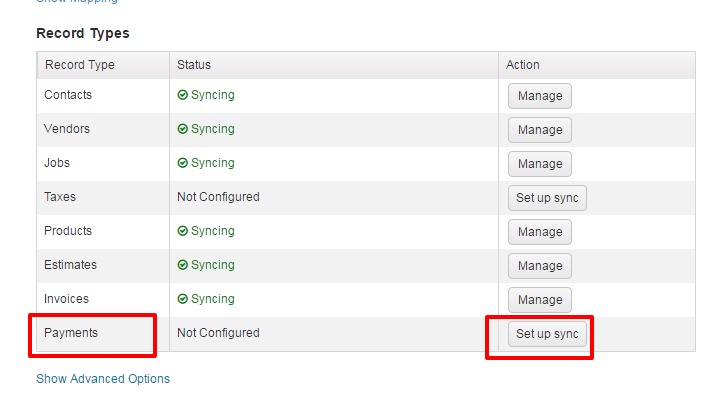 Financing in QuickBooks does not sync over

5. How do I set up my products and materials?
1 - Item Name cannot be overridden but all of the other fields can be. Quantity, Description, Cost, Price, Tax.
2 - Some people want to have one item called "Shingles" and then use the Description field to specify color, manufacturer, warranty length, etc. While others have the manufacturer as part of the name and just use description to specify color and warranty length. While others include color and warranty length in the Item Name. There is a whole range of possibilities here but what it comes down to is that if you have less info in the item name and most customizability in the Description field then you can have a smaller products list but others would rather have a huge products list because every product is very specific with all of the details so that they don't have to do much customization.

More products mean faster to create invoices. Fewer products mean less product list maintenance so it's a trade-off.
6. Which customer type do I choose?
(for the initial QuickBooks sync)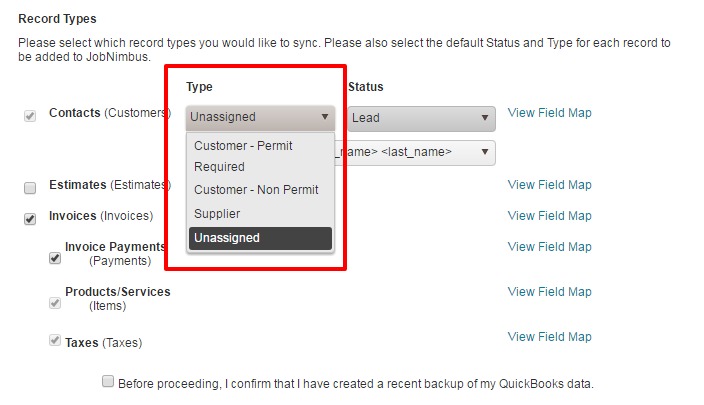 You only get one choice and you have to manually fix whatever doesn't match that choice. This is the case where if you bring over 1000 contacts and 900 are archived and 100 are not then you want to bring them all over as archived so you only have to manually fix the 100 instead of the opposite which would require you to fix the 900. QB has no concept of complex workflows so everything from QB has to come over as a single Type and Status combination and then you have to fix any that are wrong. Some people create a special status called From QB and they fix every single record to make sure they don't miss any because they can have a report that shows any in that status which would mean they need to assign it to a correct status etc. but that's just an option.
7. What is the default account that funds go to in Quickbooks? In both Quickbooks Online and Quickbooks Desktop it is undeposited funds.
Quickbooks Online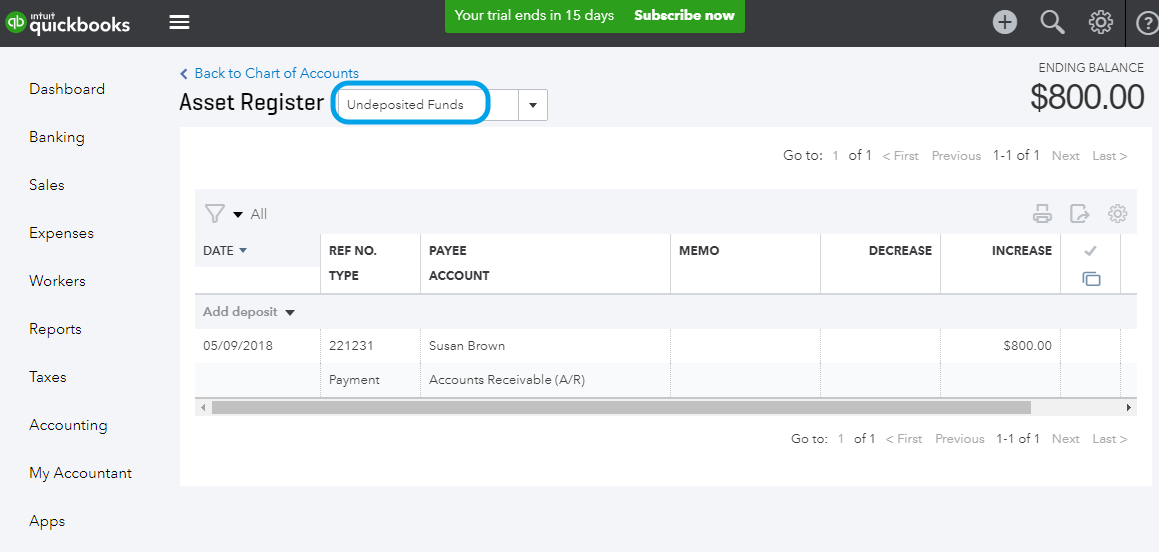 Quickbooks Desktop

Syncing Records with QuickBooks

8. Do you put your Estimates, Invoices, and Payments to your Customers or Sub Customers in QB?
Whichever way you do that you can do the same in JobNimbus but if you put them on your Customers then you could get all of those to sync over to JobNimbus if you chose to not use Jobs in JobNimbus.

9. Does Job status sync over?
Job Status doesn't sync over to an equivalent in QuickBooks since our workflows can be wildly different thanks to customization.
10. Do active/inactive statuses sync over?
Yes, we do sync with QB's Active and Inactive states.
In QB inactive does not sync to JN.

11. Can I exclude certain items from syncing?
It's not possible to exclude certain items from syncing between the systems. (like certain products from a product list). Only if you hide them in JobNimbus thereby stopping the sync.

12. Do Subcontractors sync to QuickBooks Online as Vendors?
Currently, the Subcontractor contact type syncs to QuickBooks Online from JobNimbus as customers, as opposed to QuickBooks Desktop, in which you can choose how they sync to JobNimbus.

General QuickBooks/JobNimbus Questions

13. Does QuickBooks have a cost field?
No, it does not. Costing type info. doesn't sync now, it would have to be double entered in QuickBooks.
14. What does the refresh QuickBooks lists link do?
Refreshes updates that were made on the QuickBooks side
for these lists specifically can detect newer records that were made on the QuickBooks end, like a custom payment type or new salesperson.
15. I can't find my web connector inside my QuickBooks?
Search through the article below and download the right web connector to your Quickbooks version
https://community.intuit.com/questions/1140861-getting-error-qbwc1048-in-quickbooks-web-connector
After downloading and restarting QuickBooks you should then see
file --->update web services
16. What is rate in JobNimbus?
The rate in QuickBooks maps to the price in JobNimbus
17. Can I disconnect and reconnect? Will it make a lot of duplicates?
No. If you are connected then the records that are linked should already be in sync so that when you disconnect and reconnect, it should realize that they are the same record and just link them back up and not create duplicates.
In rare case, it may make duplicates but it is possible to fix.
18. Do vendors sync to quickbooks?
QBO does not sync vendors; they turn to customers. You would have to manually enter them into JobNimbus.
19. What happens when I hide a product in JobNimbus in my QuickBooks Online account?
The product will be inactive and no longer show up in QBO. If you have an old invoice/estimate and then hide the product. It will still remain in the invoice in QBO and JN. The change goes forward.
20. Does it matter if I setup my Workflow for Jobs or Contacts if I want to do job costing in quickbooks?
As you know we don't do any job costing in JobNimbus, but in quickbooks desktop it does have the functionality under customers (contacts in JobNimbus) and sub-customers (jobs in JobNimbus) to do job costing, so yes you can just have a contact setup and do that in QB desktop.
21. If you create a contact record in JobNimbus and in QuickBooks then decide to sync, would it duplicate?
If the first name and last name and company were the same then it would link them instead of duplicate them but if any of those fields were 1 character different then yes it would create duplicates.
22. What do hidden line items do?
There are both hidden tax rates and hidden products. This makes them inactive in the future breaking the sync cycle. They aren't allowed to be deleted because old records may have them.
23. Why are my contacts showing as archived in JobNimbus when they are in a non-archived status?
Check that the contact is not deleted or archived in Quickbooks, either make it active or check your settings in JobNimbus for Quickbooks (expandable link at top of the page if you are using Quickbooks desktop)
24. Can I sync 15 years worth of data from my company file?
The more records you have the more time it takes for the data to sync. If you have quickbooks online it will likely be a smoother data transfer because it integrates better with our system and has a similiar server setup. However, with Quickbooks desktop, the web connector program has hard-coded timeouts. It will take hours and hours to move a large amount of data from point A to point B. The best way to mitigate the program from freezing and timing out is to export your data in managed waves. Make the majority of your contacts inactive then sync the active contacts in waves of about 2000.
Only do this if necessary, manage your data wisely as syncing that many records means you may have to address more errors. If it is an old contact from 5 years ago and it is closed out for accounting, there may not be a need to keep the contact active anymore. If new business comes in from that particular contact, you can make them active.
Also, always remember to back up your company file in Quickbooks Desktop.
Temporarily increase the time on the Web Connector. For example, if you have 10,0000 records to sync don't put 60 minutes. That won't be enough time to transfer that amount of data. Put 5 hours or 300 minutes.
25. How do I upload products and services? I have 2000 products, and we have a new company location. I don't want to retype those products in.
In JobNimbus currently there is no way to export or import products. You have to manually type them in settings ---> products and services
However in Quickbooks you can upload and download products. So what you could do is export all your products and change the name by adding a character like 1 or 2 and re-import them. They then would sync over to JobNimbus. You would then have to edit the location because the sync will default to the first company location.
When make large changes like this always start with 1 or 2 records and test it before making larger changes.
This would also be a solution if you have a large product list you need to import. Quickbooks Online does have a free 30 day trial so this would even work if you don't use Quickbooks.
Screenshot of Quickbooks online:

Link to Quickbooks instructions for import: Importing Products and Services from QuickBooks
Common Errors

26. Why isn't my Quickbooks payment not syncing to JobNimbus?
There are two reasons why it wouldn't sync
A parent record isn't in sync (like the estimate) or the
payment in QuickBooks doesn't have a payment method selected
If it still doesn't sync in QBO you can try accepting payment in JN and it will go over to QBO and you can edit the payment there.

27. What is a QuickBooks qbwc1048 error?
https://community.intuit.com/questions/1140861-getting-error-qbwc1048-in-quickbooks-web-connector
Use chrome and not internet explorer

28. Why isn't my invoice syncing in QBO? (Next sync cycle error)
I keep syncing again and the error says that it will sync on the next cycle.
If the parent job or contact is not in sync it will not sync. If the parent job or contact has an error in it. Edit and resave the job/contact if there is an error like "incorrect email address" fix it, it doesn't seem to sync if you have more than one email address. Also, custom notes on an invoice may prevent it syncing. Remove the notes then re-add them in another location, like on the contact/jobs in the "notes" area