Video Courtesy: SalesRabbit
Overview:
Contact for Support:
Live Chat Support: Proceed to https://www.salesrabbit.com/ and select the support "Rabbot" bubble icon. Located at the bottom right-hand side of the screen, Monday-Friday, 9am-5pm MST.

Email Support: support@salesrabbit.com for 24/7 support.

On-Site Support: 2801 North Thanksgiving Way, Suite 210, Lehi, Utah 84043

Phone Support: 801-418-9009 M-F 9am-5pm MST

Request a Demo:
To request a Demo, please visit here.
Pricing:
Pricing for SalesRabbit can be found at their site, here.
Scope of Support:
For issues regarding the SalesRabbit integration, please contact SalesRabbit Support directly.
How to Integrate:
To get started with SalesRabbit, please visit their website at salesrabbit.com or via phone at 801.341.2569.
Once you're set up with them, you can continue forward with the process of requesting an API from our system, as described below.
Part One: Setting up JobNimbus
Step 1: Request an API Key for SalesRabbit:
Log into your JobNimbus account, go to your name at the top right, and choose "Settings".

Find and click on the API tab on the left side.

Click the button for "New API Key".

Click on the "Description" field and choose "SalesRabbit".
Note: You must select SalesRabbit from the drop-down provided for the integration to work correctly.
Then, select the "Access Profile" you would like to grant this integration. This allows the integration to have more or less control.

Select "Save".

At that point, you'll see a brand new API key available to you. An API key is essentially a unique password that allows other services to do stuff with your account (like save pictures). You can use the link to "Copy" the key so that you've got it ready to paste into SalesRabbit.
Instructions for creating/retrieving an API key from JobNimbus can be found, here.
Step 2: Setting Up JobNimbus
In SalesRabbit, go to Integrations, 3rd Party to input your JobNimbus information.

Each of the above fields must be filled out in order to integrate the two systems. Below we will go over each field individually and how to get the needed information from JobNimbus.
Workflow Name
To retrieve your JobNimbus workflow name:
Proceed to the Contact Workflows section of your JobNimbus Settings.

You can select to copy the Type Name of an existing contact workflow or create a new one for use with SalesRabbit.

After copying the "Type Name" of an existing or new workflow or creating, paste the the "Type Name" field's contents back in SalesRabbit next to the text box to the right of "Workflow Name" on the "Integrations" page.
Lead Status Matching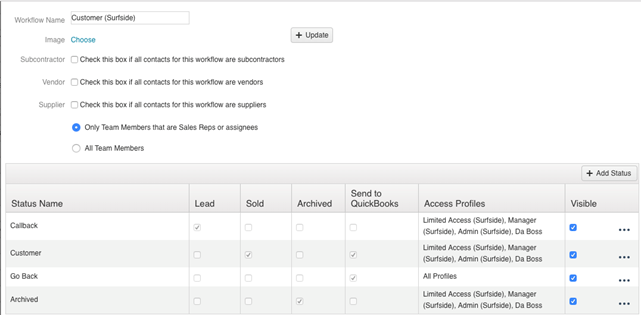 From the Contact Workflows section of your JobNimbus Settings, locate the desired workflow.

Select the corresponding action menu icon (…) and select Edit.

Select + Add Status

Input the Status name and any other desired information.

Select +Add Status

Repeat 3-5 for every single status that you would like have sync over from SalesRabbit into JobNimbus.
Task Names
You will need a task type within JobNimbus to associate with all lead submissions from SalesRabbit (e,g. Appointment is recommended).

From the Task Type section of your JobNimbus Settings, copy an existing Type Name, or create a new one by selecting Add Type. Detailed instructions for creating a new task type can be found, here.

Copy the "Type Name" of an existing task type within JobNimbus. Go to the "Integrations" page within SalesRabbit and paste the "Type Name" into the text field corresponding to "Task Name".
Lead Source
Within JobNimbus, you will need a Lead Source to tie to your SalesRabbit account.

From the Lead Source section of your JobNimbus Settings, select + Add Lead Source.

Input SalesRabbit and select + Add Lead Source.

Copy the Lead Source Name you just created and proceed back to the "Integrations" page within SalesRabbit and paste the Lead Source Name into the text field corresponding to "Lead Source"
Part Two: Setting Up SalesRabbit Lead Statuses
In SalesRabbit under Integrations, select which lead statuses you would like to pass into JobNimbus. By checking the box, to the left of the lead status name, any lead created in SalesRabbit with that status will be pushed into JobNimbus automatically.
(To learn how to customize your lead statuses in SalesRabbit Click Here)
After you have inserted your integration info click "Save" in the upper right-hand corner of the page. Once all of the fields have been saved the integration will be ready for use.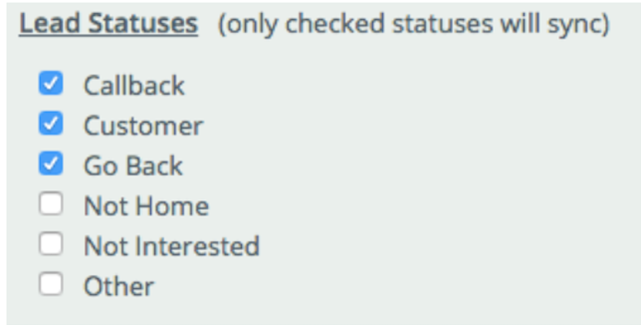 Part Three: Connecting SalesRabbit Users to JobNimbus CMS ID
The final step of the integration would be connecting your individual users in SalesRabbit to their accounts in JobNimbus.
For each user within JobNimbus that will be tied to an existing SalesRabbit account, copy their email address (readily accessible within JobNimbus on the Team tab of their JobNimbus Settings).

From within SalesRabbit: Go to "Management>User" and select the user you would like to connect. On the left hand side under "Personal Information" click on "Manage ID's" in red.

Then enter the corresponding email address for the user in JobNimbus and click "Add ID".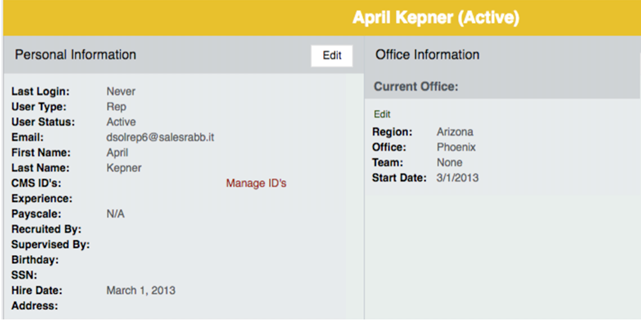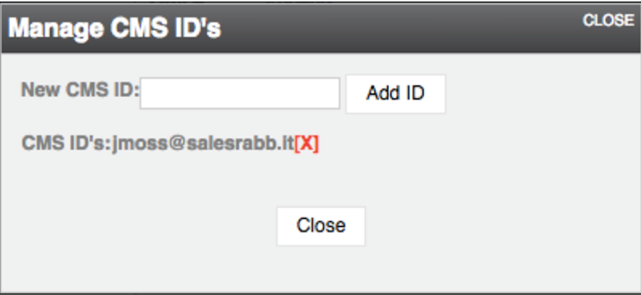 Repeat these instructions for all of your users in SalesRabbit that will need to use the integration.