If you don't already have an account with JobNimbus, setting up one is easy. You can start by creating a TRIAL account. There is no credit card required to start your Free Trial.
A Trial account will allow you to use and test all of JobNimbus's features for free for 7 days. Don't worry, after those 7 days are up, any Contacts you added or Templates or Reports you've created will still be there even if you let your trial lapse.
Creating Your Trial Account
First thing you will need to do is visit our web page: https://www.jobnimbus.com/trial-signup/
This page will ask you for basic information, such as your name, email address, phone number, and to create a password. After you fill out all of the information, click "Next".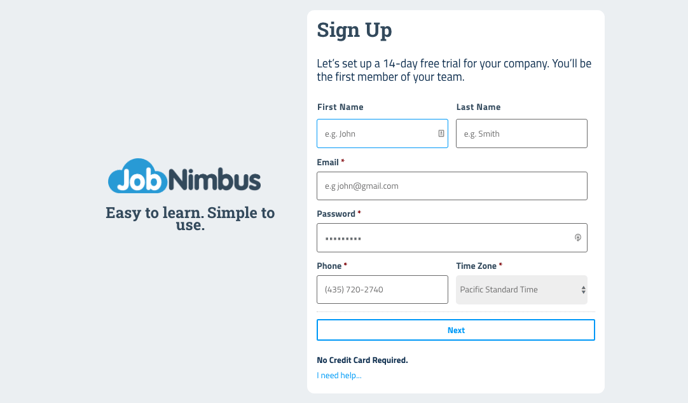 You will then be prompted to fill out your Company name, choose what kind of trade your company does, and how many users your company will have.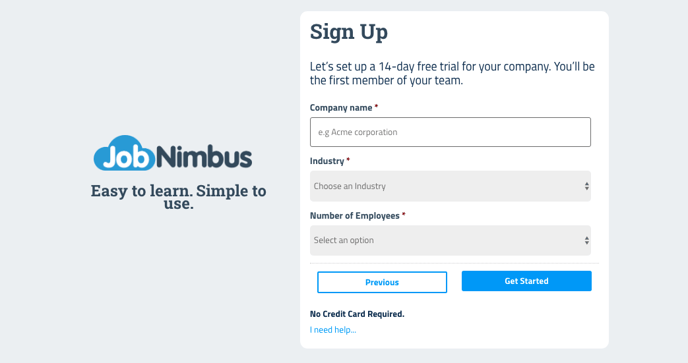 It is important to note that JobNimbus subscriptions are per User. You can see our subscriptions at https://www.jobnimbus.com/pricing/. All users on an account are on the same subscription tier.
After you fill out your Company information, you can then click "Get Started".
Welcome to the JobNimbus family!
Now that your account is created, you can start setting up your account.
If you have any questions regarding your setup, feel free to contact our support team, either through the chat window in JobNimbus itself, emailing us at support@jobnimbus.com, or by calling (855) 964-6287.