One of the best features in using JobNimbus with subcontractors is your ability to Assign Subcontractors to contacts, jobs, work orders, and tasks. JobNimbus administrators can choose whether to automatically send an assignment email to subcontractors when the subcontractors are assigned to a specific Contact, Job, Work Order, or Task. Additionally, these system-generated emails are logged via the assigned record's activity log.
Enable/Disable Subcontractor Assigned Email Notifications:
To enable/disable subcontractor assigned email notifications:
Login as a JobNimbus administrator via JobNimbus.
Proceed to the Contact Workflows section of the JobNimbus Settings.

To the right of your existing subcontractor workflow, select the action menu icon (…).
Select Notification Preference.
To enable/disable an assignment email notification, check or uncheck the corresponding checkbox to the right of the related record type (I,e. Contact Assigned, Job Assigned, etc.).

Subcontractor Assigned Email Activity:
To review the activity for a subcontractor assigned email, from the related contact, job, work order or task record: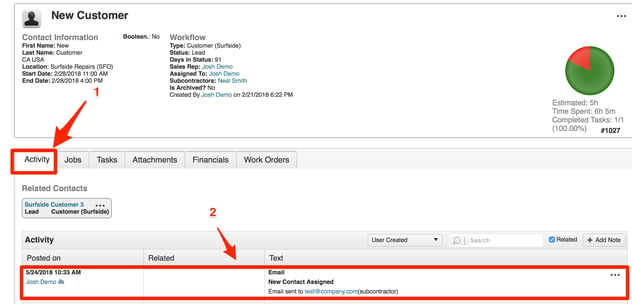 Select the Activity tab.
Locate the email record with the subject: "New (Record Type) Assigned."