Supported QuickBooks Editions:
You can sync with both Quickbooks Desktop or Quickbooks Online. See this article which details out which editions are supported.
What does JobNimbus sync?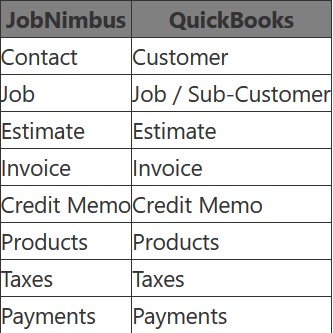 See which fields within each of these sections that sync. For example, "First Name" is a field that syncs for both the online and desktop editions. See more specifics on each program of what syncs Quickbooks Online and Quickbooks Desktop.
Setting Up the Quickbooks Sync:
Enable the Quickbooks Sync, in "settings", "features" tab, "3rd Party Features", Quickbooks "Enable".
Don't upload contacts through a CSV or Excel file, then sync Quickbooks with JobNimbus. This will result in duplications.
If you enter a contact in JobNimbus and in Quickbooks, then sync the programs, that doesn't mean they will link up. You must have the Display Name/Customer Name field 100% identical. For the system to match up upon sync or you will have duplicated records in each system.
Be careful not to sync years worth of data at once with Quickbooks Desktop, as the Web Connector may freeze up. Keep records syncing in waves of 1000 active records at a time.