Welcome! Let's get started with JobNimbus.
Overview
This guide is to help you get down the basics of the JobNimbus CRM (the mobile app is a different guide). It is intended to cover key areas you will use in your account. These include entering in new customers, emailing them and creating reports. Additionally, it will cover basic financial tasks such as creating an estimate, converting it to an invoice and accepting a payment.
By the end you will know how to:
Create a contact

Email a contact

Create a note

Create a task

Create a contact report

Create a product

Create an estimate

Convert estimate to invoice

Accept a payment
Time estimation: 1-2 hours
How do I know I successfully completed the On-boarding Guide?
There are a total of 9 milestones in this guide. If you have created each item in your JobNimbus account, along with reading the content in each of the drop-downs below, you will have a solid foundation of JobNimbus! Each milestone has a star next to it ★
Quick tour

Create a contact (customer)

Contact tabs

Email contact (customer)

Note

Task

Contact report

Boards

Create a product

Create an estimate

Convert an estimate into an invoice

Accept a payment
Let's get started!
(select arrow for drop-down)
Settings is where you set up most of the core features in your account. It is where you enable features, set up integrations, create workflows and control permissions.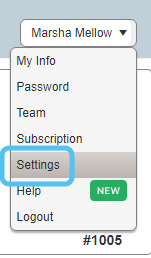 Team:
Team is where you set up the users in your account. You may make a member inactive if they are no longer on your team. Simply add their first name, last name and email and they will have their own login!
To add a new member select the Team tab in settings.
Select Invite Team Member.
Select More Options to control permissions.
Select Invite Team Member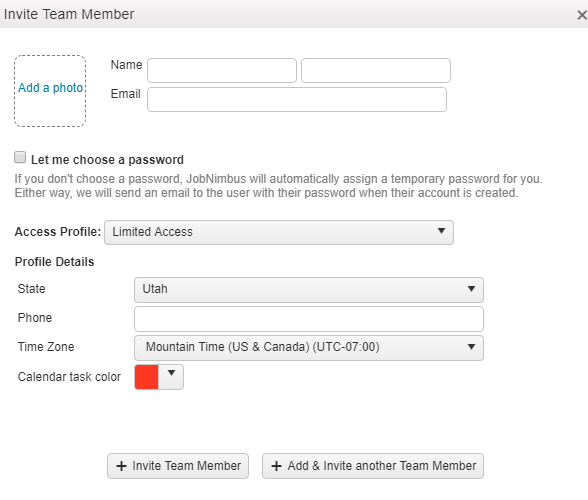 Access Profile (Admin):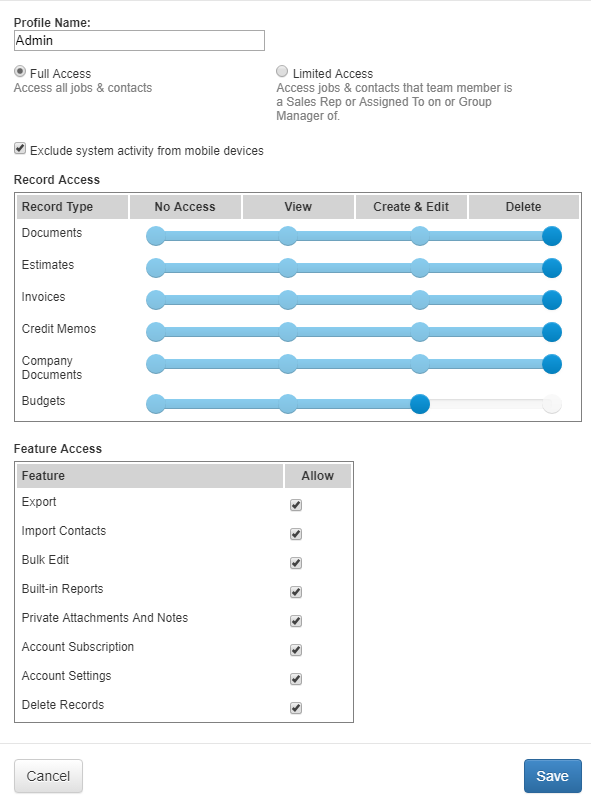 Action Menu: The action menu has profile details of the user who is logged in. Such as email, phone number and what access profile they are on. It has the business hours which affect the calendar. Also it has notifications which control if a notification goes to email or shows up on the mobile app. Lastly it is where you can sync calendars such as Google Calendar.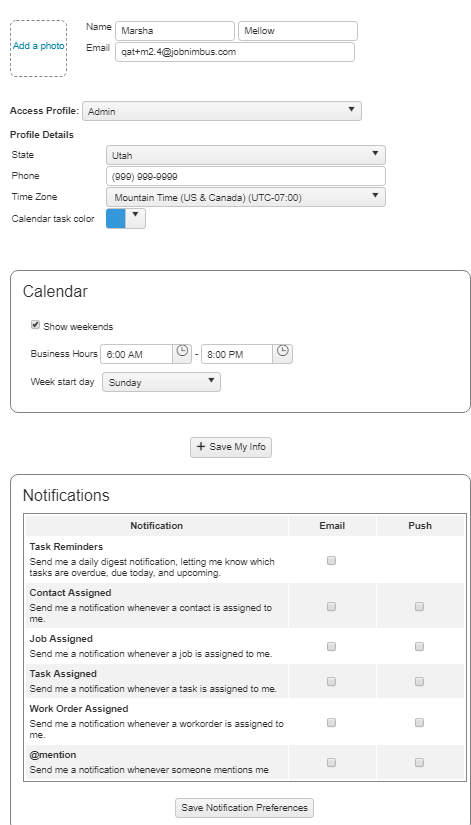 Subscription (Admin):
Subscription is where billing is controlled. Here is where you control the amount of users in your account and which credit card to keep on file for payments.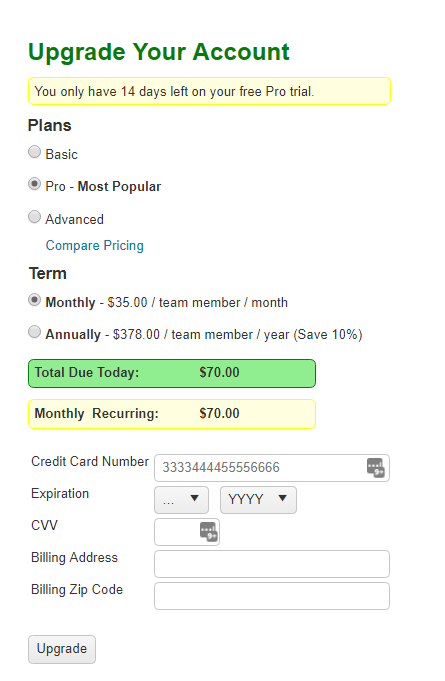 Dashboard:
The dashboard is where you can setup your report to display every time you log in. Create the most important reports then select the ones you would like to have show up when you log in each time. By default a contact report will show. However you can create custom reports and name them however you want, along with which columns you would like. See the reports section of this guide to learn more.
Select "Dashboard"
Select "Customize" on the right

Check off the reports you want to see.

Select "Save"

2. Create a contact: ★
Contact Type is the kind of contact. Most contacts are customers, however you may have other types such as "supplier" or "subcontractor". Also, you may create a custom kind of contact in settings under the contact workflows tab if you have access to settings.
Status is a step in the workflow process. By default you contact may be in a "lead" status, and as you continue to work with the customer they may move into a "sign contract" status for example.
Select "+Add Contact" on the left of the search bar

Fill in first name and last name

Fill in email address (a valid email address will be needed for this activity)

Fill in phone number (optional)

Select "Create Contact"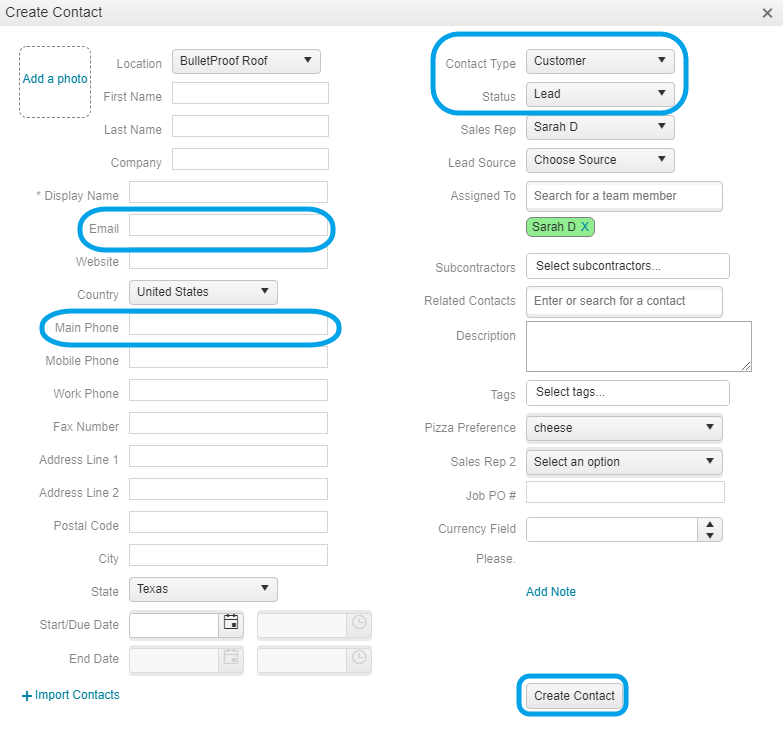 Note: to learn more about importing contacts in bulk, view this contact article and video for the steps.
3. Contact tabs:
You can have up to six tabs available. If you enable "Jobs" and "Work Orders" in settings tab on features, then you will have six tabs. Read through each of these tabs. In later steps, we will explore how to create some of these items.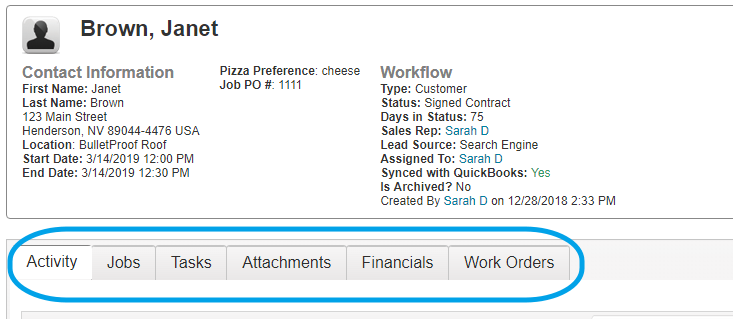 1) Activity: The first tab is the "Activity" tab. This tab will let you know of the entire history of the contact. If you select "All" from the drop-down nothing will be excluded. You can see a time stamp of who made changes to this contact and at what time. You can see "Sarah D" on "3/14/2019" at "12:25 PM" updated this contact by adding a start date and an end date. Additionally, the status was changed from "Lead" to "Signed Contract" on "1/9/2019". This audit trail on a contact can be very useful for holding employees accountable, and seeing when changes were made. It also tracks when emails were sent, internal @ mention activity etc...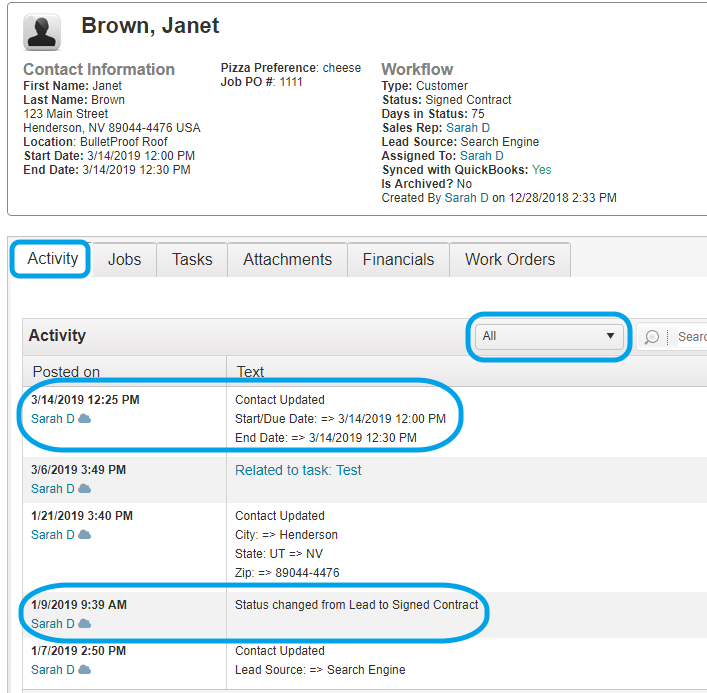 2) Jobs (Optional):
If you have jobs enabled you will have the ability to create a job. The Job's interface looks identical to a contact. However, it doesn't have an email field. Often, customers enable jobs if they have repeat business from the same customer. Or if their customers are in multiple locations. You may learn more about jobs here.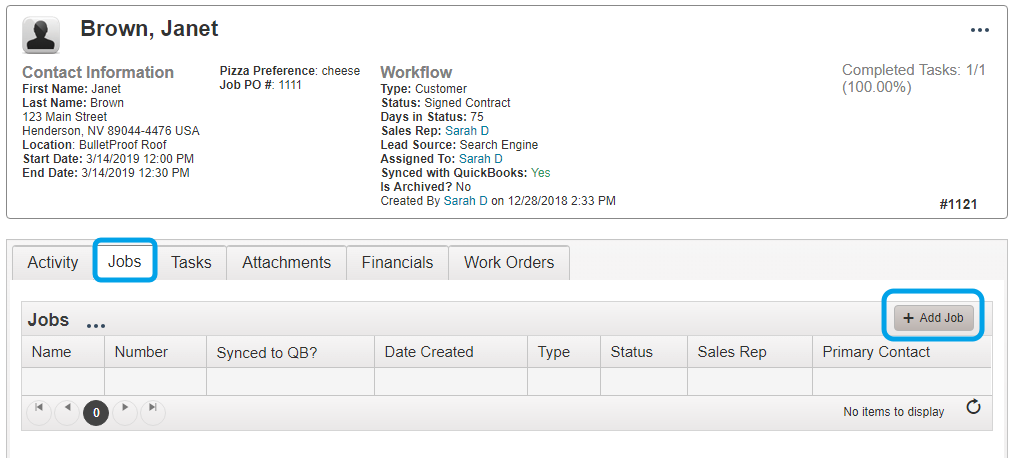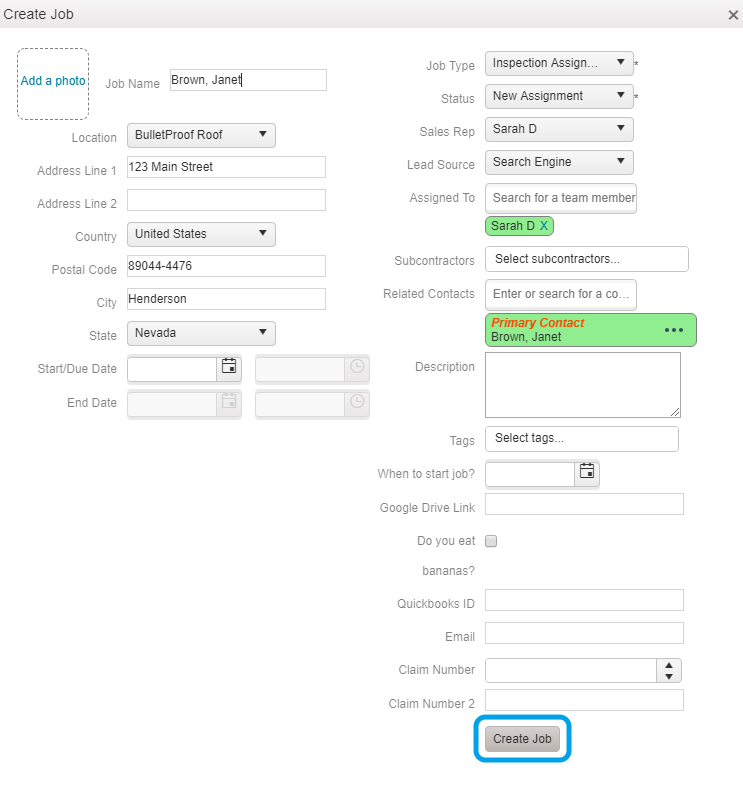 3) Tasks: Tasks are like a "to-do list". You can have a task with a start date and end date. By default the task types are Phone Call, Meeting and Appointment. To create a custom task you can add a new one in settings on the "tasks" tab. Tasks show in reports, the calendar and are available on the mobile app.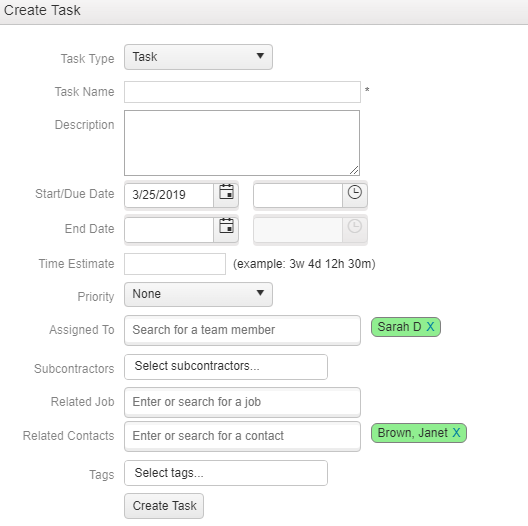 This task was marked as complete.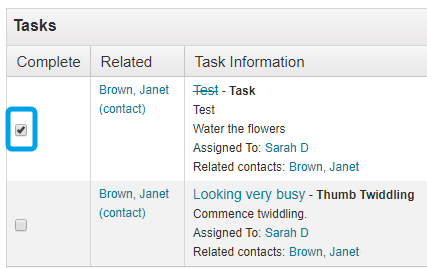 4) Attachments: Attachments are documents or photos that are uploaded to your contact. If you create a financial such as an invoice/estimate it will automatically turn into a .pdf upon save and be linked to the contact. Often customers upload other kinds of contracts that they may have created outside of JobNimbus. Also, many mobile users in the field upload photos through the mobile application.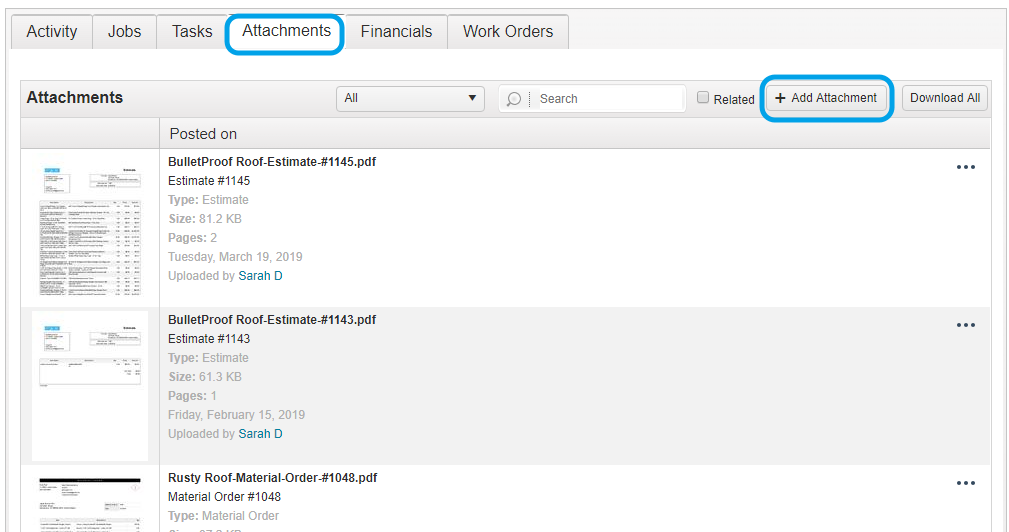 Select "Browse" to find the document on your computer.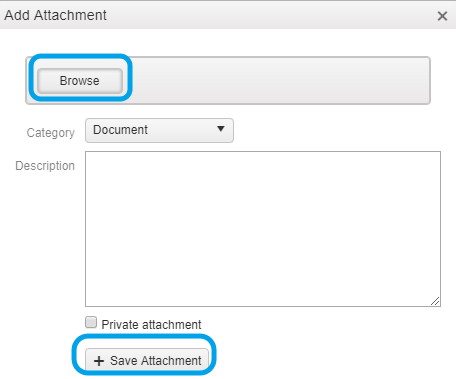 5) Financials: The financials tab displays each financial document that you have created. By default there are estimates, invoices, credit memos and payments. You may enable budgets and material orders in settings on the "features" tab. If you double click on the financial document number you will see it open.
To create any financial (estimate, invoice, material order, credit memo or payment):
Select "+Add Estimate/Invoice/Material Order/Credit Memo/Payment" on the right.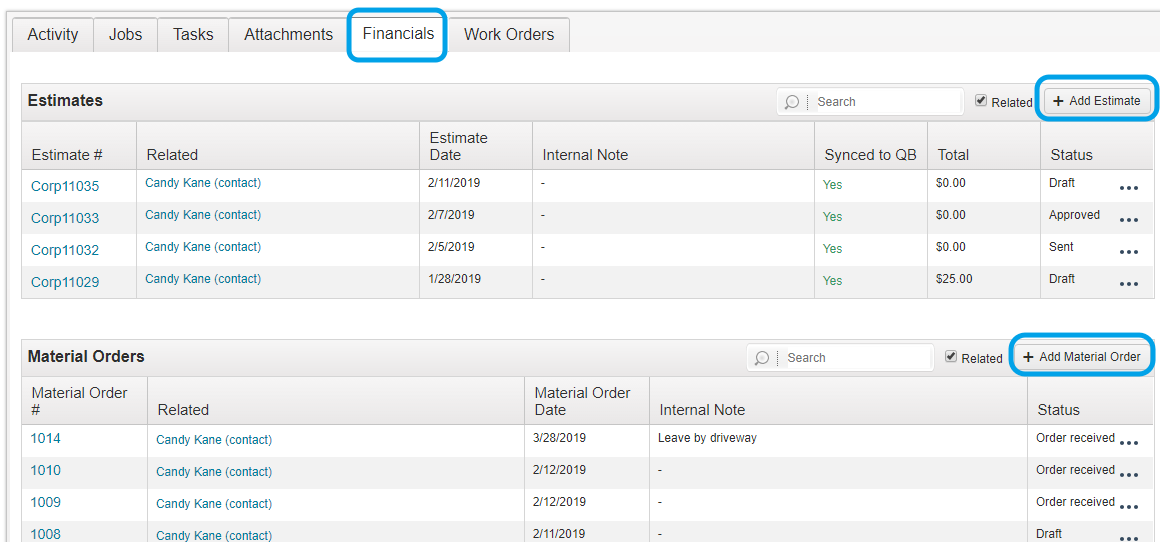 To open this document "double click"

6) Work Orders (Optional, if enabled): Work orders are enabled in on the "Features" tab in settings.

4. Email a contact: ★
Make sure your contact has a valid email address. Assign the contact to other team members in order for their emails to be an option to email to.
Select "+Add Note" on the right of the activity tab
Select "Email" for type

Fill in the email or use a template for email that was created in settings.

Select and check off any attachments if needed.

Fill in a subject
Check off who you would like to send the email to
Select "Create Note" to send email.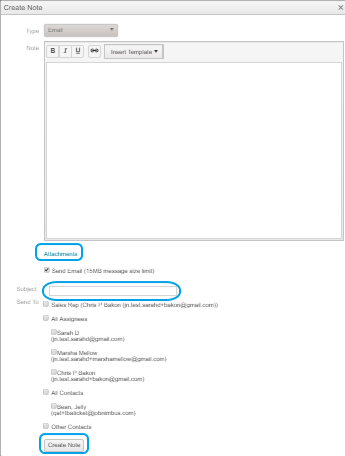 5. Create a note :★
Notes are flexible and can be used in different ways. Often, companies create a note to internally notify others of any updates on a contact. Let's create a note!
Select the "Activity" tab on a contact
Select "+Add Note"
Make sure to leave "Type" as "Note"

Type in a note

Select "Save"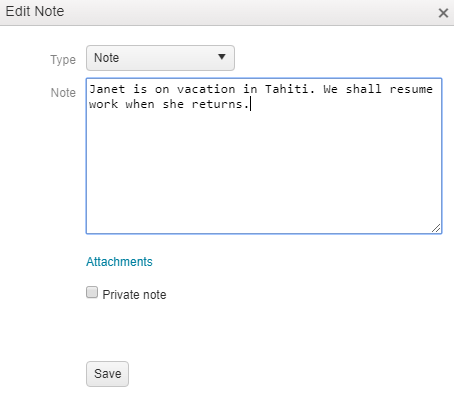 You can use the @ mention feature in notes. This way your colleagues can receive a notification via email or as a reminder inside the mobile app.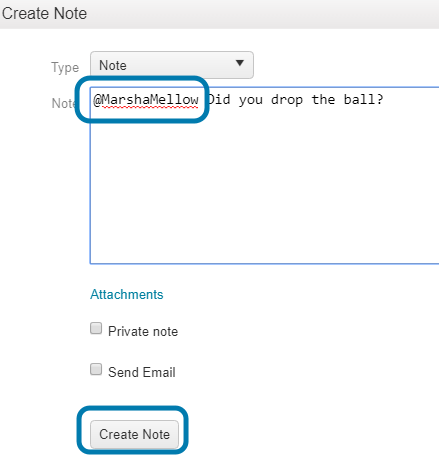 6. Create a task:★
Tasks, just like notes are flexible. Tasks are like a to-do list of items that you can get done. You can create a list of multiple items to do in one task, or you can make multiple tasks. A nice way to use tasks is to create them based on status. You can even automate tasks and create them when a contact moves to a certain status. When you have completed a task you can check it off. Tasks also appear in the mobile app. You may also create a task report to see any outstanding tasks that have not been completed.
Select the "Tasks" tab on a contact
Select "+Add Task"

Create a task name and description

Assign the task to yourself or another team member.

Select "Create Task"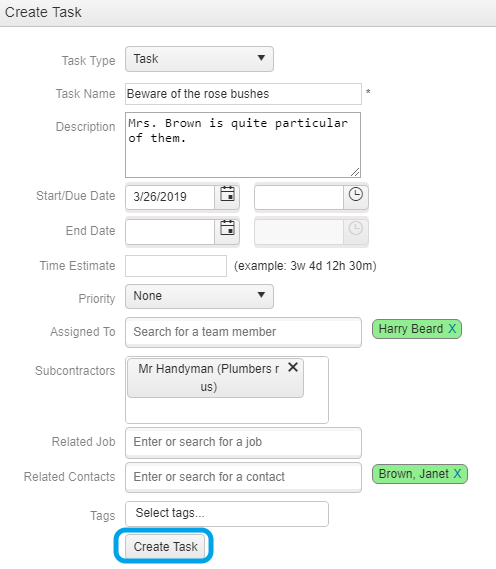 View the task on the calendar
Select the "Calendar"

Ensure the task is select in the box so it appears on the calendar

Scroll down and notice you can show/hide completed tasks

Double click on the task to show content and mark as complete

It appears on the right of the calendar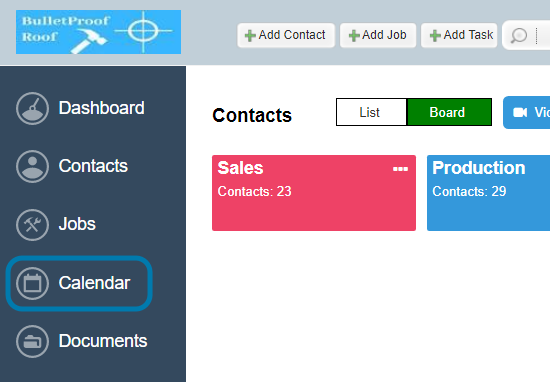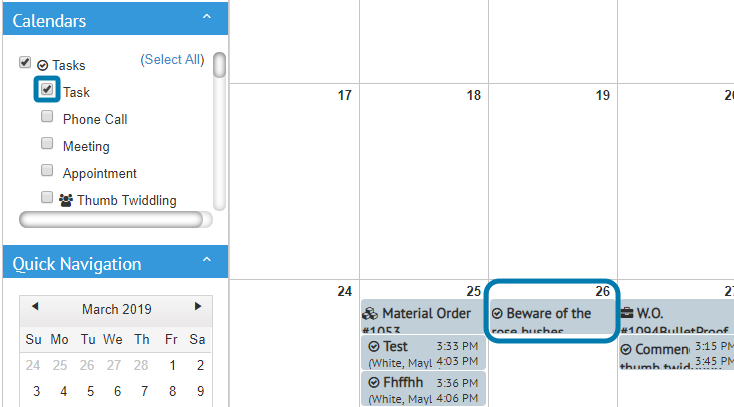 Scroll down in the "Calendars" area. Toggle between showing tasks that are completed.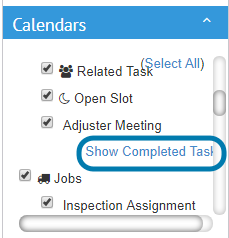 Double click on the task in the calendar and the task appears on the right. You may mark as complete.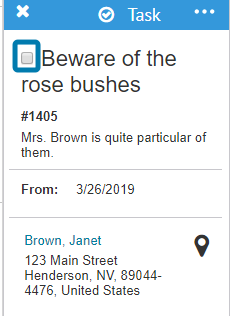 7. Create a contact report:★
JobNimbus has many kinds of reports. It is very useful to have the reports saved in "My Reports" You can add columns, remove columns. You can add columns, remove columns, add filters and calculations.
Select "Reports" on the dashboard.
Select the "Ellipse" icon.
Select "Create Contact Report"
Choose columns to add in "Add Column"
Choose columns to remove in "Remove Column"

Re-name the report if you would like

Adjust to more than 10 records if you would like

Select "Save"
The report should now appear in "Reports" on the dashboard.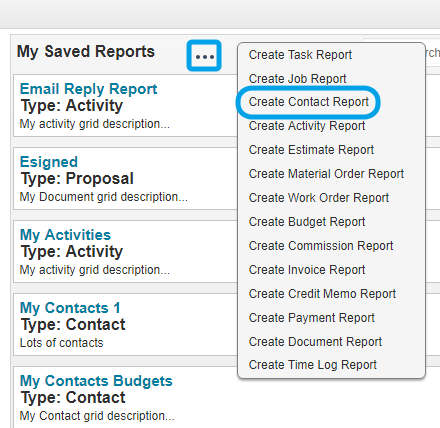 Add the most important columns to you, and remove the ones that are not relevant. Re-name the report name if you would like. Also, it is often useful to select more than 10 records per page (100). Don't forget to save!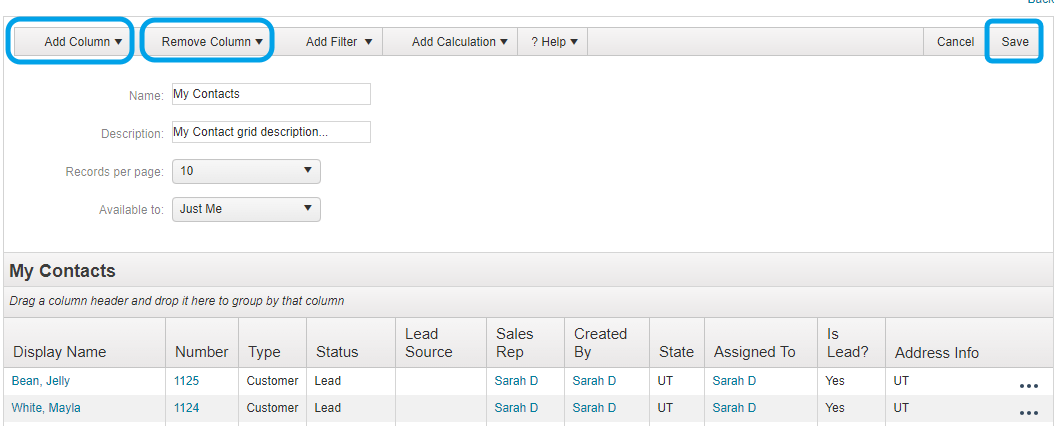 8. Move a contact across a board:
By default JobNimbus has four boards that are created (sales, production, billing and work orders). For the following example make sure you have a contact created in a status of Lead, Inspection, Estimate or Signed Contract.
Select "Contacts" on the dashboard.
Select the green "Board" button.
Existing boards display
Double click on the board to view your contact
Select your contact and practice dragging it to another status.
Select the "ellipse" to view the components that make up the board.


In the example below, we can see Janet has been dragged from "Lead" and dropped into "Inspection".


Select the "ellipse"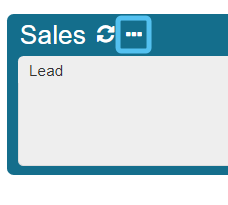 Notice each column on a board correlates with a status.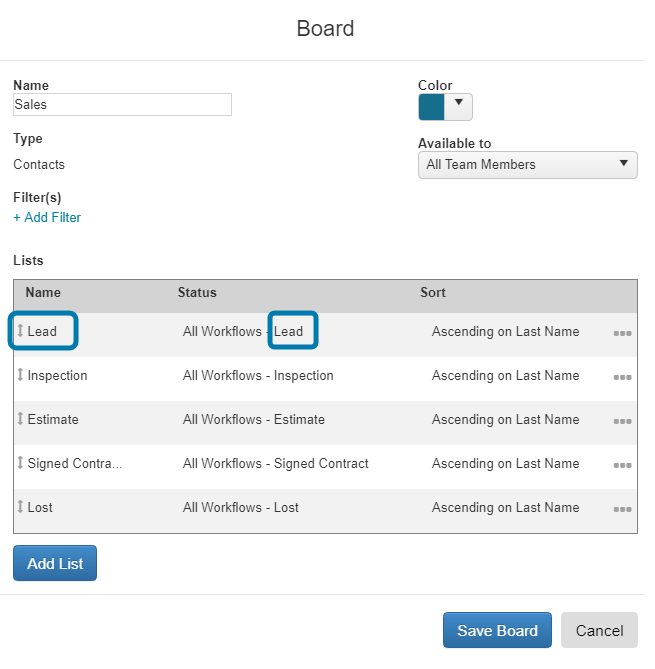 See this board with a custom workflow and correlating custom statuses. There are numbers for how long the customer sits in "days in status" along with the initials of who is assigned the contact.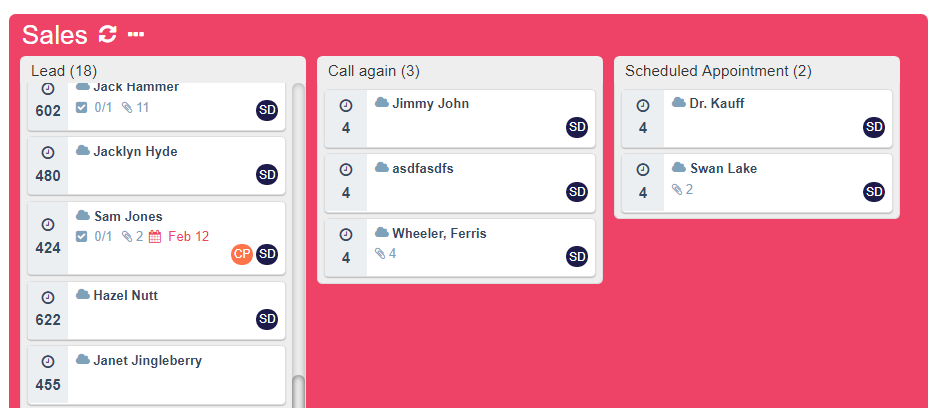 9. Create a product: ★
You can create a product in two ways in JobNimbus. You can create it in settings on the products and services tab. Or you can add a product on the actual financial record (estimate/invoice). If you have many products, the best way to import them is through one of our integrations such as Beacon or Quickbooks.
Select the "Products and Services" tab in settings
Select "+Add Product" on the right
Put in a product name and description
"Save Product"
You may select "Edit" if you would like to change the name/description/pricing at a later time.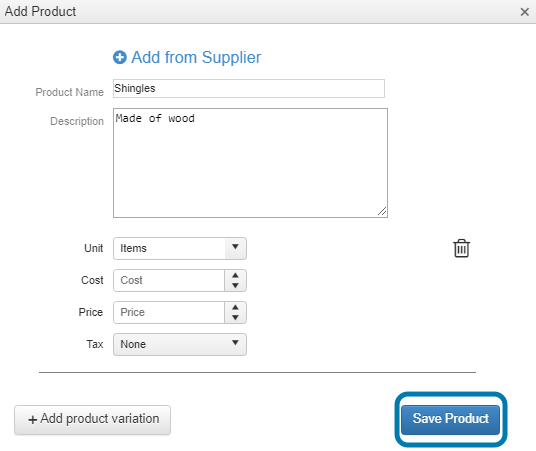 Select "Edit" to edit the name or cost of a product.

10. Create an estimate: ★
Estimates are often a draft type of document and are later converted into invoices and material orders. Some companies use them and some do not. Some hand them to their customers and some wait until they become an invoice. Estimates contain line items from products and services.
Select the "Financials" tab on the contact.
Select "+Add Estimate"

Find your product by typing in the name.

Select "Save Estimate"

Type in the name of the product you created.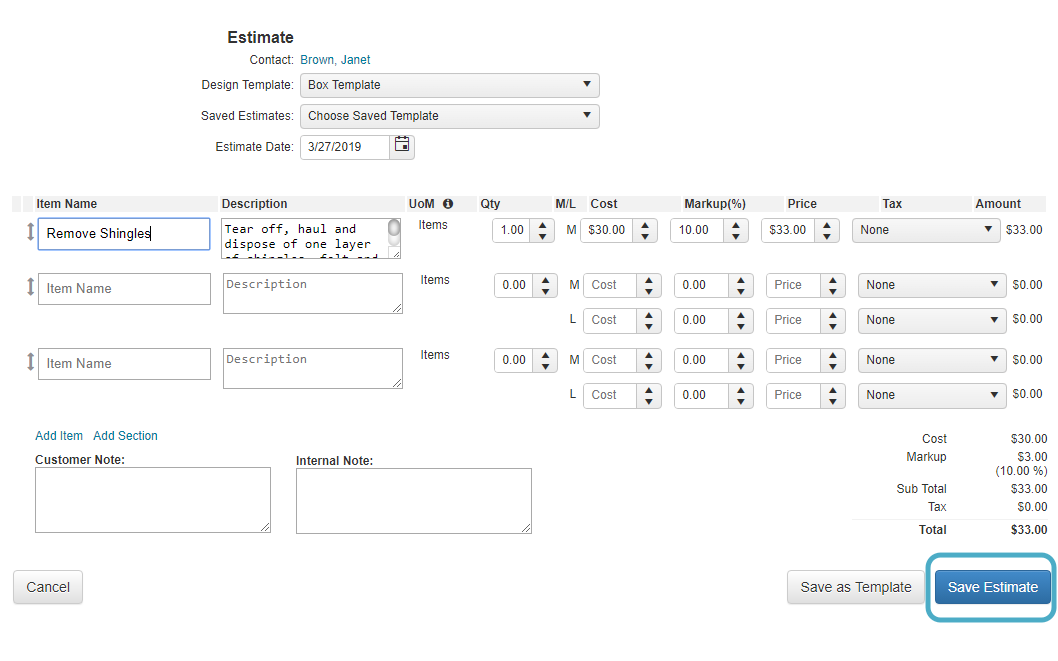 11. Convert estimate to invoice: ★
You can convert an estimate to an invoice. It will save all the products you have. This can save time as you progress through your work.
Double click on an estimate to open it.

Select the "Ellipse"
Select "Convert to"
Select "Invoice"
Select "Save Invoice"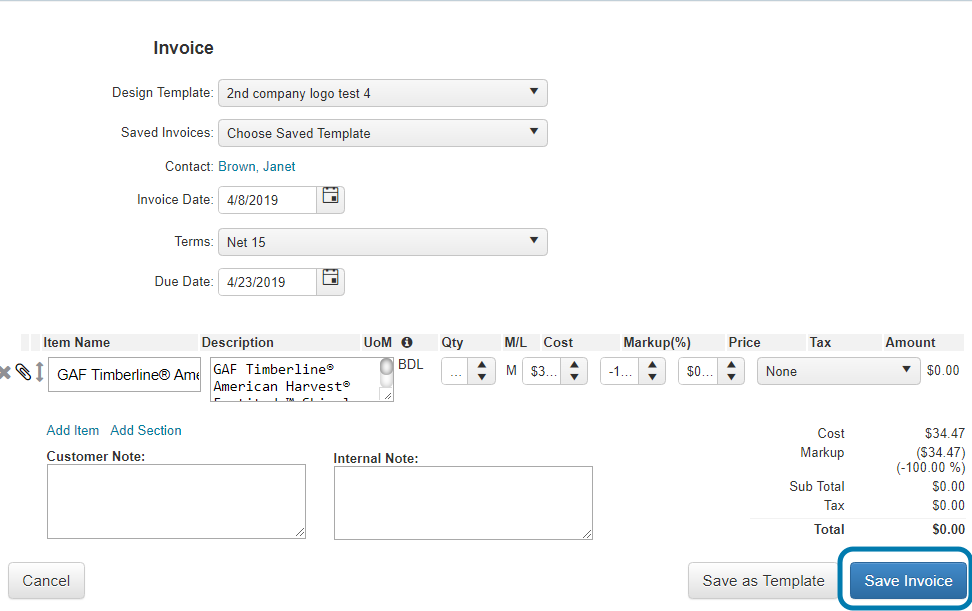 You may email your invoice.
Select the ellipse.

Select "Email Invoice"

12. Accept a payment: ★
Accepting payments if one of the final steps after you have sent an invoice for the work that is completed. You can accept a payment in JobNimbus and associate it to an invoice.
Select "Financials" tab on a contact
Scroll to the bottom of the page where "Payments" are
Select "+Add Payment"

Put in a reference number, payment amount and select a method.

Check off an invoice to apply the payment to.

Select "Save Payment"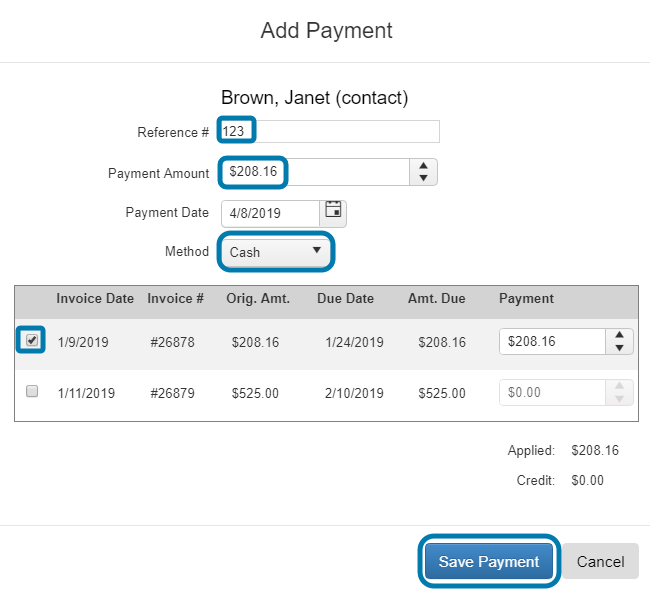 Do you have all of these items in your account?
1. Created a contact
2. Emailed a contact
3. Created a note
4. Created task
5. Created a contact report
6. Created a product
7. Created an estimate
8. Converted an estimate to an invoice
9. Created a payment
You have completed the Onboarding Guide! Congratulations!