What Can I Do on a Contact's Page in the Mobile App? (Android)
Navigate your customers' records on the go.
When viewing the page of a Contact, you can: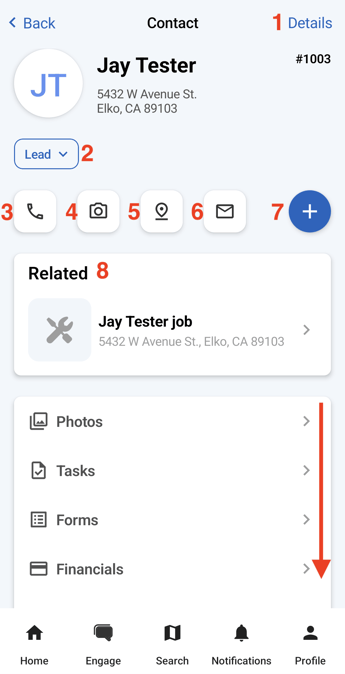 Manage the Contact's details, including updating their name or any other information present.
Update the Contact's Status.
Call the Contact.

Once your phone call has ended, you will be prompted to leave a note, which will automatically populate the following information:

Select the @ icon toward the bottom of the note to mention a team member, type out additional context if needed, change the note type to categorize it as something other than "Phone Call", and then click save to log the activity.

Take a photo to associate with the Contact.
Get directions to the Contact's address.

Your device's primary navigation app (i.e. Google Maps) will open and populate the customer's address when you click on this icon.

Email the Contact.

You can use Email Templates that have been designed in the Web App, add attachments, and B/CC additional recipients on the conversation. Once you send the email, it will be recorded under the Contact's Activity Feed.

Open the Contact's menu.

From here, you can add a Task, relate a new Job (if enabled), relate a new Contact, add a Note, submit a Form, use the naturalForms integration, and create Financial documents.

View the Contact's related records
Continue scrolling down the page to reveal the following tabs: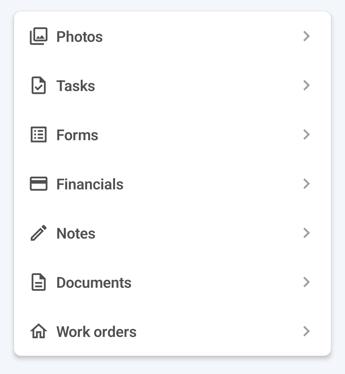 Tasks
Notes
Documents
Work Orders
Scroll further down to review the Contact's Activity Feed, ordered by most recent events. Status changes, in/outbound emails, notes, automated activity, and more are recorded here. Learn more about logged Activity here.