What is the Lead Source Report?
This report provides insight into the effectiveness of your Lead Sources and will help you pinpoint the sources from which the most or least amount of jobs are generating.
You can see the data of your Contacts based on the Lead or Sold Workflow Stage broken down by Lead Source. Seeing the Sold Rates allows you to determine what sources are boosting business the most.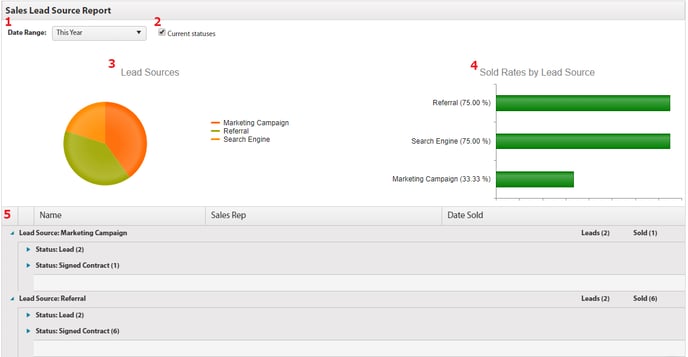 In this report, you can:
Adjust the Date Range for your report. This configures the timeframe during which the Contact has entered either a Lead or a Sold Stage.
Choose to only view Contacts that are currently in the Sold Stage by checking the box labeled "Current Statuses".
View the Lead Sources for your Contacts as a Pie Graph.
View the Data for Sold Rates by Lead Source in graph form.
View the records organized by each assigned Lead Source. These sections can be expanded or collapsed by using the triangles to the left of the table titles.
Only Lead Sources assigned to Contacts that have moved through the Lead to the Sold Stage will show in this report.
You cannot customize which Lead Sources will appear in this report.