What Is the Pipeline Report?
The Built-in Pipeline Reports show the value and quantity of all your deals in each Stage of the pipeline, which will help you keep track of the status of every deal.
This report uses the recorded time during which a Contact or Job passes through a specific Status assigned to either the Lead or Sold Stage to help you with forecasting.
Sold rates will appear based on when a Status change occurred and sorts the records in groups under each active Sales Rep within a specific time period.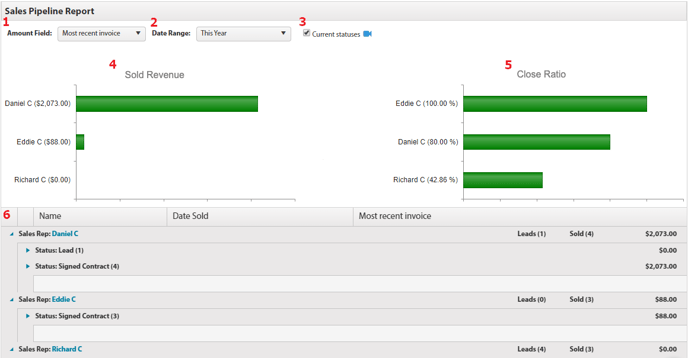 Here, you can:
Choose between viewing the "Most recent Estimate" or the "Most recent Invoice".

If you have information in custom decimal or number fields, you can use those fields in your reports.

Change the reflected Date Range of the report.
Choose to only view Contacts that are currently in a Sold Stage by checking the box next to "Current Statuses".
View your Sold Revenue data in graph form.
View the percentage of the Close Ratio as a graph.
View the records organized by their assigned Sales Rep.

These sections can be collapsed or expanded by clicking on the triangles to the left of each panel.


If you have multiple Company Locations, a drop-down option will be available to choose the location to which the visible records are assigned.