What is the Revenue Leaderboard - Sold report reflecting?
This report provides an overview of which Sales Reps are bringing in the most revenue.
The Revenue Leaderboard - Sold tracks the total dollar amount of Estimates that have been marked as "Approved" or "Invoiced", per Sales Rep.
If a Sales Rep has several
Contacts
or
Jobs
in the
Sold
stage, but no Estimates have been created under the Contact/Job, the
Sales Rep will not display
on the graph.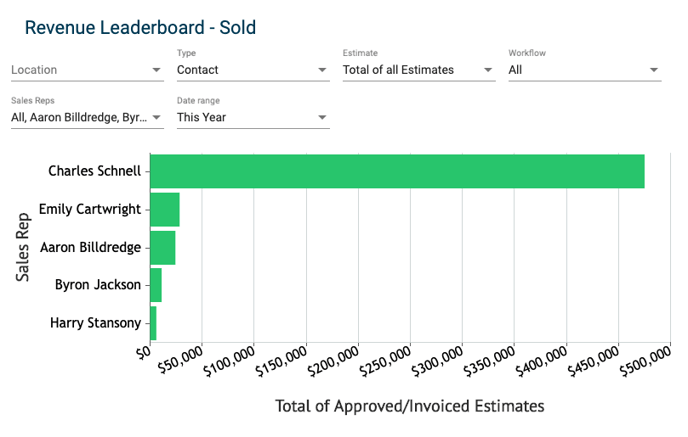 To customize the graph, you can:
change the location (if you have multiple company locations in your account) to which the visible records are assigned
change the type of data being pulled to either Contacts or Jobs (if you have Jobs enabled)
view data of either the Total of all Estimates or the Most Recent Approved Estimates
select the Workflow(s) of the records from which the graph pulls data
choose which Sales Reps appear
change the date range during which these Estimates were marked as "Approved" or "Invoiced"
When an Estimate is entered under a Contact or Job, ensure that the Status of the Estimate is updated for it to report correctly. The "Draft", "Sent" and "Denied" Statuses are NOT included in the totals on this report.