Where Can I Find All of My Clients' Estimates in the Mobile App? (Android)
Quickly locate any Estimates associated with your Contacts or Jobs that may need additional attention.
Scroll down the home page to locate the Pending Estimates section.
The three that appear here are either in a "Draft" or "Sent" status and are sorted from first created to last by default, with the oldest Estimate at the top of the list.
The dollar amount in orange indicates the total of all Estimates that are still pending.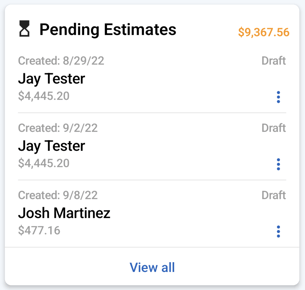 Click "View All" to see all existing Estimates associated with a Contact or Job.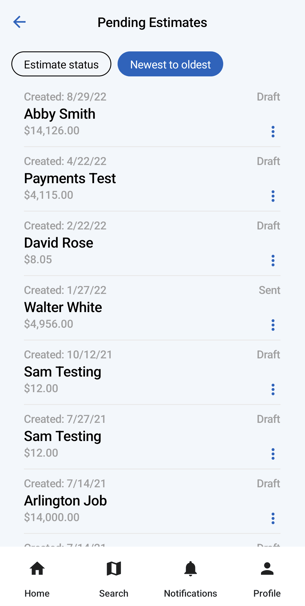 By default, your view will reflect Estimates that:

are in the status of "Draft" or "Sent"
have been recently created (descending order)

Filter the list by clicking on the tabs at the top
Status

Toggle between the status of "Draft" and "Sent" to view specific Estimates


Change the order in which the Estimates appear at the top by either when they were created or their dollar amount