Communicating with Contacts
Can I share information with people not on my JobNimbus team?
The Share feature is a great way to allow a subcontractor or other person not on your JobNimbus team to view your contact or job files.
To share a contact or job's file from JobNimbus:
Click on the 3 dots in the top right corner of the customer's information panel
Select "Share" from the dropdown menu.
This will bring up the Share window.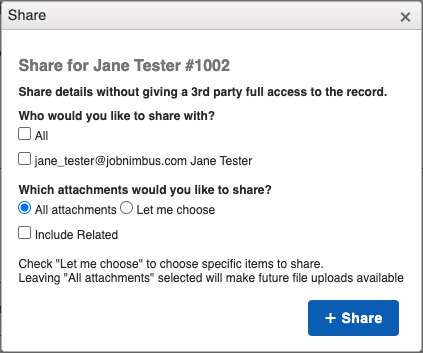 In the Share window:
Check the box for whoever you want to share with
Please note: If you want to share a file with a subcontractor, make sure they are a related contact to the contact or job.
Choose which attachments you want to allow the contact to view
Please note: By clicking "Let me choose", you can choose exactly which documents your subcontractor will see. By checking "Include Related", you can include documents that are in related contact or jobs' files.
After you click 'Share", a link will be sent, allowing your recipient to view the information you chose to share.
After clicking the link, your recipient will be able to view the file and all of the attachments you chose. They will be able to interact with the file by uploading documents or adding notes to the file.