Can I Share Information With People Who Are Not on My JobNimbus Team?
The Share feature allows someone who is not on your JobNimbus team (such as a Subcontractor) to view your Contact or Job files.
To share a Contact or Job record from JobNimbus:
Click on the 3 dots in the top right corner of the information panel
Select "Share" from the dropdown menu.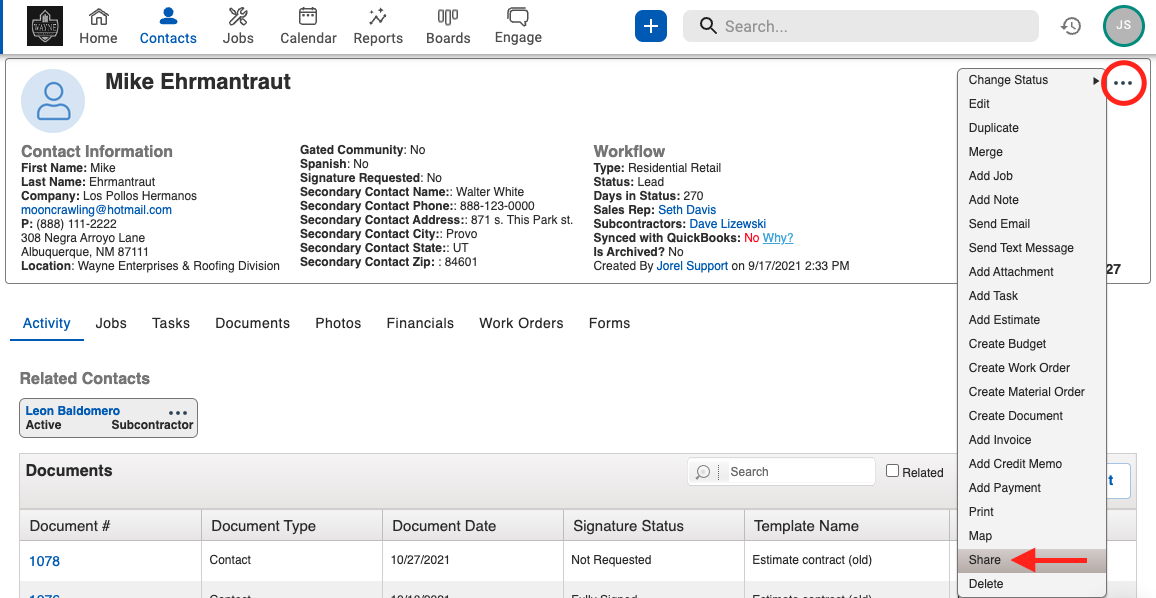 This will bring up the Share window.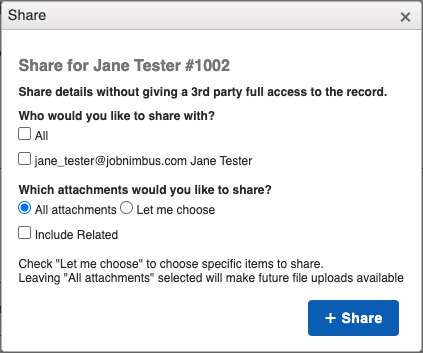 Here, you can:
Check the box(es) to indicate with whom you want to share the record

Note: If you want to share a file with a subcontractor, make sure they are related to a Contact or Job.

Choose what details you want to allow the recipient to view

By selecting "Let me choose", you can pick exactly which attachment(s) the recipient will be able to see.
By checking "Include Related", you can include files that are located under a related Contact or Job's account.
Once you select '+Share', a link will be emailed to the recipient(s).


When the recipient clicks the link, they will be directed to JobNimbus where they can view the record and any attachment(s) you chose to make visible.
They can also upload/download attachments as well as add notes to the record.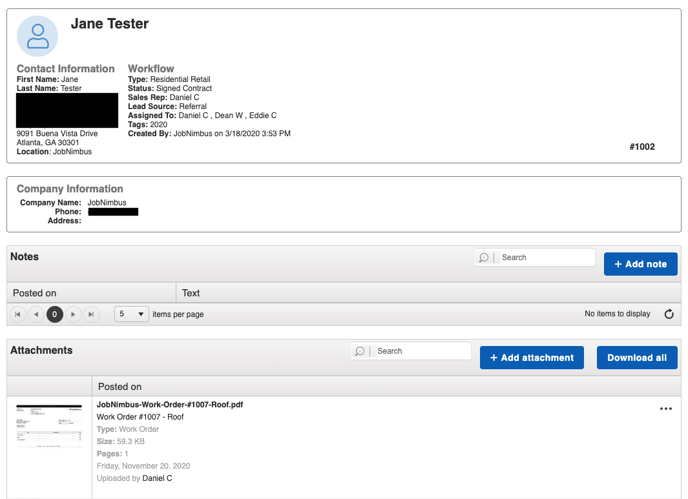 You can control what types of notes are visible to those with a link to a shared record.
Navigate to the Note Type tab in your Settings
Click Edit next to a Note Type

Check the box next to "Show on Share" to make the type of note visible to the recipient


Unchecking the box will remove any notes from the shared record's page that are categorized under that type.

Please note:
A shared link does not expire. Whoever has access to the link of the shared record will always be able to see the information in JobNimbus.
To revoke access to a JobNimbus record via the shared link, you can delete the Contact or Job that was shared; however, undeleting them will reactivate the shared link.

Review these articles for information on recovering deleted records: