Communicating with Contacts
Can my Contacts access their own JobNimbus page?
Learn how to share JobNimbus record details with your Contacts.
Navigate to the page of a Contact or Job and click on the three dots in the top right corner of the information panel. Select Share from the menu to reveal the following pop-up: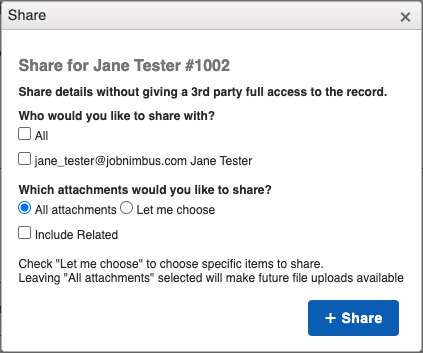 You can then choose:
with whom you would like to share the information

Hint: to share a Contact or Job's page with a Subcontractor, first relate the Subcontractor to the record.

choose what details you want to share. You can decide whether or not to include files and details from records that are related to the Contact or Job page you are currently on.
Clicking the blue +Share button will send an email off to the intended recipient where they will receive a sort of "view-only" link to their JobNimbus page.
Via the link, the Contact can upload their own attachments to the JobNimbus record, add their own notes, and even download any visible files.
Configuring Available Notes
You can control what types of notes are visible to those with a link to a shared record. In your Settings under the Note Type tab, click Edit to toggle whether or not you want a specific type to "Show on Share". Unchecking the box will remove any notes from the shared record's page that are categorized under that type.