Have send to Quickbooks checked off at a stage that makes sense to you. This is usually a signed contract stage or status.
Make sure you have watched and read the articles about connecting to Quickbooks in general.
Look at the supported editions and the fields that sync.

Ensure your company data file is less that 1 gigabyte.

Sync only recent data for the fiscal year or 2000 records worth. Above 2000, and the Quickbooks Web Connector often freeze ups. It may also result in an unmanageable error log.

If using any data migration services, wait until those have been completed.
Not imported the same contacts via .csv prior.
Think about which sync direction you want to sync.


Choose if you want everything to sync or a particular fiscal/tax year.

Make a backup of your company file. This should be a standard practice as well.

Note all of the records, contacts, jobs, invoices etc.. have one of the above options. There is no way to select a different sync option for each record type.
Time:
The setup QuickBooks Desktop sync process can take approximately 45 minutes to several hours, including user's setup time and allow time to sync all desired contact and job records.
Enable the Quickbooks sync in the Features section of your JobNimbus Settings.
Proceed to the QuickBooks tab of your JobNimbus Settings.

Select the "Quickbooks Desktop" radio button.

Select Continue, if you have only one company file to sync. Additionally, you can select the checkbox to the left of "I have more than one Quickbooks Company file", if you have

multiple

company files. Each company file will require a separate Quickbooks connection line on the Web Connector.
Select Download QWC file.

The QWC file is a unique file that you will load into your QuickBooks Web Connector. Ensure to keep this file in a dedicated folder like in your company file folder. Should you misplace this file, it may cause severe troubleshooting issues.

Open QuickBooks Desktop on your PC or QuickBooks Server.

Within QuickBooks, select File → Select Update Web Services.


Select Add an application.
From your computer's file manager, navigate to and select the previously mentioned QWC file. Select Open.
A new window titled "Authorize New Web Service" will appear. Select OK.
A new window titled "QuickBooks - Application Certificate" will appear. Select the radio icon to the left of "Yes, always; allow access even if QuickBooks is not running". Select Continue.


A new pop-up titled "JobNimbus (Company/Location Name) - Authorization" will appear. Select Yes.

A new pop-up menu titled "Access Confirmation" will appear. Select Done

Leaving QuickBooks up and running, return to the open JobNimbus tab within in your web browser. You should be at the Quickbooks Sync setup instructions for QuickBooks desktop.

Proceed to select Step 6: Set Web Connector Password.
Copy or note the Web Connector Password listed under Step 6. Proceed to paste or type this password into the "Password" field corresponding to the JobNimbus application item in your QuickBooks Web Connector.

Ensure the checkbox to the left of the JobNimbus Application in your QuickBooks Web Connector is selected, that "Auto-Run" is selected, and "Every_Min" is set between 15 to 60 (minutes).



Select Update Selected within QuickBooks Web Connector.
If prompted with a pop-up window asking "Do you want to save this password?", select Yes.


Once the sync is complete, proceed to the next "Step 7: Manually Sync the Web Connector" within the JobNimbus application in your web browser. Select My Web Connector finished syncing without errors. Continue.
Once the web app has completed process, you will be met with the following screen:
If the company file was connected successfully, Select Yes. Otherwise, select No, go back, and re-attempt the sync. If you are still experiencing issues, please contact JobNimbus Support via phone. Once complete, proceed to Section 2.
Select your sync options
Moving forward, you will be able to customize your JobNimbus sync with QuickBooks Desktop. JobNimbus Admins must determine the options that are the "best fit" for their company's business practices.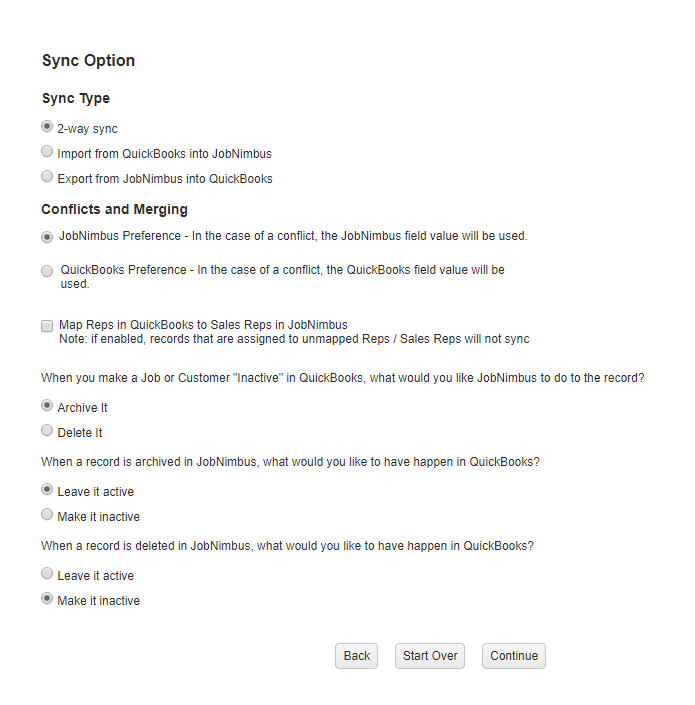 Sync Type
There are three types of sync:
2-way Sync

Import from QuickBooks into JobNimbus

Export from JobNimbus into QuickBooks
JobNimbus sync with QuickBooks Desktop works in a linear direction in terms of the data. If you want data flowing into each program then you would choose the 2-way Sync option. The majority of companies have their sync on a two way. However, you can choose to have data in JobNimbus go to Quickbooks or for Quickbooks data to go into JobNimbus.
Conflicts and Merging
The conflicts and merging option is for which program takes the most weight on a field. A field is the data that syncs. For example, first name is a field. What program do you want to take more precedence Quickbooks or JobNimbus?
Mapping sales reps are optional, and you can do this at a later time if needed.
Choosing and Syncing Your Record Types
Each record type needs to be set up, individually; because, they are sequentially setup in a hierarchy. They proceed in the following order:
Contacts

Vendors

Taxes

Products

Estimates

Invoices

Credit Memos

Payments
After the first record type has been synced, the following record type will be available to sync. For each record type you will perform the following steps: Select set up sync, save your settings, and select "Update Selected" within your QuickBooks WebConnector. Note, this can be a tedious process that will take a bulk of the setup time. Please feel free to take breaks between setting up record types.
Syncing Contacts
Choose the action "Set up Sync" for contacts.




Here you have the option to choose whether to export all contacts into Quickbooks.

Also

you can choose to not export any. If you choose to only export recently modified records. It will also give you an option to select how many months. So you may choose a block of time to go back.

The workflow option means that if a new

contact

goes into JobNimbus set it's workflow as. Statuses and workflows don't sync, so you need to tell JobNimbus where to put the new contact.

For display name, take a look at how your current QB account looks with existing contacts and select the appropriate display.

This is what the contact screen looks like should you choose only export recently modified records. This may be an option if you want to control how much data flows into the other system.The option below it is for importing of the Quickbooks data. If you have contacts/customer data from 5 years ago, perhaps it is not relevant to import that into JobNimbus. So you may want to limit how far back you want to import data into JobNimbus.
Select Save and Preview Changes. You will need to select on Update Selected in the Quickbooks Web Connector Program.


Every time you sync a new record type and select on "Save and Preview Changes", you will see the pink Web Connect Sync screen in JobNimbus. It will stop circling after you have selected on "update selected" on the Quickbooks Web Connector.




After you have finished syncing you will be on a preview screen. This particular screen says there are no changes but it will vary depending on what data you have and whether it is your first time syncing or you have disconnected and want to re-connect. Make sure you view the records that will change on this screen. Don't rush through it or you may find you approved a change that you don't want.




After previewing the changes, select "sync now." Go back into the Web Connector program in Quickbooks and select on "update selected."



Tip: If the web connector reaches 100% and you find that in JobNimbus it keeps circling but is not stopping, or seems frozen. Try refreshing the screen.


After the sync has completed. You should see a green "Syncing" area for status. This indicates that the Record Type "Contacts" is syncing properly. We can also see from this screen that vendors, taxes

and

products have not been set up.



Syncing Other Record Types
To sync other record types, proceed by selecting Set Up Sync.
Timing: You do not have to sync everything at one time. You can sync contacts, then at a later date sync vendors. You choose what is best for your business

After selecting Save and Preview Changes for each record type, you will need to return to QuickBooks Web Connector to select "Update Selected.

If new data will be added it will show on the preview screen. Make sure you select "view records" to see what will change. Here is a sample screen of new products that will be created in JobNimbus.





Since the different record types are organized in a hierarchy, everything is linked. An estimate or invoice cannot sync without the products syncing first. Also, there is an option to allow the syncing of estimates in a draft status. You choose the option that works best for you. This option is only available via the Quickbooks Desktop sync.



Sample

preview of payment setup. After syncing the other record type, payments will become available as a choice to sync. These will need to be mapped out. JobNimbus has fewer options than Quickbooks. For example, JobNimbus offers the option of "credit card"; whereas Quickbooks may offer options such as Mastercard or Visa. Select the appropriate payment type that most closely matches what it is in your Quickbooks company file.