How Do I Add a Subcontractor?
Communicate with partners by using Subcontractor Workflows, which enable special privileges outside of your regular Contact relations.
To Enable the Subcontractor Feature:
Click on your Profile icon or initials in the top right corner.
Select Settings from the drop-down menu.
Under the Features tab, toggle the switch next to "Subcontractor".


To Configure a Subcontractor Workflow:
Navigate to the Contact Workflows tab in your settings.

By default, the Statuses in the Subcontractor-specific Workflow are "Active" and "Inactive".

Click the three dots on the right to edit the Workflow.




Here, make sure the box next to "Check this box if all contacts for this workflow are subcontractors" is checked.
Click Update after making any changes you need to, including if you want to add a Status.




To Add a New Subcontractor:
Click on the + icon at the top of your page and choose "Add Contact".




Fill out your Subcontractor's details and change the Contact Type to "Subcontractor".
Hit the Save button when you're done.

Learn more about adding Contacts here.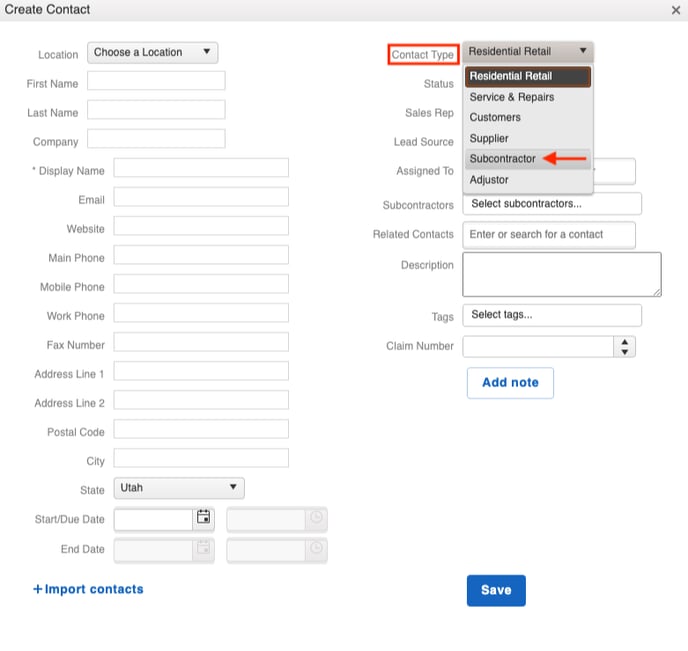 Once you have a Subcontractor in your account, you can assign it to an existing Contact or Job by searching in the Subcontractors field on that customer's record.

Tip: you can add multiple Subcontractors to a single Contact or Job.