How do I enable the JobNimbus integration with RoofScope?
To enable the integration:
Log into your JobNimbus account
Click on your Profile icon or initials in the top right corner
Select Settings from the drop-down menu
From the Settings menu on the left, open the API tab
Select New API key
Under the "Description" column, choose ScopeTechnologies/RoofScope from the drop-down menu
Assign an access profile that has Settings access
Select Save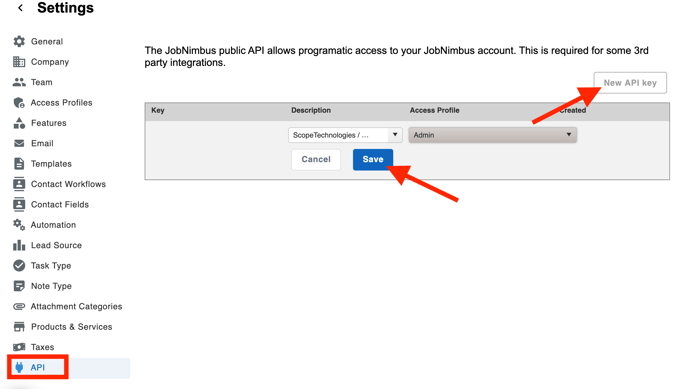 5. To the right of the newly created API key, click Copy
6. Proceed to the RoofScope web app
7. Log into your account
8. Select the drop-down menu of your name in the RoofScope app
9. Select My Details
10. Next to Third Party Integration select the pencil icon to edit
11. Input the newly created API key that you copied in Step 5 and input the email address associated with your JobNimbus account. This email address must belong to a user who has Settings access.
12. Select Save API Credentials