The Xactimate / XactAnalysis integration works through XactAnalysis to import your claims from Xactimate.
Note: the JobNimbus Access Profile to which you are assigned must be named "Admin", specifically, in order to enable the integration.

Once you have set up both an Xactimate and an XactAnalysis account through Xactware, all you need to do is enable the integration in JobNimbus and connect the software using your Xactware ID.
Enabling the integration
Log into JobNimbus
Click on your profile icon or initials in the top right corner
Select Settings from the drop-down menu
In the Settings menu on the left, open the Features tab
Under the "3rd Party Features" section, toggle the switch next to Xactimate



A new Xactimate tab will appear under the Settings menu on the left
Connecting with Xactimate
Open the Xactimate tab in your JobNimbus settings.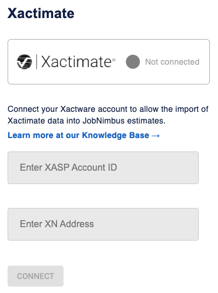 1. Enter your XASP Account ID.

To find your XASP Account ID, open your XactAnalysis account, click on "Administration"
and select "Company Setup & Exports".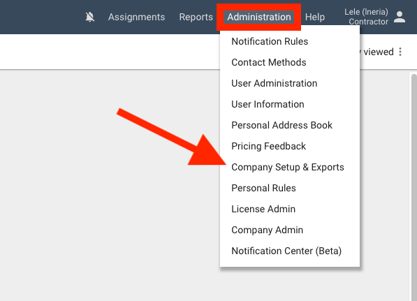 Your Account ID is found at the bottom of your company card toward the top of the page.
Make sure to change the Export type to Automatic.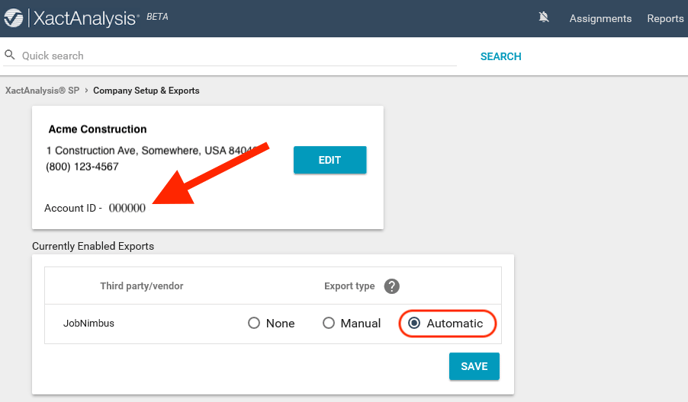 To access your Company Setup & Exports, use the following link: https://www.xactanalysis.com/apps/cxa/companySetup.jsp.
If you are unable to access your Company Setup & Exports from this link, we suggest you contact Xactware support to ensure you have a Contractor or Xactimate SP account and your account is enabled for integrations.

2. In JobNimbus, enter your XN Address.
The XN address you enter will be the address from which JobNimbus imports the Xactimate estimates.
To find your XN Address, log into Xactimate Online and copy the address next to
"XactAnalysis" in the lower half of the page.
This XactAnalysis email address is the XN Address that receives your claims.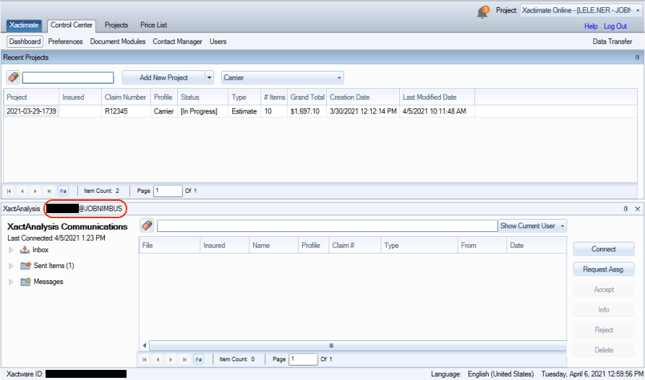 If you add in a full XN Address, such as john.doe@schnellco.com, you will only receive Xactimate estimates from that address; however, if you use the domain (such as SCHNELLCO) you will be able to input any Xactimate estimates sent to your company Xactimate account.
If you are planning to use a full address, we suggest you use an office address to receive your Xactimate estimates so you can pull them into your JobNimbus account.

3. Click Connect to complete the integration