Share Contact and Job records with your Subcontractors and customize the level to which they can interact with their assigned records in JobNimbus.

To have the option to share a record with a Subcontractor:
Relate the Subcontractor to a Contact or Job by editing their information and adding the Subcontract's name in the Related Contacts field.
Edit a Contact or Job and add the Subcontractor's name to the Related Contacts field.

Details about relating records can be found here.




Tip: Relating Subcontractors to Contacts/Jobs may feel like a repetitive extra step, but adds helpful functionality when it comes to emailing a Work Order, for example, and also adds Related Activity directly under the Subcontractor for easy access and visibility.
To share a Contact or Job record:
Click on the 3 dots in the top right corner of the customer's information panel.
Select "Share" from the dropdown menu.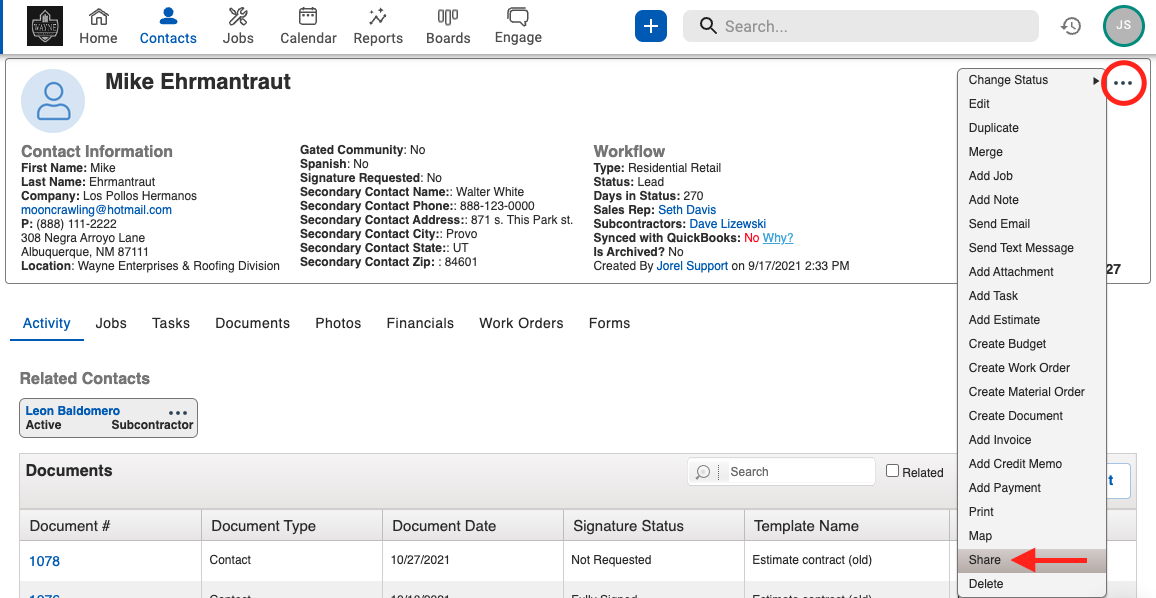 This will bring up the "Share" window.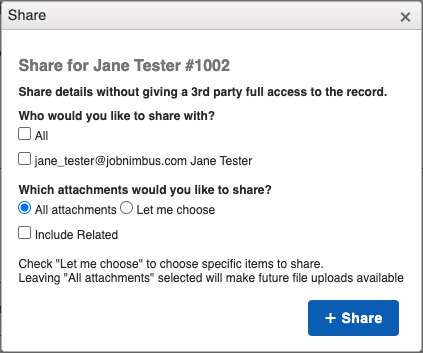 Here, you can:
Check the box(es) to choose with whom you want to share the record.

Options include the Primary Contact, the related Subcontractor, additional related Contacts, or "all".
Tip: If you're unable to find the desired Contact, Subcontractor, or additional Related Contact you're looking for when Sharing a record, it's possible that an email address was not recorded for the respective record. Make sure to check and update the email address if necessary to guarantee smooth Sharing of records.
Select what details you want to allow the recipient(s) to access.

By selecting "Let me choose", you can pick which specific attachment(s) the recipient will be able to see.
By checking "Include Related", you can include files that are located under a related Contact or Job record.
Once you hit the +Share button, an access link will be emailed to the chosen recipient(s).


When the Subcontractor clicks on the link, they will be directed to JobNimbus where they can view the record and any attachment(s) you chose to make visible.
They will also be able to upload/download attachments as well as add notes to the record.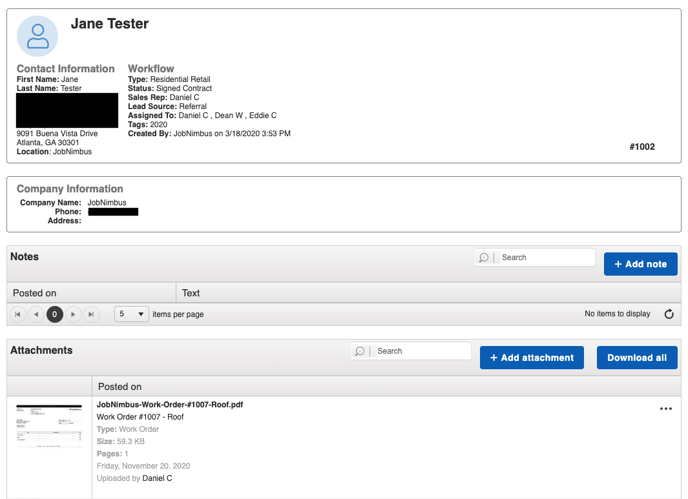 To control what types of notes are visible to those with a link to a shared record:
Navigate to the Note Type tab in your Settings.
Click Edit next to a Note Type.

Check the box next to "Show on Share" to make the type of note visible to the recipient.


Unchecking the box will remove any notes from the shared record's page that are categorized under that type.
Please note:
It is not enough to simply add someone to the "Subcontractors" field. Doing so will only notify the Subcontractor that they have been assigned to a record.
A shared link does not expire. Whoever has access to the link of the shared record will always be able to see the information in JobNimbus.
To revoke access to a JobNimbus record via the shared link, you can delete the Contact or Job that was shared; however, undeleting them will reactivate the shared link.

Review these articles for information on recovering deleted records: