How do I reset my password? (Web)
Learn how to access your account from the Web App if you do not remember your password or are unable to log in otherwise.
Navigate to www.app.jobnimbus.com
Click on Forgot my password




Fill out your email address in the given field. If the address exists in the system, an email will be sent with a link to complete your reset.




If you do not see an email come through, make sure to check the spelling of the email address to confirm there are no mistakes.
If you still do not have an email, check your Spam/Junk inbox folders, as well as any "Promotions" folders (Gmail).
Your email will look like this. Select Choose a new password to move forward.




Once you are redirected to the page below, create a new password, then click the blue Save and sign in button.


Tips:
Make sure you are typing in your password correctly. Remember it is case sensitive, so an uppercase or lowercase letter will have to be exact.
Do not share your password with anyone. JobNimbus Support will never ask for your password or credit card information. We only need your login email address to assist you.

If you have access to Settings, you can also manually send a Password Reset Link to a team member:
Navigate to your Settings
Open the Team tab on the lefthand side
Select the 3 dots to the right of a team member
Choose "Send Password Reset Link" from the drop-down menu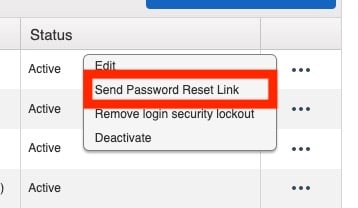 All Password Reset Links will expire after 2 hours.