What are Best Practices for Workflows?
A well-made Workflow can make it easy to manage your processes in JobNimbus.
Deciding which Workflow to use
Before you start managing your Workflows, you should decide whether to use Contacts or Jobs.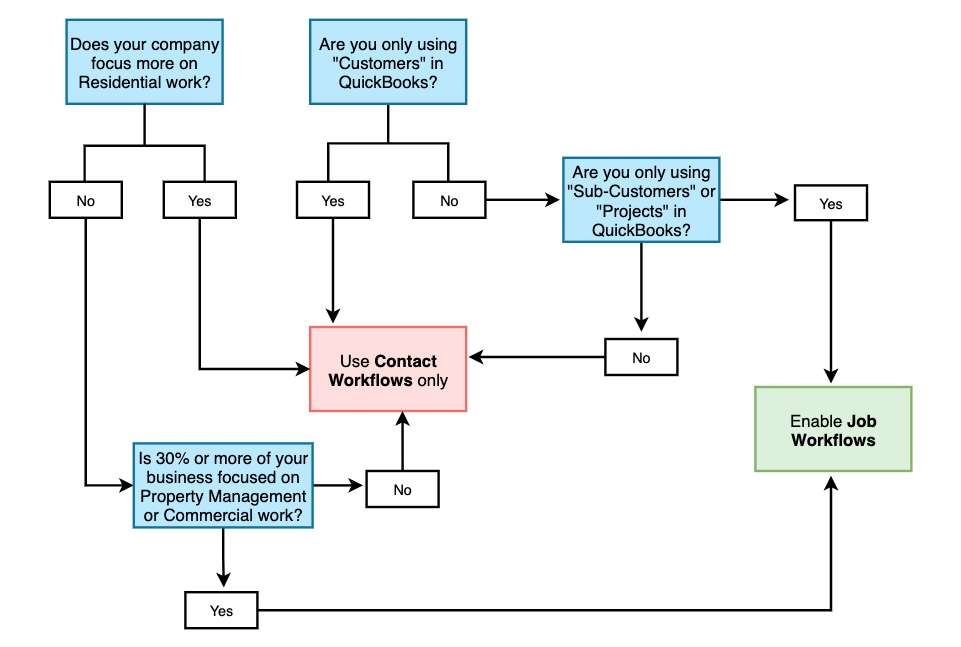 If you are using Jobs:
Use Job Workflows to design the process through which your projects will move
Your Contact Workflow should only include "Active" and "Inactive" statuses
Creating a Workflow
Identify the types of work you do, whether that's residential, insurance, or service and repair. Then, write out your job process from start to completion for each type of work. Start from when you generate a lead to when the job is completed. Each step should be a milestone in your job process where your client stays for at least 24 hours. These steps within the processes you make will become your Statuses. Make sure you include a step for Lost in each.
Next, break up the different statuses into groups labeled Lead, Estimating, Sold, In Production, Accounts Receivable, Completed, and Lost. These will be Stages in your different Workflows. Breaking your Statuses into groups (Stages) will help you later with Sales Reports.
If you are planning on using QuickBooks, label which Statuses you will need to use to send your Contacts or Jobs to QuickBooks.
Next, mark which Statuses will archive your Contacts and Jobs. Archiving Contacts and Jobs will help keep your records clean without deleting them from the system altogether.