Review and make changes to your JobNimbus Subscription.
To access your Subscription:
Click on your profile icon in the top-right corner of the screen.
Select "Subscription" from the drop-down menu.
On the Subscription page, you can review:
the number of team members you have
your monthly or yearly rate, and your next payment date. The billing period runs from the

day after you made your payment

to the

due date of your next payment

.
Committing to an Annual Subscription term includes a 10% discount.
At the bottom of your Subscription page, you will see "Payment Info". This is where you will be able to:
view your upcoming payments
see which Subscription you are enrolled in
see how many user licenses you are currently paying for
view how much you are paying monthly

In the Payment Information section, you also have the option to download your JobNimbus Subscription invoices. When you download an invoice, it will include the following information: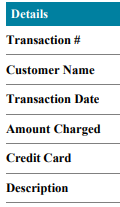 Changing your Subscription settings
To make adjustments to your Subscription, click on "Change Subscription".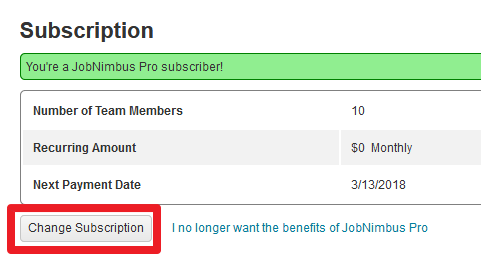 Here, you can update:
the number of paid user licenses on your account
your billing cycle term

Depending on your Subscription, when you deactivate or invite a team member in Team Settings, the number of users in your Subscription will either decrease or increase, automatically.
When you add a team member in the middle of your billing period, there may be a pro-rated charge in addition to your updated monthly Subscription charge. In the event that your Subscription prevents you from reducing the number of paid, committed user licenses, we may ask to speak with you to discuss requirements for making this type of change.
Contact our Support Team with any questions by emailing support@jobnimbus.com.