How Do I View the Deleted Transaction History in Quickbooks?
You can view your deleted or voided transaction history in both QuickBooks Desktop and QuickBooks Online.
The voided/deleted transaction detail report in Quickbooks can show the history of a customer. This information is useful to find missing information. The transaction history mainly shows changed financial information such as who and when an invoice was deleted. It will not show changes to the customer or job fields, such as a change to a phone number or address. The deleted transaction history serves as an audit trail on a customer.
To run this report in QuickBooks Desktop:
Select "Reports"

Select "Accountant and Taxes"

Select "Voided/Deleted Transactions Summary"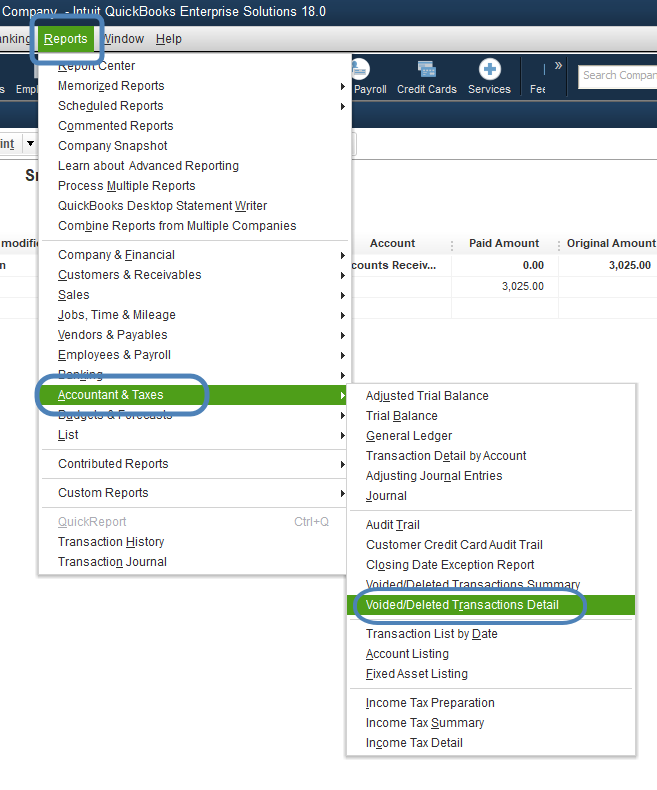 On the first tab "Display" check off the columns "Entered/Last modified", "Last modified by" and "Date"

On the second tab "Filters" check off "Name"and select the needed customer.



Sample Report:

To run this report in QuickBooks Online:
Go to QuickBooks=>Settings=>Audit log





Click on All Events=> Deleted/Voided Transactions