How Do I Configure Engage Credits?
Credits indicate how many text messages you have available to send and receive.
Depending on the Engage plan you purchased, you are allotted a certain amount of "Credits" each billing period; every incoming and outgoing message is deducted from this balance.
One Credit equals a 160-character (letters, numbers, and basic symbols) message segment.
This FAQ explains how using Emojis and special characters affect your Credit balance differently.

In your JobNimbus account:
Navigate to the Engage tab
Under the "Settings" menu on the left-hand side, select Credits
Here, you will see your current Credit balance and have the option to add more by enabling "Auto Recharge", or by making a "One Time Credit Purchase".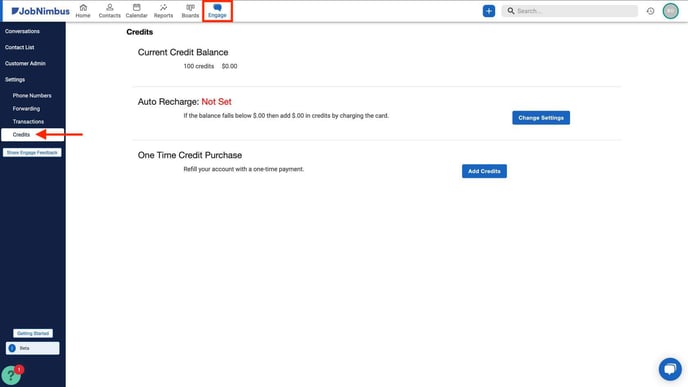 Auto Recharge
Setting up an automatic recharge will allow the system to charge your account to refill your Credit balance once it falls below a specified amount.
To set up Auto Recharge:
Click the blue Change Settings button




Using the dropdown fields on the right, determine (1) a balance to trigger the recharge and (2) how much money to charge automatically.


Select Save Recharge Settings to save your changes.
One Time Credit Purchase
Instead of a recurring payment, you can buy Credits on an as-needed basis.
To make a purchase:
Click the blue Add Credits button




Select the number of Credits you want to add to your account from the dropdown field on the right.




Select Buy Credits to finalize your purchase.


These settings can only be configured through the web app.